Age Repair + Boost Kit
Price (Incl. of taxes)
Rs. 1,220
MRP:
Rs. 1,740
29% OFF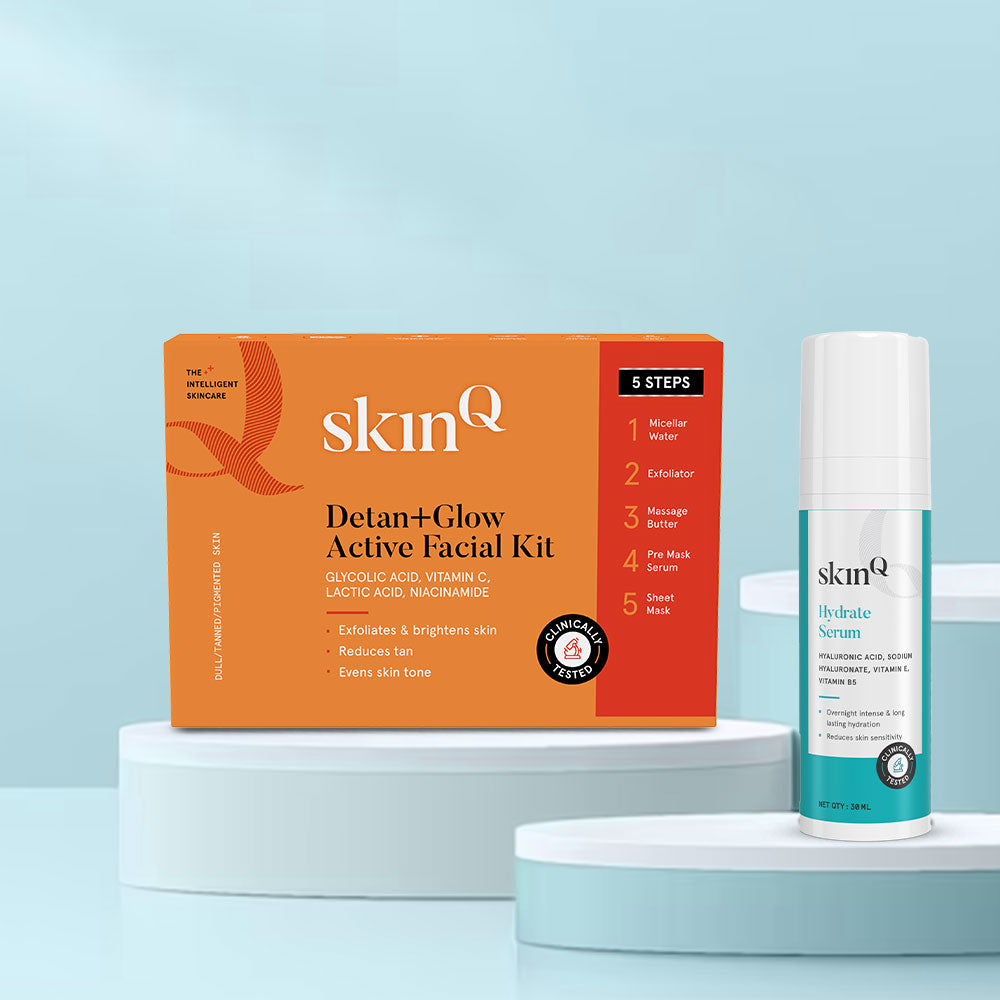 Product description
Instant Skin brightening facial kit + Regular Hydrate serum for youthful skin.
45 min Facial kit lightens skin & nourishes skin to give softness & plumpness.
Regular use of Hydrate serum removes fine lines & prevents aging.
Dermatologist formulated & tested.
PRODUCT DETAILS
WHO SHOULD USE IT?
HOW TO USE?
ACTIVE INGREDIENTS
Ageing skin is inevitable. But, does that mean one cant delay it? No.
Manage dull , dry , dehydrated and ageing skin with just 2 steps - Glow Detan DIY Active Facial Kit + Hydrate Elixir
SkinQ Age Repair + Boost Kit prepares skin to be at its best looking - plump, firm and radiant by gently exfoliating skin and adding a healthy dose of superficial and cell-level hydration, everyday.A new layer of skin reveals every 28 days, to replace old and ageing skin cells. While new skin is healthy, the old and ageing skin cells begin to affect newer skin. Glow Detan DIY Active Facial Kit removes impurities, exfoliates, stimulates and relieves skin with an 5-step rejuvenation in just 45-minutes. Just like us, our skin needs to stay hydrated everyday. Hydrate Elixir Serum is the perfect way to recharge your skin in AM or PM. Hydrated skin looks younger, plumper and firmer to give a visibly lifted radiant skin.
Age Repair + Boost Kit is for ageing skin, wrinkles, fine lines and dry or normal skin. The kit adds plumpness and boosts skin cells to thrive.
Step 1: Monthly
Detan/Glow DIY Active Facial Kit - Every 28 days
5-steps and 45-minutes.

Step 2: Daily
Hydrate Elixir Serum - AM or PM
Apply 2-3 pumps on face.
1) Detan- Glow DIY Active Facial Kit
Glycolic Acid, Lactic Acid, Niacinamide, Licorice, Vitamin C

2) Hydrate Elixir Serum
Hyaluronic Acid, DL Panthenol (Pro Vitamin B5), Sodium Hyaluronate and Vitamin E
wow
I have an extremely dry face. My skin felt amazing. I mixed this kit with sunscreen and I don't hesitate before reapplying it during the day. I'm definitely sticking to this product.
Product Details
Country of Origin: India
Formulated & Marketed By: Health Q LifeSciences Private Limited, 2nd Floor, No.204, The Eva Mall, Brigade Road, Bengaluru, Bengaluru Urban, Karnataka, 560025

Manufactured By: Esthetic Insights Private Limited, Plot No. 16/A, IDA, 4th Phase, Jeedimetia, Hyderabad Telangana - 500055