Nourish & Repair Skin
Moisture Balm, 50 ML : Face Moisturizer For All Skin Types
Moisture Balm, 50 ML : Face Moisturizer For All Skin Types
Price (Incl. of taxes)
Rs. 740
MRP:
Rs. 990
25% OFF
Product description
Best body lotion for dry flaky skin for winter care.

4 in one CHSN combination of actives repairs the skin barrier of normal to dry skin.

Hyaluronic acid hydrates the skin. Niacinamide reduces skin sensitivity & brightens dull skin.
Get soft, plump skin from 1st application.
Non-greasy formula that replenishes skin moisture smartly.
Dermatologist formulated & tested.
Ideal moisturizer for oily skin, dry skin, and normal skin.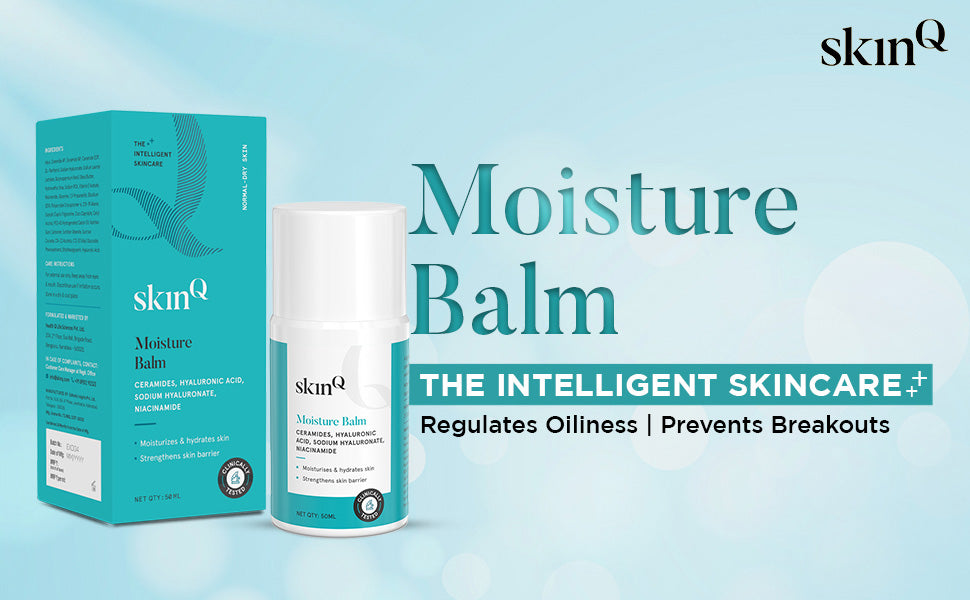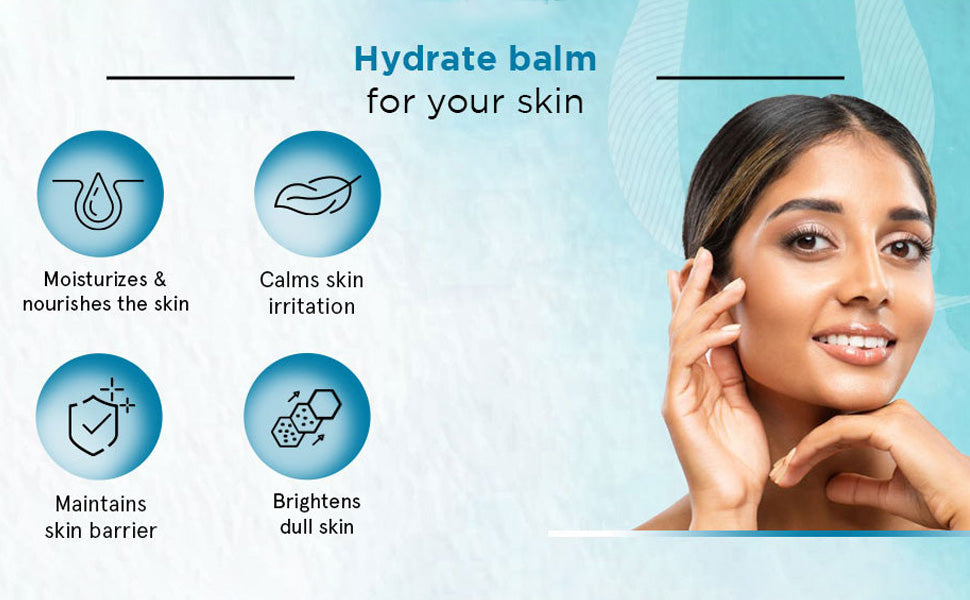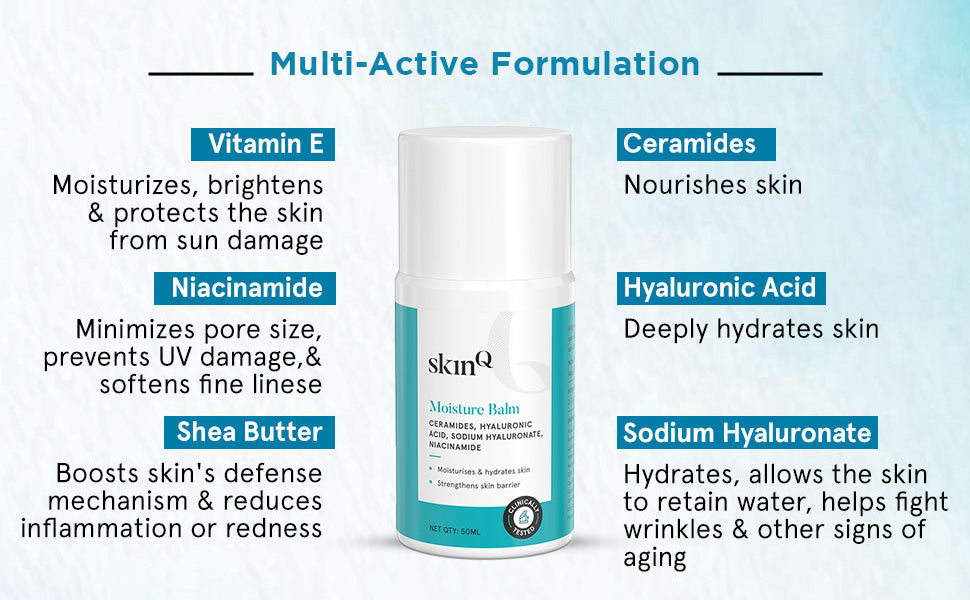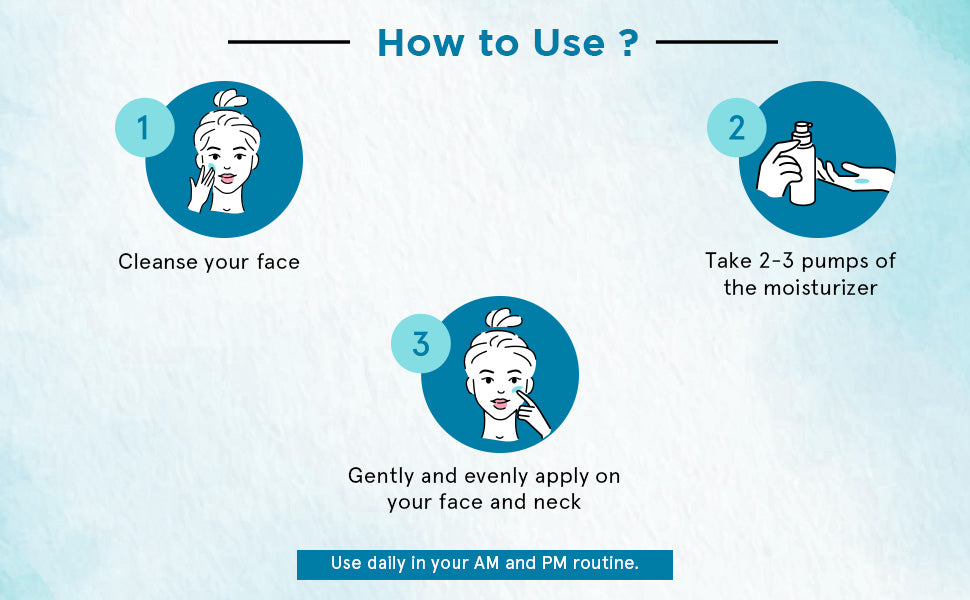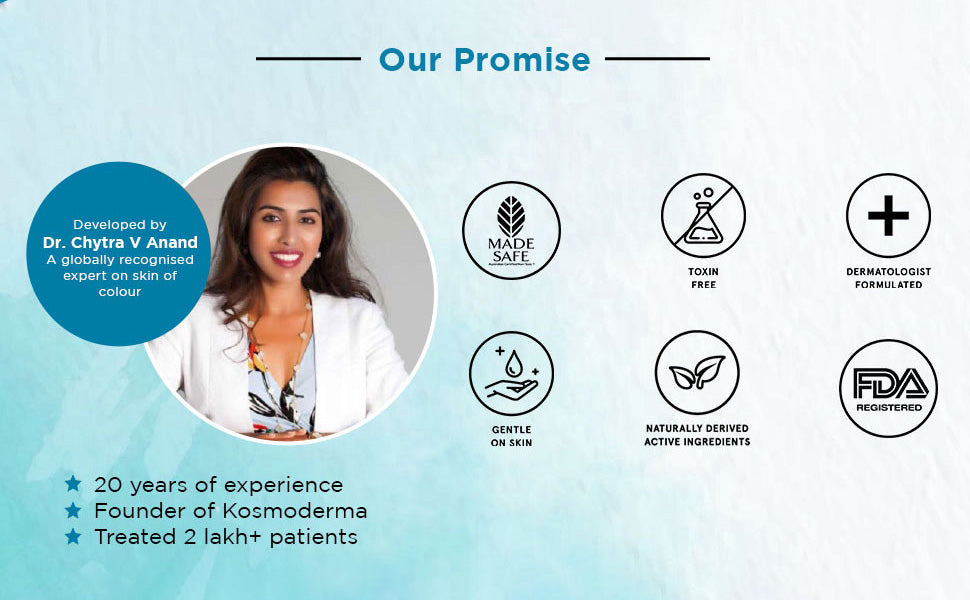 PRODUCT DETAILS
WHO SHOULD USE IT?
HOW TO USE?
RESULTS TO EXPECT
TREATMENT PLAN
ACTIVE INGREDIENTS
An Active Face Moisturizer that Soothes, Moisturizes & Repairs Skin Barrier All Skin Types
Are you suffering from dull, dry and dehydrated skin? Is your skin damaged and irritated? Not anymore!
Boost your hydration game by introducing your skin to our Moisture Balm face moisturizer. It is a lightweight moisturizer for dry skin and sensitive skin that provides ample hydration and nourishment. Forget your dry skin woes with our dermatologist formulated, multi-purpose moisturizing cream for face and neck.
Water is of major importance to all living things. Our skin solely contains about 60% of water content which is 20% of the total water content of the body! When our skin is adequately hydrated, it appears smooth, soft, and supple; in contrast, dry, itchy, and dull skin is a sign of dehydration. Moisturizing and hydrating your skin with a moisturizer cream is essential to give your skin a healthy glow, regardless of whether you have oily, dry, or sensitive skin. Maintaining the skin's regular moisture balance and preventing water loss are both made easier by using a non comedogenic moisturizer that doesn't clog your pores and incorporate various active, skin-friendly ingredients in it.
Our Moisture Balm moisturizer cream is especially proud of its multi-active ingredients, which include Ceramides, Hyaluronic acid, Niacinamide, Vitamin E, Sodium Hyaluronate, and Shea Butter. All of these ingredients work together to nourish, repair, and soothe the skin while also eliminating dehydration, making it a perfect face moisturizer for dry skin and oily skin as well.
Don't wait another day with dry, flaky areas on your face; do something about it now! It has been demonstrated in clinical tests that our Moisture Balm face moisturizer can repair the barrier of the stratum corneum (the uppermost layer of the skin). This indicates that this ceramide infused moisturizer will trap moisture into the skin, giving you a smooth, radiant, and seemingly healthy complexion every single day.
Take home today our Moisture Balm, a deep and superficial moisturizer cream for dry skin, oily skin, and sensitive skin, to repair your skin barrier and reveal a visible, healthy glow!
Our Moisture Balm is best suitable for people dealing with:
Dry and dehydrated skin
Sensitive and irritated skin
Tight or stretched skin
Damaged or over exfoliated skin
Skin that craves moisture all the time
This ceramide moisturizer is best for:
Dry and Dehydrated skin, Combination skin, Acne prone skin, Damaged or irritated skin, Normal skin.
After cleansing and applying all serums, take 3-4 pumps of this moisturizer cream and apply it directly to your skin. Spread it evenly to make sure it covers your entire face and neck. For best results use Sunscreen afterwards in the daytime.
Here are some reasons to love our Moisture Balm moisturizer:
✔It repairs the skin barrier
✔It prevents TransEpidermal Water loss (prevents dehydration)
✔It reduces dryness, dehydration, sensitivity
✔It makes the skin look smooth, soft and healthy
✔ It brightens dull skin and improves skin texture

If you want to make the most of this Moisture Balm , follow this dermatologist-recommended skincare regime:

Your clear healthy glowing skin is just 5 steps away!

Daily Essentials
Step 1: Cleanse
All good things start with a clean slate. So, make sure to deeply cleanse your skin with a pH balanced cleanser. This will help you unclog your pores, get rid of dirt, excess oil and sebum, and reveal fresh, clear skin.

SkinQ experts recommend Daily Glow Cleanser and the Gentle Micellar Water for this step.

Step 2: Treat
Everyone's skin is different, you must understand your skin concerns and treat them by giving what it requires. Repair skin damage and restore skin health with the help of active ingredients that are suitable for your skin type.

SkinQ experts recommend Glow/Pigment Control Elixir for Pigmentation, Acne & Oil Control Elixir for Acne & Clogged Pores, and Hydrate Elixir for Dry/Dehydrated Skin for this step.

Step 3: Nourish
Moisturizing your skin every day keeps dryness and skin damage away! The next step to make way for healthy glowing skin is nourishing your skin with Ceramides and sodium hyaluronate to protect the skin barrier and prevent dryness to keep skin soft & supple.

SkinQ experts recommend Moisture Balm for this step.

Step 4: Protect
Did you know that 90% of skin damage is due to the Sun's harmful UV Rays? This is why protecting your skin with sunscreen from sun damage is a non-negotiable step in our treatment plan.

SkinQ experts recommend Sun Protect Gel & Vitamin C Glow Serum for this step.

Weekly Reminder
Step 5: Boost
Your skin loses its elasticity and softness with age. This is why it appears dull and tedious. Get it all back by giving it a boost of exfoliation once or twice every week. It will make sure you are healthy and glowing all the time.

SkinQ experts recommend Glow Bright Wonder Mask & Glow/Detan DIY Active Facial Kit for Pigmentation, Acne Control Wonder Mask for Acne & Clogged Pores, and Oil Control Wonder Mask for Excess Oil & Open Pores, Hydrate DIY Active Facial Kit for Dry, Dehydrated or Sensitive Skin in this step.
Our Moisture balm has the following active ingredients:
Ceramides- These are naturally found lipids in the body which replenish/nourish the skin while also strengthening the skin's barrier
Hyaluronic acid- A moisture magnet that attracts water in the skin to prevent dehydration and make it plump and supple
Sodium Hyaluronate- A derivative of Hyaluronic acid with smaller molecules that penetrate deep in the skin to hydrate and soothe it
Vitamin E- An antioxidant that moisturizes and brightens the skin while also protecting the skin from free radical damage caused by sun exposure
Niacinamide- An powerhouse ingredient that improves skin's natural barrier, minimizes pore size, prevents UV damage, and softens fine lines
Shea butter- A moisture rich ingredient that boosts skin's defense mechanism, and provides intense moisture and relief from inflammation or redness

Full Ingredients List :

Polyacrylate Crosspolymer-6, C15-19 Alkane, Caprylic/Capric Triglyceride, Coco Caprylate, Cetyl Alcohol, Peg-40
Hydrogenated Castor Oil, Xanthan Gum, Carbomer, Sorbitan Stearate,
Sucrose Cocoate, C14-22 Alcohols, C12-20 Alkyl Glucoside, Phenoxyethanol,
Ethylhexylglycerin, Hyaluronic Acid Aqua, Ceramide Ap, Ceramide Np, Ceramide Eop, Dl- Panthenol,
Sodium Hyaluronate, Sodium Lauroyl Lactylate, Butyrospermum Park (Shea)
Butter, Hydroxyethyl Urea, Sodium Pca, Vitamin E Acetate, Niacinamide, Glycerine, 1,3-Propanediol, Disodium Edta,

Awesome
Skin Q moisture face balm is good for dry skin and it's not sticky. I recommend this product are good for dry sensitive skin.
Good
The quantity of this product is quite less for a price of nearly ₹700.But it provides good moistuirization and didn't give me any breakouts even though i had an acne prone skin.
Zero mouisturization
It gives zero moisturization even after apply twice with in 10 minutes my skin still looks dry and stretched like I have not apply any mousiturizer. Worst product for me
Best
Only moisturizer my skin needs these days .. perfect and clean ingredients. Basic skincare is the best
Wonder Product
"Hi I am using your products and your moisturiser balm is wonderful so smooth and repairs my skin
Your glow wonder mask to I love it it gives instant glow and we don't need makeup
No makeup no filter just glow wonder mask is alone a king for me Thank u for making beautiful products love them and I ordered your hydrating diy facial kit and will give reviews soon on that too"
Product Details
EAN Code: 8906133380243
Country of Origin: India
Formulated & Marketed By: Health Q LifeSciences Private Limited, 2nd Floor, No.204, The Eva Mall, Brigade Road, Bengaluru, Bengaluru Urban, Karnataka, 560025

Manufactured By: Esthetic Insights Private Limited, Plot No. 16/A, IDA, 4th Phase, Jeedimetia, Hyderabad Telangana - 500055