Gentle Micellar Water, 100 ml : Makeup Remover
Gentle Micellar Water, 100 ml : Makeup Remover
Price (Incl. of taxes)
Product description
Gentle makeup remover with Niacinamide & Aloe.
Cleans pores thoroughly while moisturising skin.
Safe on eyes & ideal for removing inside eye make-up.
In-built cleansing action post makeup removal.
Dermatologist formulated & tested, suitable for all skin types.
Paraben & Sulphate free.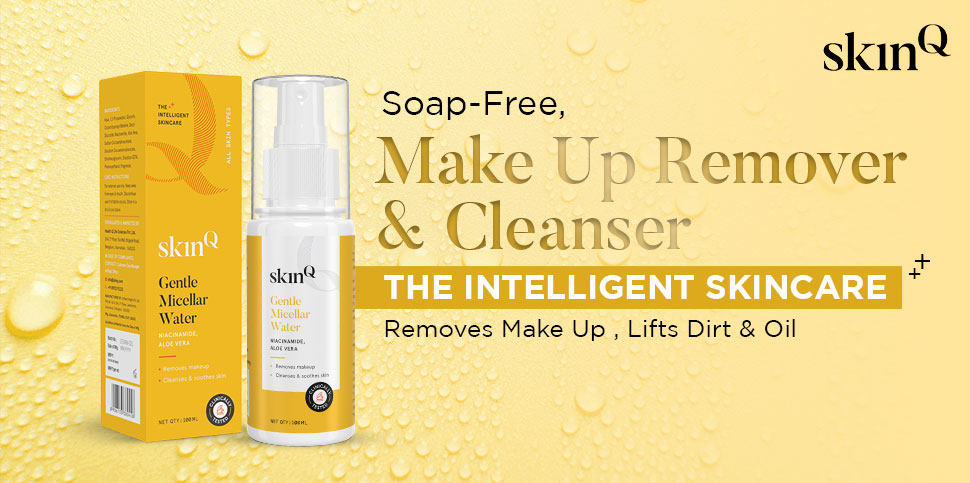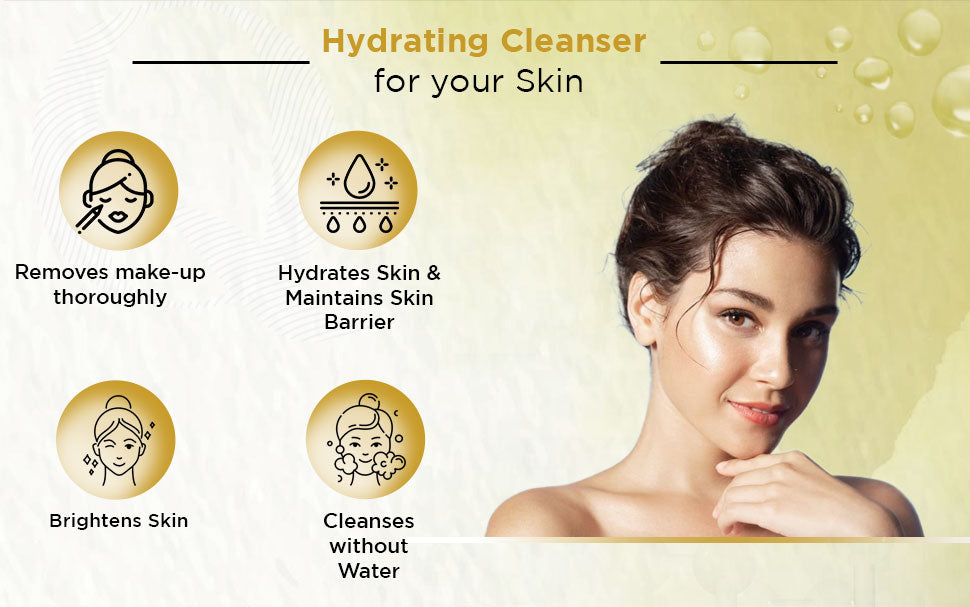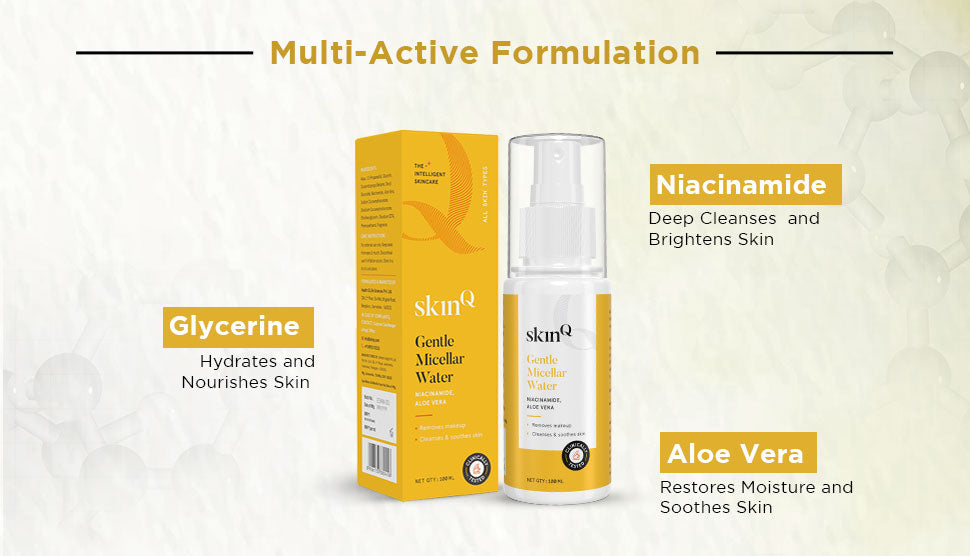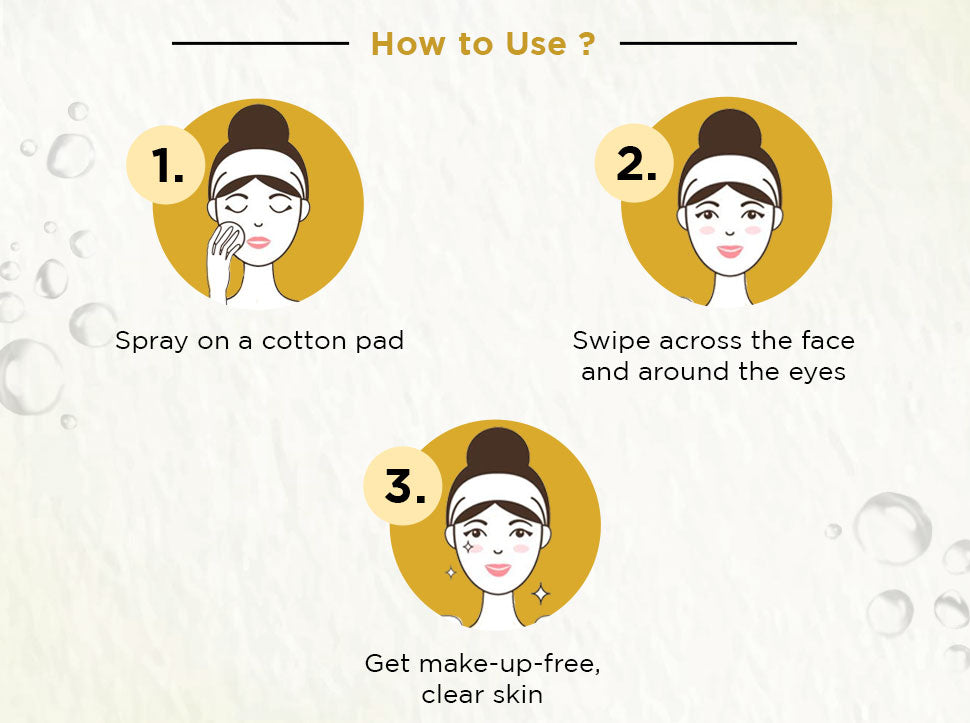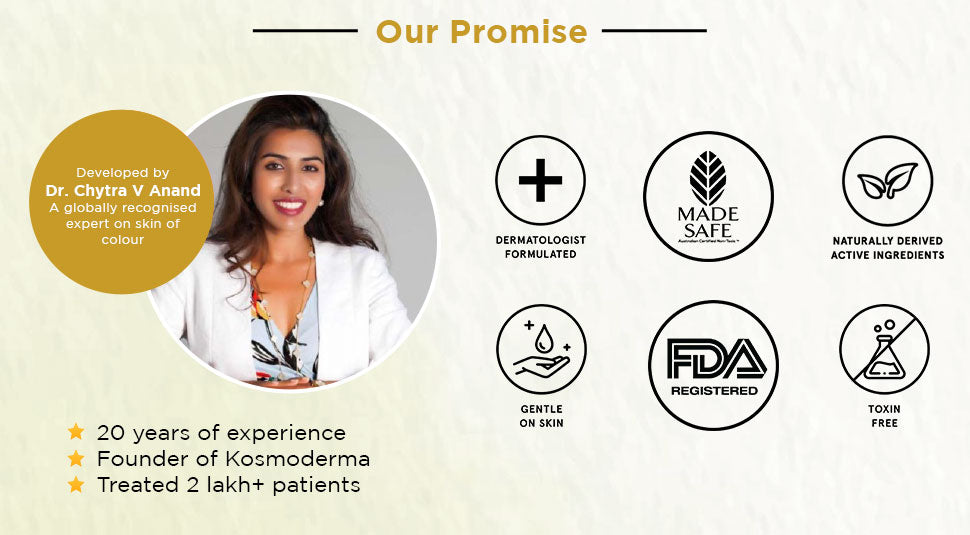 PRODUCT DETAILS
WHO SHOULD USE IT?
HOW TO USE?
RESULTS TO EXPECT
TREATMENT PLAN
ACTIVE INGREDIENTS
An Active Makeup remover Plus Cleanser Infused With Niacinamide & Aloe Vera To Give Your Clean, Healthy Glowing Skin.
It's safe to say that most of us enjoy the process of applying makeup and skin care products. However, it's a dreadful task to remove it, isn't it? Using water alone to remove your makeup is either ineffective or downright dangerous. Despite the fact that we are all aware that this is wrong, we continue to do it.
Water or a face wash may not be enough to remove all of your makeup. You need something a little more promising. Meet SkinQ Gentle Micellar Water, an active based makeup remover that gets rid of the toughest traces of makeup without leaving your skin irritated . This micellar water is going to be your new best friend in the skincare-makeup department.
At the end of the day, when you're tired and just want to sleep soundly and carefree, it can be a hassle to take off your makeup. Nevertheless, removing makeup is a breeze if you have SkinQ makeup remover on hand. This makeup remover is packed with beneficial ingredients like Glycerin, Niacinamide, and Aloe Vera, and it makes the process of removing makeup and cleansing your skin an easy and delightful experience.
Unlike other makeup removers that can leave your skin feeling dry after every swipe, our Gentle Micellar water is meant to wipe away makeup without disrupting your skin's natural balance. This micellar water is dermatologist formulated for all skin types including sensitive skin and is clinically proven to deep cleanse the skin, remove even the most stubborn makeup, dirt and grime, leaving the skin clean, soft and glowing.
Our Gentle micellar water is best suited for people who:
Get tired while removing makeup
Want to remove makeup quickly and easily
Look for an easy one stop solution cleansing routine without drying out the skin
Deal with dull and sensitive skin
This makeup remover is best for all skin types:
Dry /Dehydrated skin
Oily skin
Sensitive skin
Combination skin
Normal skin
Dull skin
Pigmented skin
Spray some of the micellar water solution onto a cotton pad/ball and swipe across the entire face to effectively remove makeup. To remove stubborn, waterproof mascara and makeup, keep the cotton pad pressed for 5 to 10 seconds and then gently wipe it away. Use daily AM & PM.
Here are some reasons to love this gentle micellar water:
✔ It deeply cleanses the skin quickly without disturbing natural skin barrier
✔ It removes all traces of makeup, dust, dirt and oil gently, quickly with least effort
✔ It soothes and hydrates the skin to keep it healthy and glowing and to keep it intact you can use the best facial kit for sensitive skin, dry, dull , normal and oily skin
If you want to make the most of this Micellar water , follow this dermatologist-recommended skincare regime:

Your clear healthy glowing skin is just 5 steps away!

Daily Essentials
Step 1: Cleanse
All good things start with a clean slate. So, make sure to deeply cleanse your skin with a pH balanced cleanser. This will help you unclog your pores, get rid of dirt, excess oil and sebum, and reveal fresh, clear skin.

SkinQ experts recommend Daily Glow Cleanser and the Gentle Micellar Water for this step.

Step 2: Treat
Everyone's skin is different, you must understand your skin concerns and treat them by giving what it requires. Repair skin damage and restore skin health with the help of active ingredients that are suitable for your skin type.

SkinQ experts recommend Glow/Pigment Control Elixir for Pigmentation, Acne & Oil Control Elixir for Acne & Clogged Pores, and Hydrate Elixir for Dry/Dehydrated Skin for this step.

Step 3: Nourish
Moisturizing your skin every day keeps dryness and skin damage away! The next step to make way for healthy glowing skin is nourishing your skin with Ceramides and sodium hyaluronate to protect the skin barrier and prevent dryness to keep skin soft & supple.

SkinQ experts recommend Moisture Balm for this step.

Step 4: Protect
Did you know that 90% of skin damage is due to the Sun's harmful UV Rays? This is why protecting your skin with sunscreen from sun damage is a non-negotiable step in our treatment plan.

SkinQ experts recommend Sun Protect Gel & Vitamin C Glow Serum for this step.

Weekly Reminder
Step 5: Boost
Your skin loses its elasticity and softness with age. This is why it appears dull and tedious. Get it all back by giving it a boost of exfoliation once or twice every week. It will make sure you are healthy and glowing all the time.

SkinQ experts recommend Glow Bright Wonder Mask & Glow/Detan DIY Active Facial Kit for Pigmentation, Acne Control Wonder Mask for Acne & Clogged Pores, and Oil Control Wonder Mask for Excess Oil & Open Pores, Hydrate DIY Active Facial Kit for Dry, Dehydrated or Sensitive Skin in this step.
This micellar water has the following active ingredients which makes it suitable for almost all skin types:
Niacinamide- A powerhouse ingredient that helps clear pores, minimize their appearance, and improve overall skin texture
Aloe Vera- A soothing and anti-inflammatory ingredient also used as an effective alternative to oil based makeup removers
Glycerin- A humectant that draws moisture from the surrounding air and maintains an optimal level of hydration in the skin

Full ingredients list:
Aqua, 1,2-Propanediol, Glycerin, Cocoamidopropyl
Betaine, Decyl Glucoside, Niacinamide, Aloe Vera,
Sodium Cocamphoacetate, Disodium Cocoamphodiacetate, Ethylhexylglycerin,
Phenoxyethanol, Fragrance, Disodium Edta.

A multi-use product
A fantastic product that makes it easy to remove makeup without damaging your skin. The best feature is that it contains aloe vera gel, which is excellent for skin and calm.
Excellent product
It's a good makeup remover. It gives my face brightness and removes my makeup, grime, and oil. I enjoy it
A must use product
A fantastic product that makes it easy to remove makeup without damaging your skin. The best feature is that it contains aloe vera gel, which is excellent for skin and calms.
Effective
A sensitive skin face wash that works.
Gentle on Skin
This is ideal for sensitive skin since it causes no irritation at all.
Product Details
EAN Code: 8906133380458
Country of Origin: India
Formulated & Marketed By: Health Q LifeSciences Private Limited, 2nd Floor, No.204, The Eva Mall, Brigade Road, Bengaluru, Bengaluru Urban, Karnataka, 560025

Manufactured By: Esthetic Insights Private Limited, Plot No. 16/A, IDA, 4th Phase, Jeedimetia, Hyderabad Telangana - 500055