Instant Hydrate and Repair Beauty Box (Monthly Hydration Kit)
Instant Hydrate and Repair Beauty Box (Monthly Hydration Kit)
Price (Incl. of taxes)
Rs. 1,499
MRP:
Rs. 1,740
13% OFF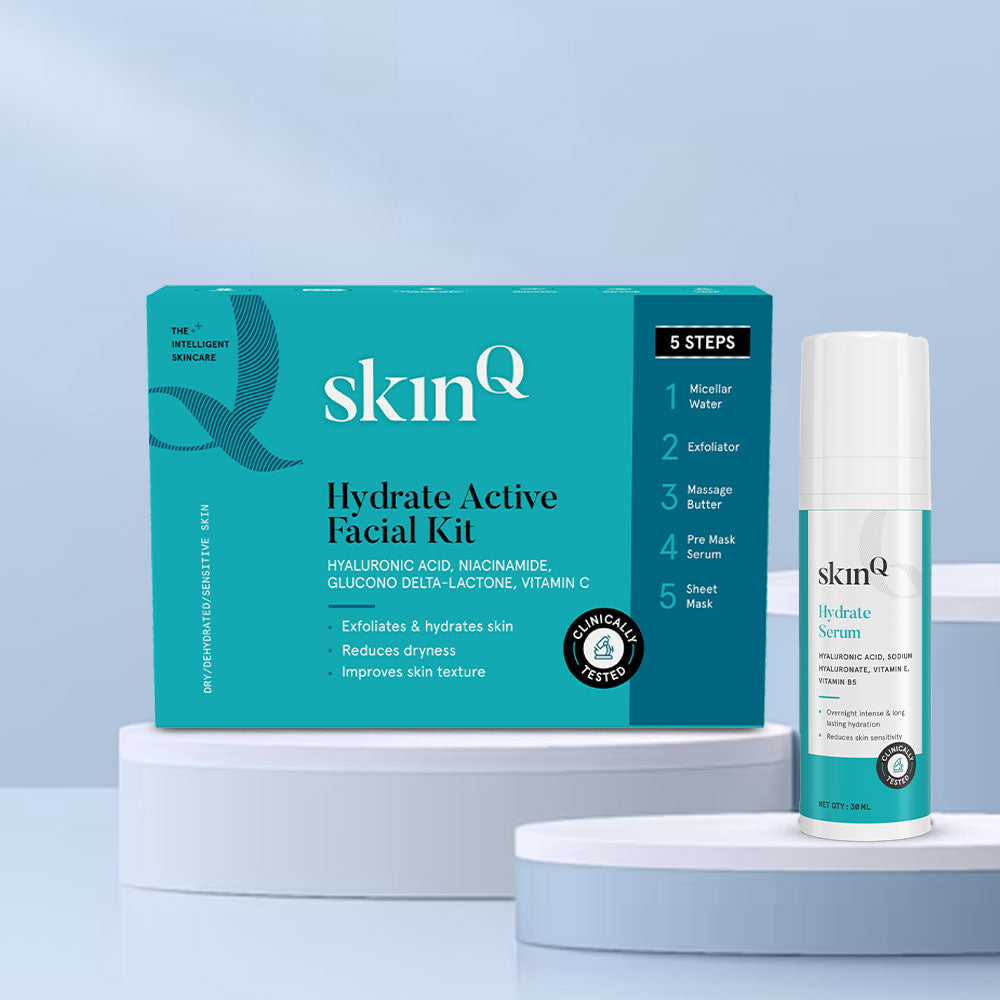 Product description
Best-suited treatment for dry skin made with a weekly Hydrate facial kit & daily Hydrate Serum.
Dermatologist recommended actives of Hyaluronic acid, Vit E & Retinol liposomes for deep & surface hydration.
Repairs skin barrier & nourishes dry skin to remove flaky skin and reduce sensitivity.
PRODUCT DETAILS
WHO SHOULD USE IT?
HOW TO USE?
RESULTS TO EXPECT
TREATMENT PLAN
ACTIVE INGREDIENTS
Instant Hydrate & Repair Beauty Box is a hydration package for skin to never feel dry or dehydrated from within or outside. The blast of hydration from DIY Hydrate Facial and Hydrate Elixir provides superficial and deep hydration to make skin cells plump and firm
Does you skin feel dry and dehydrated ? - Does it feel stretched and itchy ? - Does your skin look dull and flaky ? - Do you have sensitive skin ? Are you developing fine lines & wrinkles ?
If the answer is YES to any of these, then Skin Q Hydrate kit is for you.
Step 1: Monthly
Hydrate DIY Active Facial Kit - Every 28 days
5-steps and 45-minutes.

Step 2: Daily
Hydrate Elixir Serum - AM or PM
Apply 2-3 pumps on face.
✔ Instantly hydrates and reduces skin dryness
✔ Instantly smoothens skin
✔ Instantly refreshes and brightens skin
Use Skin Q Hydrate Elixir daily for long-lasting deep hydration

Repeat Active Facial once in 4 weeks for healthy, hydrated & glowing Skin

For 48 hrs before and after Active Facial: Avoid steam / sauna/ scrubs / bleaching / threading "
Hyaluronic Acid, Gluconolactone, Sodium Hyaluronate, , Ethyl Ascorbic Acid (Vit C), Retinol Liposomes, Vit E, Shea Butter, Niacinamide, Emblica, Turmeric extracts, Grape Seed extract, Soy Extract, Rose Hip Oil, Camellia Sinensis Leaf Extract
Best product
One of the best product it helps your skin feel hydrated
best for acne prone skin
Anybody can use this kit to boose their skin moisture. However if you are really acne-prone you should consult before buying.
Gives deep hydration
The hydrate facial kit and hydrate serum gives deep hydration and it is good for anyone having dry to combition skin.
Was looking for this combo and thank god I found skinq
The serum and facial kit in this hydrate beauty box has hyaluronic acid and some form of retinol. I was looking for this combo and thank god I found skinq
buy it now...
if you haven't tried any skinq beauty box till now you are missing out on a great product.
Product Details
Country of Origin: India
Formulated & Marketed By: Health Q LifeSciences Private Limited, 2nd Floor, No.204, The Eva Mall, Brigade Road, Bengaluru, Bengaluru Urban, Karnataka, 560025

Manufactured By: Esthetic Insights Private Limited, Plot No. 16/A, IDA, 4th Phase, Jeedimetia, Hyderabad Telangana - 500055