Monthly Skin Essentials
Price (Incl. of taxes)
Rs. 2,299
MRP:
Rs. 3,280
29% OFF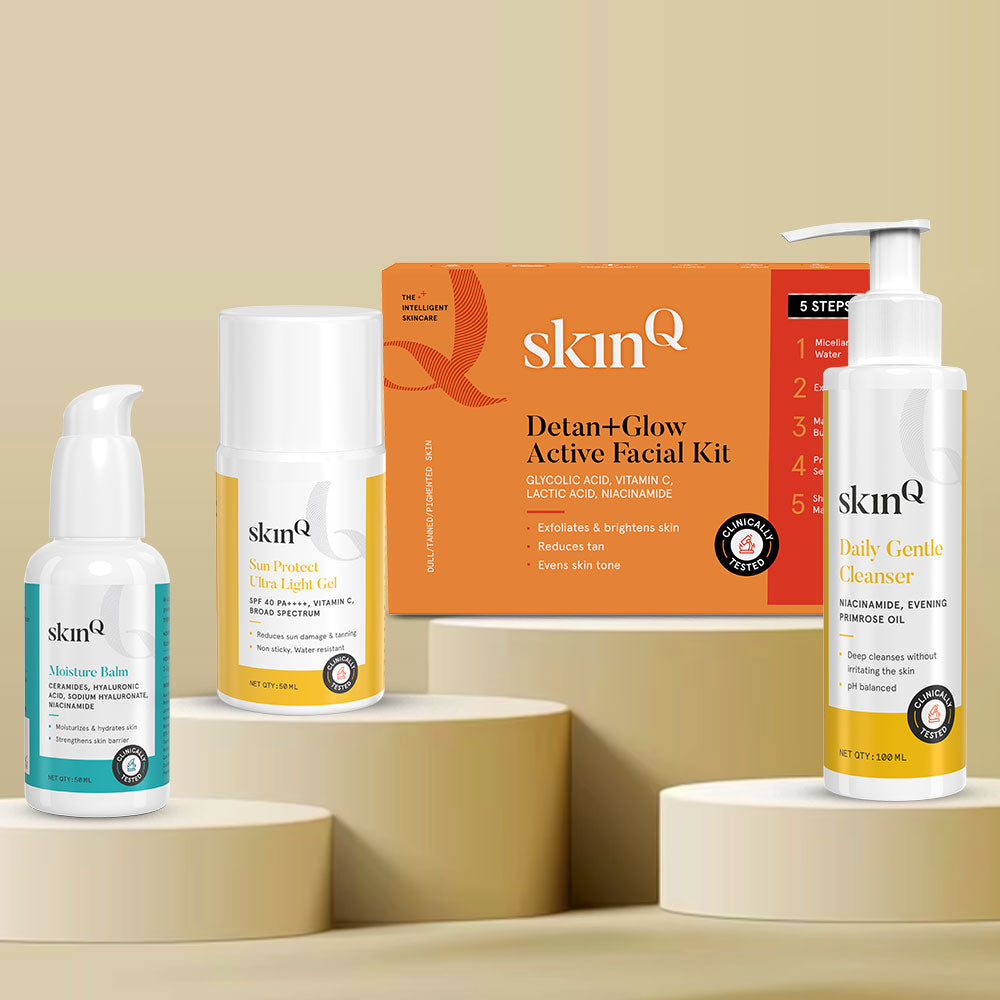 Product description
For daily use: 3 critical must-use daily cleanser, moisturiser & Sunscreen.
Once a month Beauty box facial kit that resets skin in a powerful 45 min 5 step regime.
pH balances Glycerin & Niacinamide infused Cleansing formula for gentle yet deep cleansing.
Cermides & Hyaluronic fortified Moisture balm for soft, plump skin.
Vitamin C infused ultra matte SPF 40 Sun protection formula.
PRODUCT DETAILS
WHO SHOULD USE IT?
HOW TO USE?
ACTIVE INGREDIENTS
Includes 3-step Daily Skin Essentials + Once-a-month DIY Active Facial
SkinQ Monthly Essentials is the basic skincare + extra care every person needs, to brighten-up their days and liven-up their skin. The Daily Essentials are as important as a shower, to keep your skin clean, fresh, nourished and protected. However, skin has a cycle of 28-days after which a new set of skin cells replace the older and ageing ones. Damaged and unhealthy skin cells, also affect the new skin cells that are just forming. Our Detan DIY Active Facial resets skin with a powerful 45-minute and 5-step facial which renews skin, every month.
For everyone & all skin types. SkinQ Monthly Essentials is for anyone who is living adult life - going out, traveling, working , simply staying fit along with everything else, but wants to maintain their skin health and pay a little more attention to skin needs.

Step 1:
Daily Glow Cleanser - AM & PM
Take a coin-sized amount and rub in circular motions on your face and wash off.

Step 2:
Moisture Balm - PM , Use during the day if the skin feels dry.
Apply 2-3 pumps of Moisture Balm on the face and neck.

Step 3:
Sun Protect Gel - AM
Apply 3-4 pumps on the face & neck after applying. Reapply every 3 hours if exposed to direct sunlight /for best results.

Step 4: Monthly
Detan / Glow DIY Active Glow Facial - Every 28 days
5-steps and 45-minutes

Niacinamide, Glycerine and Evening Primrose Oil

1) Daily Glow Cleanser
Cleansing is the first step towards achieving a healthy skin. Daily Glow Cleanser is an extra-gentle face cleanser made with All Skin-friendly ingredients- Niacinamide, Glycerine and Evening Primrose Oil. The soap-free ,pH balanced cleanser leaves skin clean, soft and balanced.

2) Moisture Balm
After cleansing, all skin need good moisturising to keep skin nourished and hydrated. . SkinQ Moisture Balm is an intense hydrating moisturiser made with Hyaluronic Acid, Ceramides and Sodium Hyaluronate for superficial and cellular hydration. Moisture Balm replenishes essential nourishment for skin for all-day health and freshness and helps to repair the skin barrier.

3) Sun Protect Gel
Good skincare is incomplete without sunscreen. Sun Protect Gel is India's First Vitamin-C Sunscreen which protects and repairs skin with SPF 40. The sunscreen is non comedogenic , Non greasy , does not leave a residue and gets absorbed easily into the skin leaving the skin feeling fresh and glowing. SkinQ Sun Protect Gel provides broad spectrum protection and repairs skin from existing sun damage with the power of active Vitamin-C formulated within the sunscreen. Be it indoors or outdoors, Sun Protect Gel always has you covered

4) Detan /Glow DIY Active Glow Facial
A new layer of skin reveals every 28 days, to replace old and ageing skin cells. While new skin is healthy, the old and ageing skin cells begin to affect newer skin. DIY Active Glow Facial removes impurities, exfoliates, stimulates and relieves skin with an 5-step rejuvenation in just 45-minutes. Be it skin maintenance or a quick pre event pick me up for the skin , this facial kit is the solution
all skin type kit
Skin Type
Normal Skin
Dry Skin
u can safely use if u have Oily / Combination Skin
Sensitive Skin
Concerns
Dehydrated Skin
Dull Skin
Best kit combination skin
face feels moisturized and not oily at all. I had dry patches on my skin before, feeling hydrated after 5 days of usage"
Product Details
Country of Origin: India
Formulated & Marketed By: Health Q LifeSciences Private Limited, 2nd Floor, No.204, The Eva Mall, Brigade Road, Bengaluru, Bengaluru Urban, Karnataka, 560025

Manufactured By: Esthetic Insights Private Limited, Plot No. 16/A, IDA, 4th Phase, Jeedimetia, Hyderabad Telangana - 500055