Festive Radiance Gift Box
Festive Radiance Gift Box
Price (Incl. of taxes)
Rs. 999
MRP:
Rs. 1,450
31% OFF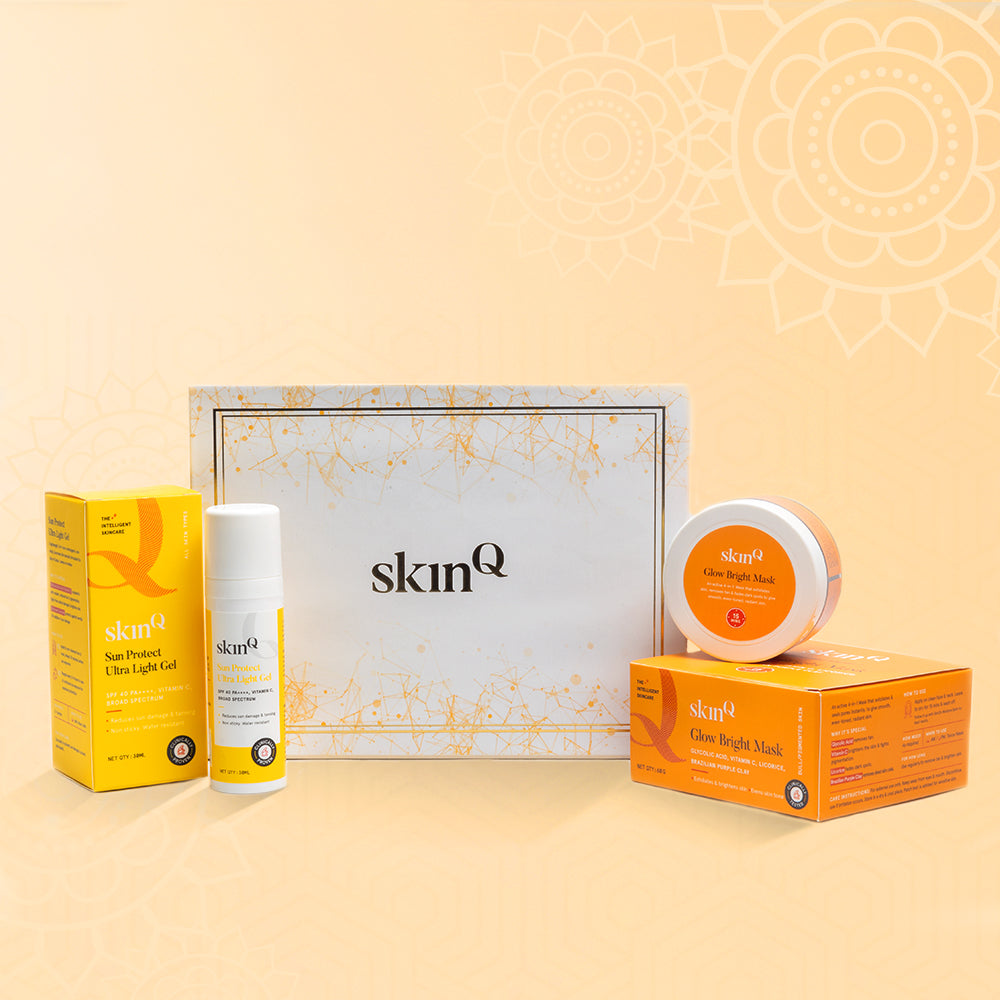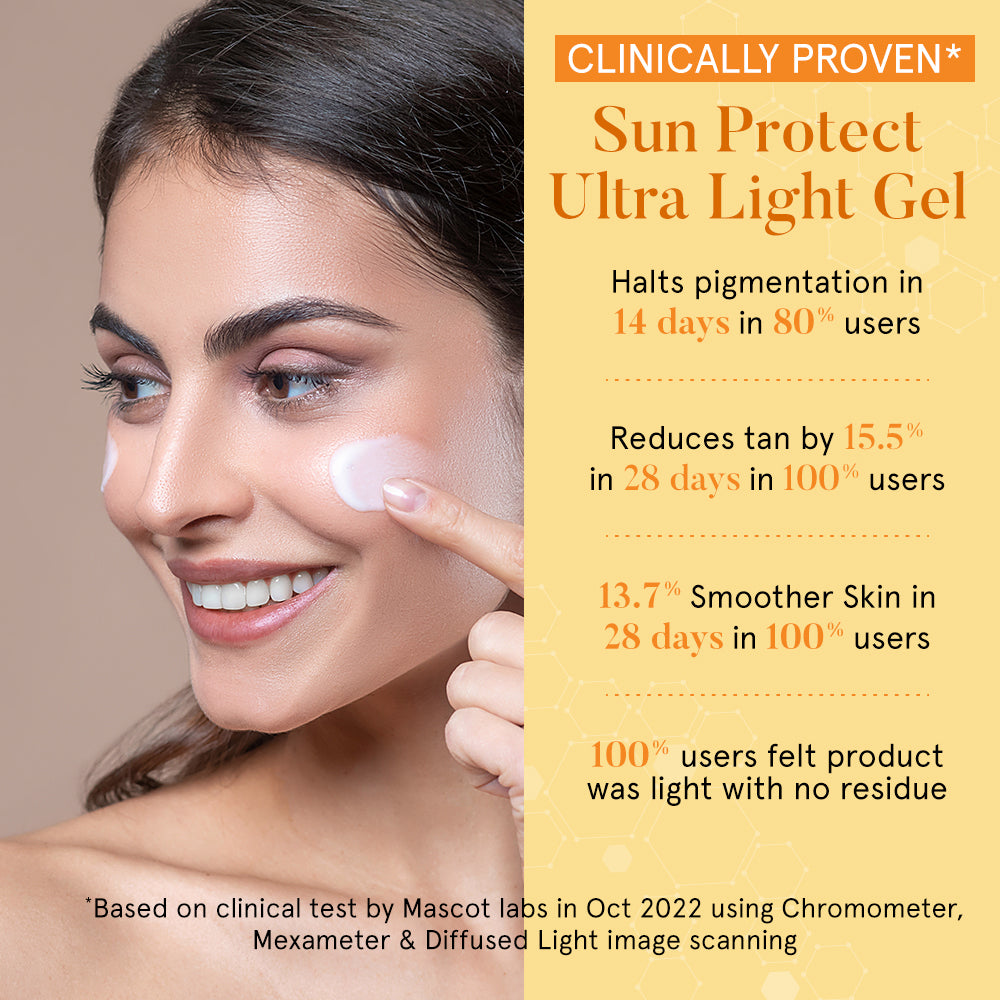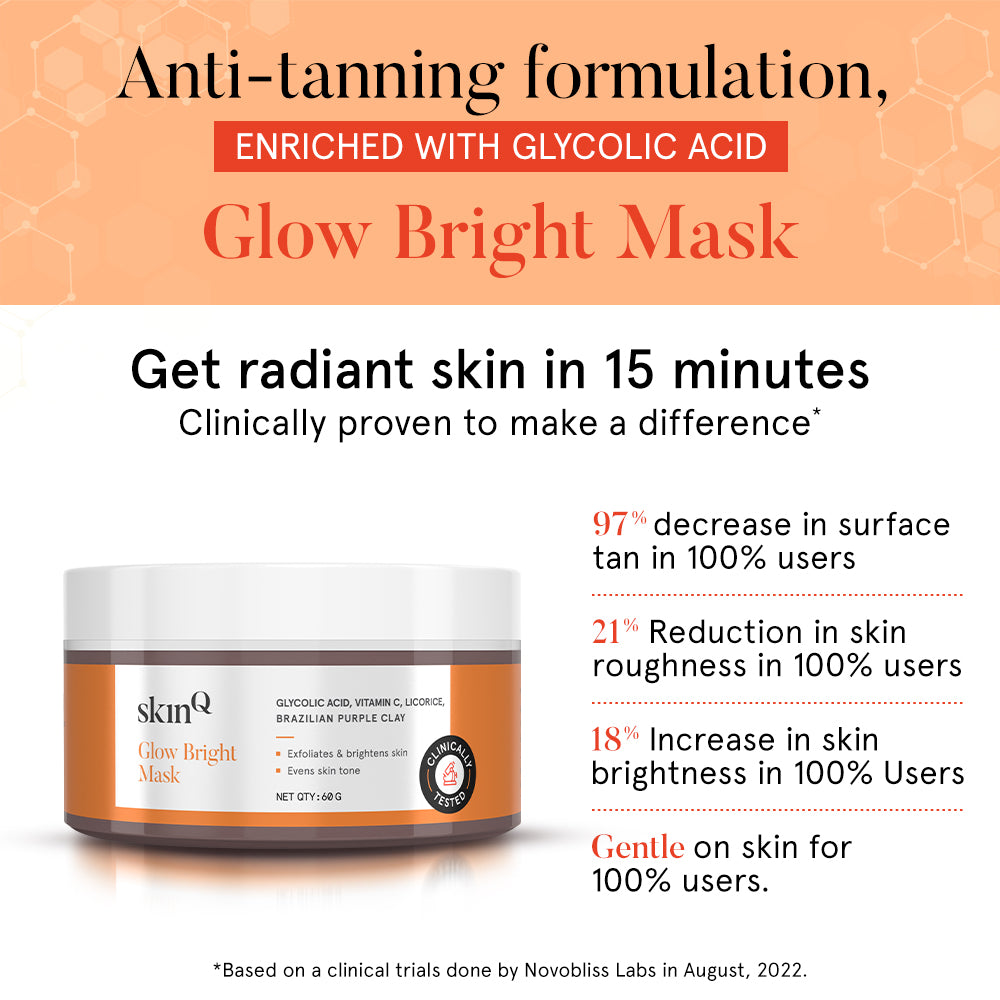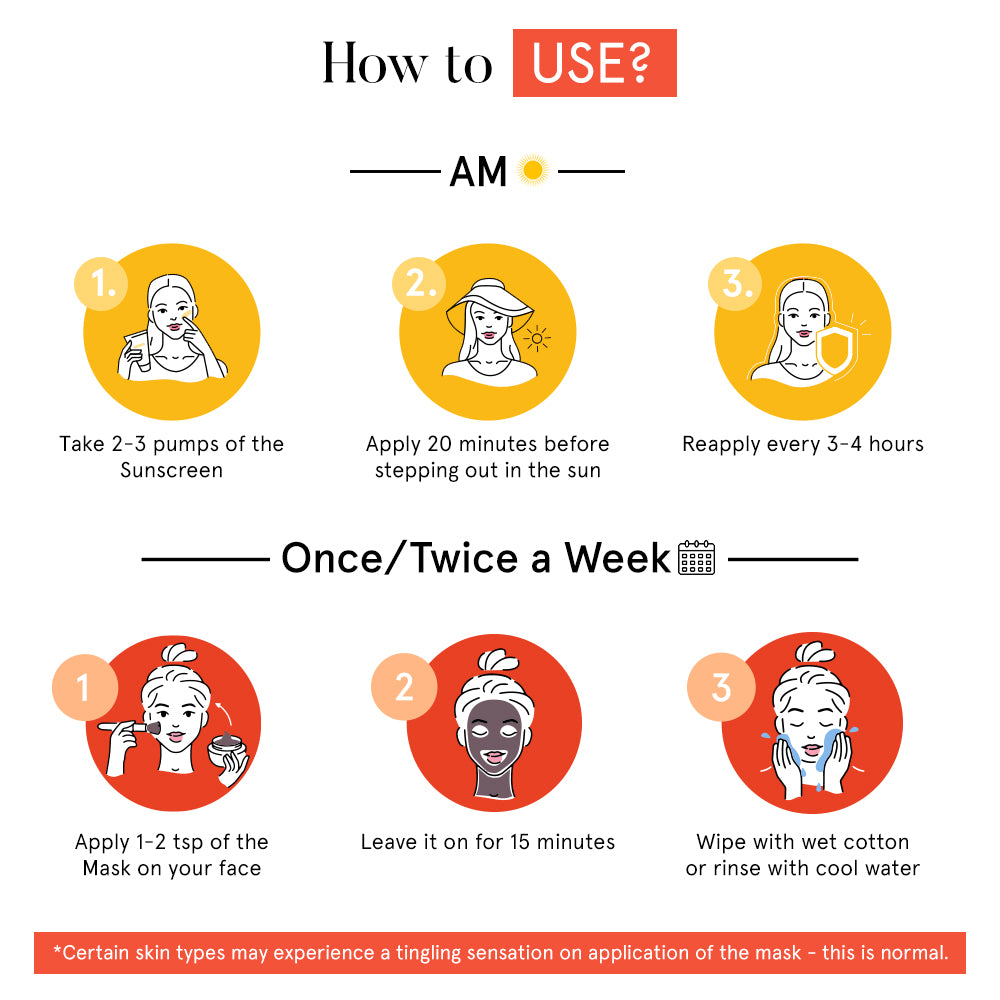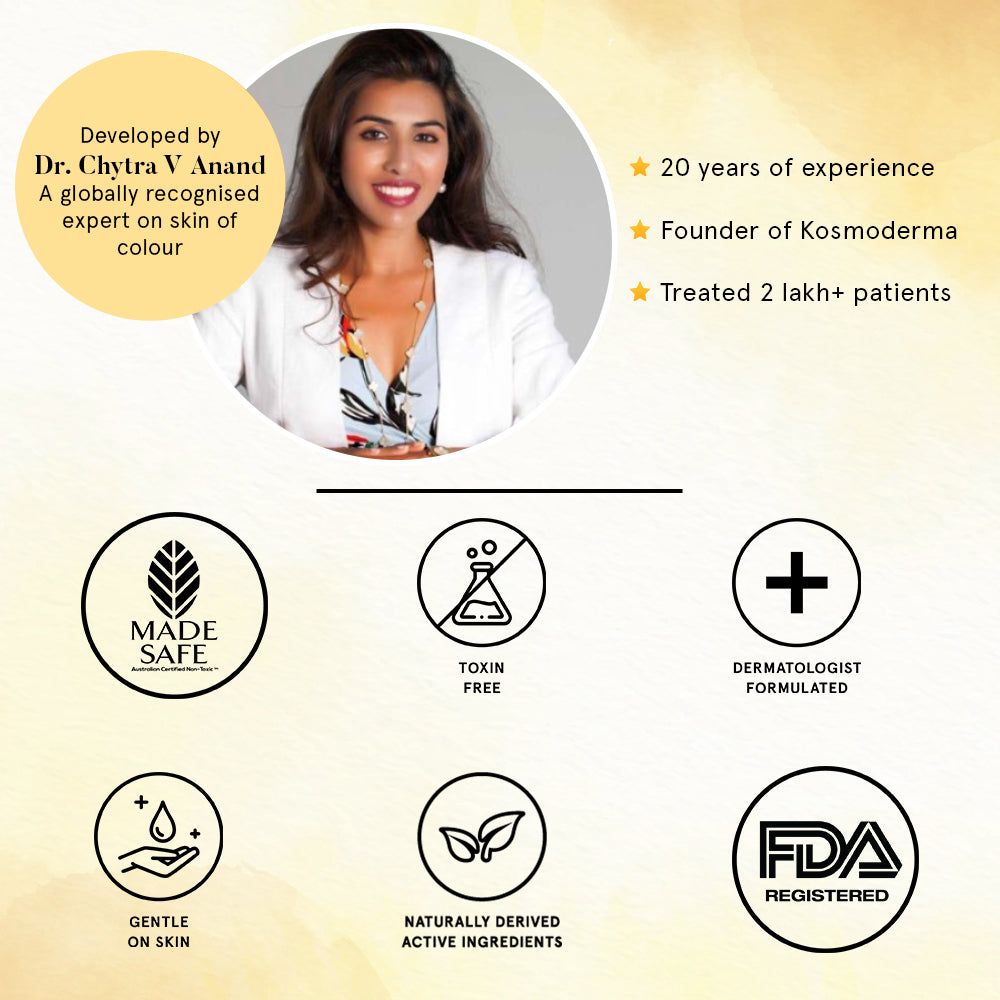 Product description
A dermatologist-formulated gift box for radiant skin
Vitamin C-infused SPF 40 PA++++ sun protection formula for daily use
An instant brightening clay mask that nourishes skin while improving glow in 15 mins
Clinically proven solutions for the best results
Made with naturally derived actives to provide gentle care
Science-backed formulations for Indian skin and skin of colour




PRODUCT DETAILS
WHO SHOULD USE IT?
HOW TO USE?
RESULTS TO EXPECT
ACTIVE INGREDIENTS
Sun Protect Ultra Light Gel
The Sun Protect Ultra Light Gel is formulated with built-in Vitamin C & SPF 40, the power couple of sun protection. With this unique 2-in-1 formula, it is the best sunscreen for Indian skin and skin of colour to get that glowing, sun-protected, non-sticky, and non-greasy look.
Glow Bright Mask
The Glow Bright Mask is an easy-to-use, dermatologist-formulated face mask that visibly brightens the skin in just 15 minutes. Thanks to its skin-brightening active ingredients like Niacinamide, Glycolic Acid, and Licorice, this face mask works perfectly for Indian skin and skin of colour. It also contains Vitamin C, which has antioxidant properties that help boost your skin glow to make you look younger.
The Festive Radiance Gift Box is suitable for people of all skin types
It works best for people who:
Want sun protection with a lasting glow
Suffer from Dull and Tired-looking skin
Suffer from Hyperpigmentation
Tan easily in the sun
Have Blotchy skin or Uneven skin tone
Are looking for a simple skincare routine
AM Routine
Sun Protect Ultra Light Gel
Take 2-3 pumps of the Sun Protect Ultra Light Gel and apply it to your face and neck. Wait for 20 minutes before heading out in the sun. For best results, reapply every 3-4 hours.

Once/twice a week
Glow Bright Mask
Take 1-2 tsp of the Glow Bright Mask and apply it on a clean, washed face. Leave to dry for 15 minutes and wipe with wet cotton or rinse with cool water. Follow it up with a moisturiser to keep the skin nourished and moisturised.

For certain skin types, you may experience a certain tingling sensation on application - this is normal.
Sun Protect Ultra Light Gel:
✔ Reduces tanning & pigmentation
✔ Protects the skin from UV damage
✔ Repairs the skin from sun damage
✔ Protects your skin from free radicals

Glow Bright Mask:
✔ Makes the skin bright and radiant
✔ Removes tan instantly and gets rid of dull/dead skin cells
✔ Fades dark spots/ blemishes & evens skin tone
✔ Maintains skin barrier

Sun Protect Ultra Light Gel
Sunscreen Complex - It provides broad spectrum UVA/UVB protection and aids in the prevention of free radical damage
Vitamin C - It helps reduce irritation and pigmentation caused by sun damage
Glow Bright Mask
Glycolic Acid - The most effective form of AHA derived from sugarcane that exfoliates the skin to remove dull skin and tan
Licorice - An active that brightens the skin, softens the skin texture, heals acne scars, and works on hyperpigmentation
Vitamin C - A potent and stable form of Vitamin C that fights hyperpigmentation, dark spots, oxidative damage, and dull skin
Brazilian Purple Clay- A type of Kaolin clay that helps remove dead skin cells to keep the skin looking healthy and glowing
absolutly loved it!!
this is such a cute gift box
perfect combo for glowing skin
perfect combo for glowing skin the sun screen and the glow bright mask, these two products work wondersow bright mask, these two products work wonders
bhohot accha hai
bhohot accha hai yeh gift box maine apne bhai ke liye khareeda
Perfect for festive gifting
Perfect for festive gifting bought this for my mom and she absolutly is loving the products
thank you SkinQ
I just love the combination of the products, thank you SkinQ for curation such a lovely gift box
Product Details
Country of Origin: India
Formulated & Marketed By: Health Q LifeSciences Private Limited, 2nd Floor, No.204, The Eva Mall, Brigade Road, Bengaluru, Bengaluru Urban, Karnataka, 560025

Manufactured By: Esthetic Insights Private Limited, Plot No. 16/A, IDA, 4th Phase, Jeedimetia, Hyderabad Telangana - 500055