Glow Bright Mask - Instant Skin Brightening - 60g
Glow Bright Mask - Instant Skin Brightening - 60g
Price (Incl. of taxes)
Rs. 520
MRP:
Rs. 690
24% OFF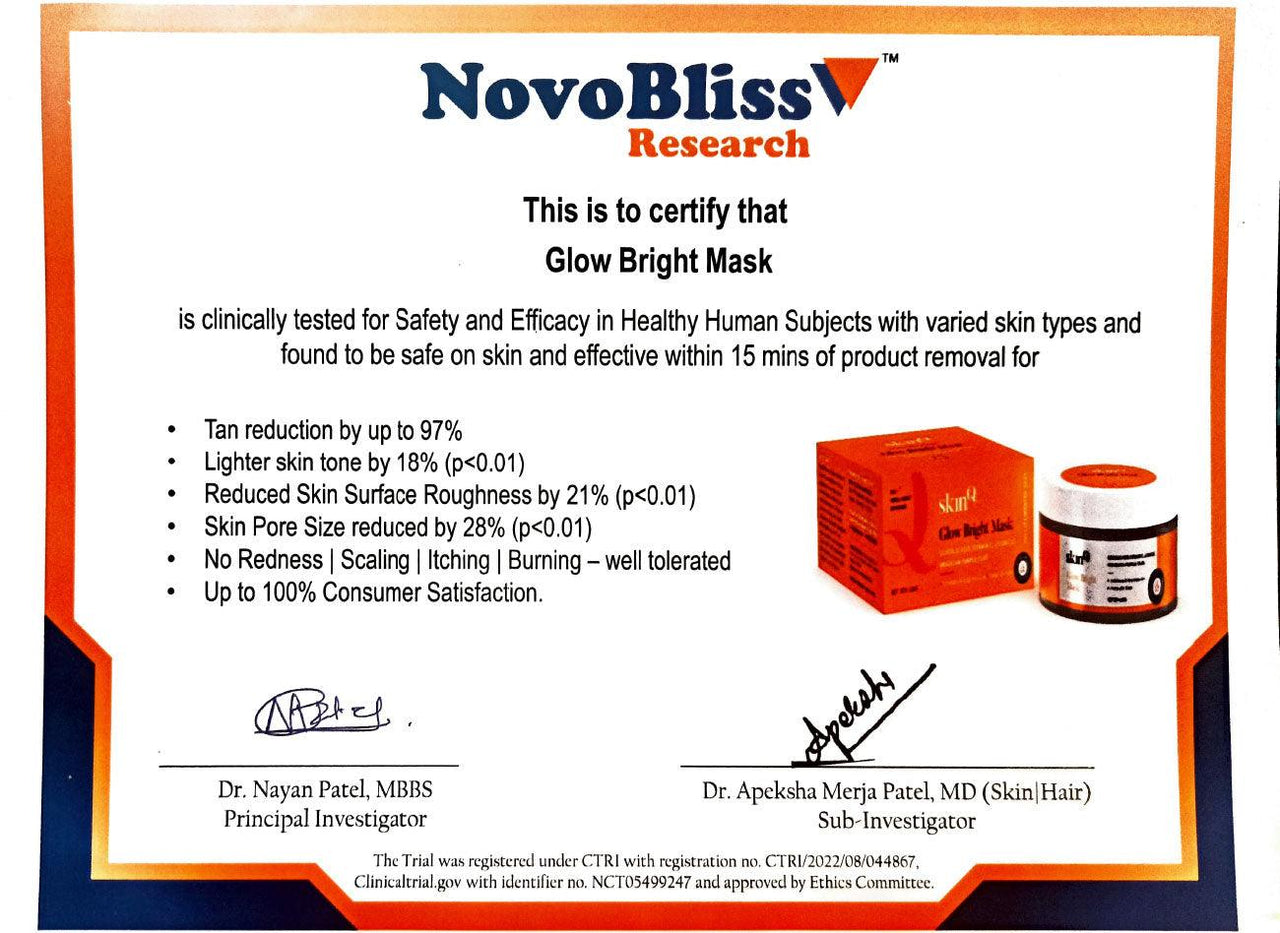 Product description
Clinically Proven to show:
97% Decrease in Surface Tan in 100% users
21% Reduction in Skin Roughness in 100% users
18% Increase in Skin Brightness in 100% Users
100% users agreed that mask was Gentle on Skin
Also Proven to reduce pore size by 28%
*based on study conducted by Novobliss Labs in 2022 for 15 minutes of use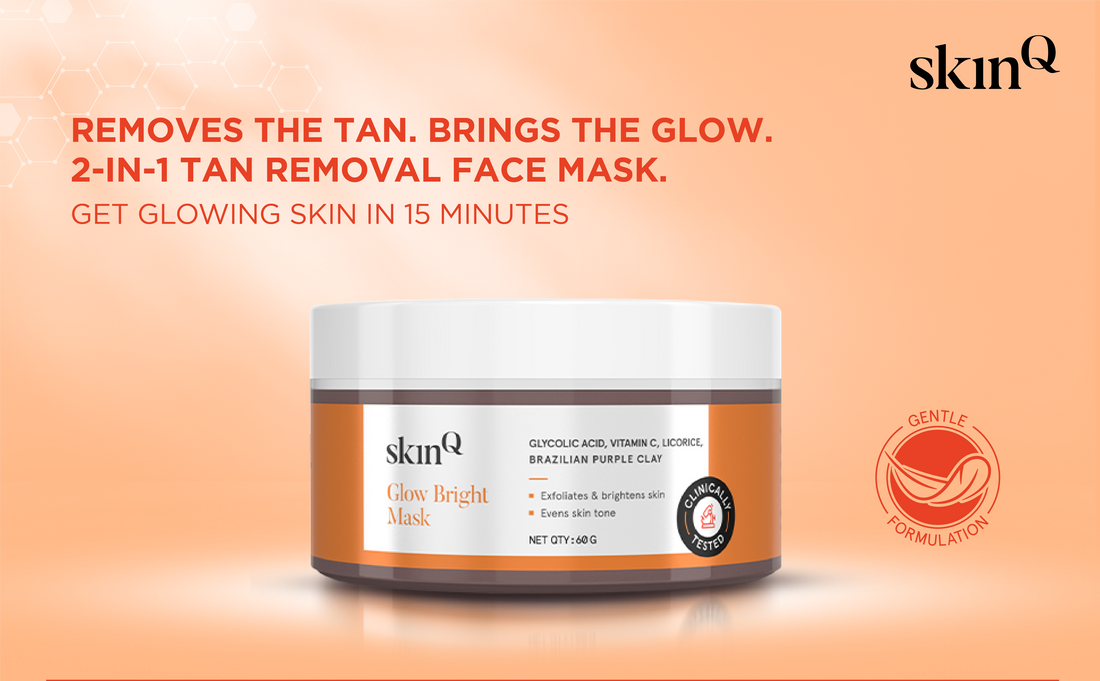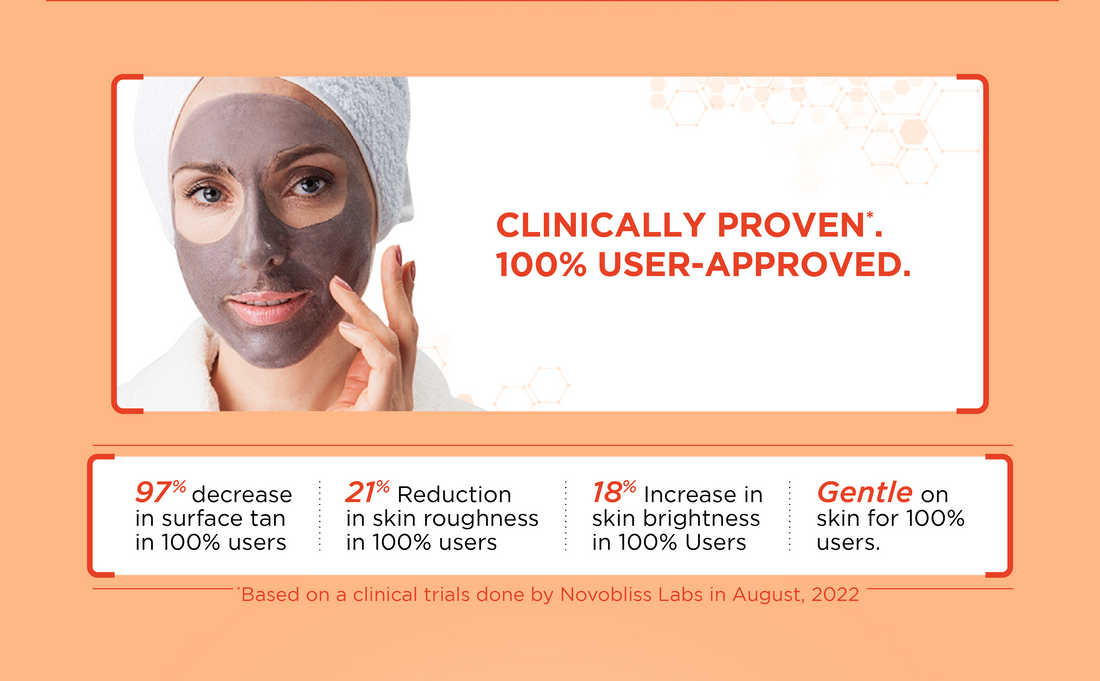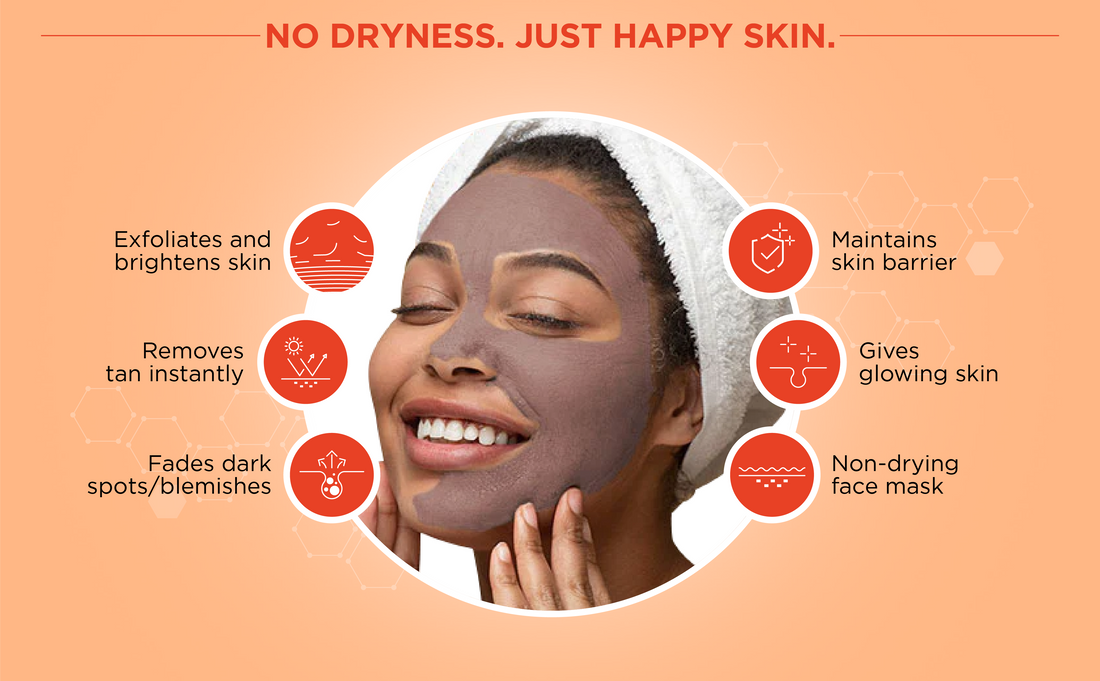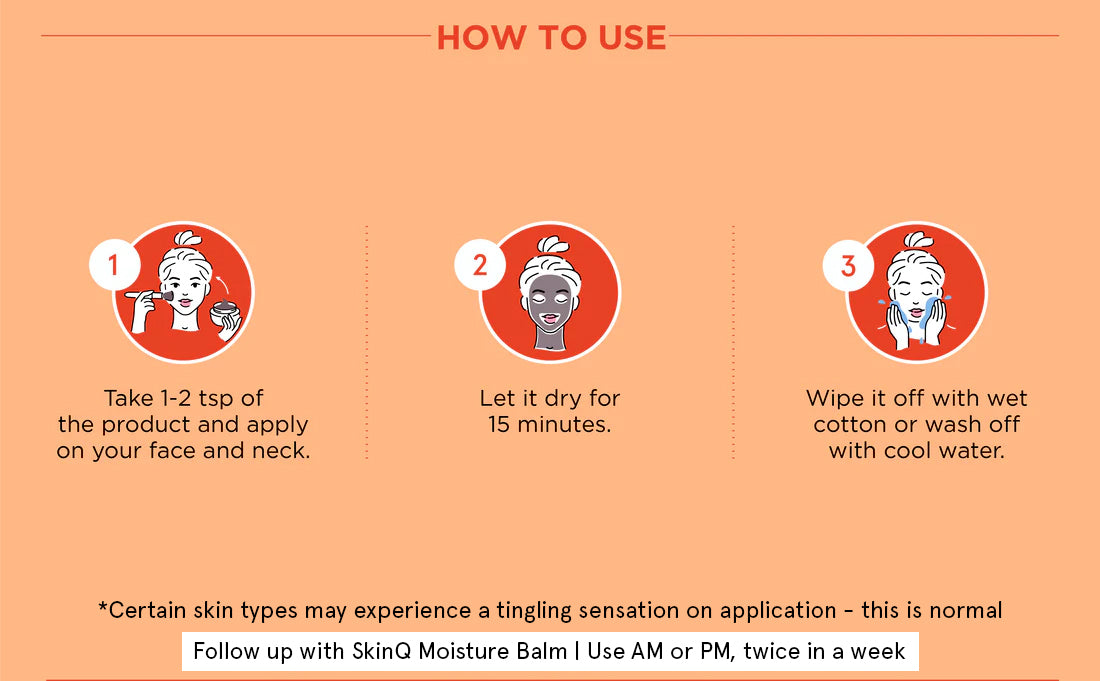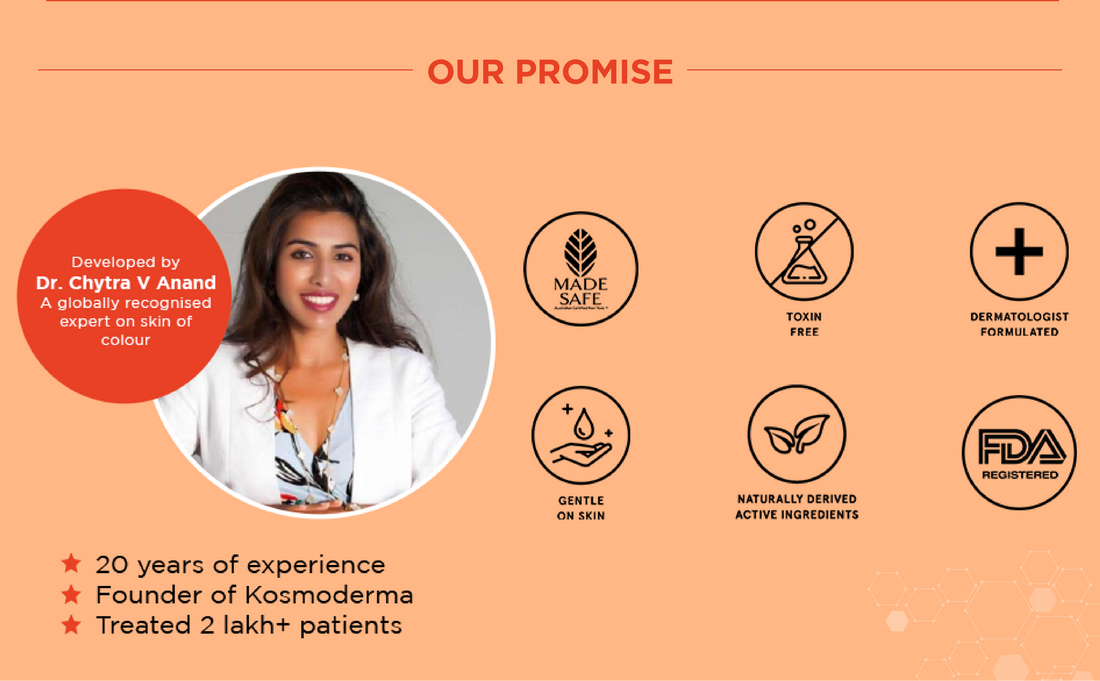 PRODUCT DETAILS
WHO SHOULD USE IT?
HOW TO USE?
RESULTS TO EXPECT
TREATMENT PLAN
ACTIVE INGREDIENTS
An Active Face Mask That Detans Skin In Just 15 Minutes For Visibly Lighter, Brighter And Glowing Skin!
With the daily hustle and workload already at their peak, and the daily schedule so hectic, getting ready for an event or meeting should be the least of your worries. We bring you the best glow up face mask for instant glowing skin to save your skin from tan and dullness!
SkinQ's Glow Bright face mask for glowing skin is an easy to use, effective and the best companion you could ask for when it comes to prepping your skin, be it a fancy night out or an interview at work. Niacinamide, Glycolic Acid, and Licorice are active ingredients in this tan removal instant glow face pack that help remove dull tanned skin, leaving the skin looking brighter and more even toned. This face mask for glowing skin contains Vitamin C, which has antioxidant properties that help boost skin glow and make you look younger.
Just 15 minutes with this one step tan removal face pack for glowing skin at home is all you need for you to be ready and step out with visibly glowing radiant skin.
Our Glow Bright Wonder Mask is best suitable for people who:
Suffer from dull and tired looking skin .
Have blotchy skin or uneven skin tone.
Have tanned or pigmented skin.
Are looking to get an instant glow and radiant look.
Want a quick fix for continuous skin maintenance .
Want to get rid of stubborn spots and marks.
This clay mask is best for:
Dull, Tanned & Pigmented skin. You can use detan facial kit for tanned skin and pigmentation on skin.
Normal skin
Take 1-2 tsp of the instant glow face pack and apply on a clean, freshly washed face. Leave to dry for 15 minutes and wipe with wet cotton or rinse with cool water. Follow with SkinQ Moisture Balm to keep skin nourished and moisturised. Use 2-3 times a week, anytime of the day for instant tan reduction, skin glow and brightened skin.
Pro tip: Use before an event /important occasion as a quick pre party/pre event face pack for glowing skin at home .
For certain skin types, you may experience a certain tingling sensation on application - this is normal.
Here are some reasons to love this Brazilian Purple clay enriched glow up face mask : ✔ It makes your skin bright and radiant
✔ It reduces tan instantly and gets rid of dull/dead skin cells
✔ It fades dark spots / blemishes
✔ It evens skin tone
✔ Maintains skin barrier
✔ Gives you a glowing confident look
If you want to make the most of this clay mask, follow this dermatologist-recommended skincare regime:

Your clear healthy glowing skin is just 5 steps away!

Daily Essentials
Step 1: Cleanse
All good things start with a clean slate. So, make sure to deeply cleanse your skin with a pH balanced cleanser. This will help you unclog your pores, get rid of dirt, excess oil and sebum, and reveal fresh, clear skin.

SkinQ experts recommend Daily Glow Cleanser and the Gentle Micellar Water for this step.
Step 2: Treat
Everyone's skin is different, you must understand your skin concerns and treat them by giving what it requires. Repair skin damage and restore skin health with the help of active ingredients that are suitable for your skin type.

SkinQ experts recommend Glow/Pigment Control Elixir for Pigmentation, Acne & Oil Control Elixir for Acne & Clogged Pores, and Hydrate Elixir for Dry/Dehydrated Skin for this step.
Step 3: Nourish
Moisturizing your skin every day keeps dryness and skin damage away! The next step to make way for healthy glowing skin is nourishing your skin with Ceramides and sodium hyaluronate to protect the skin barrier and prevent dryness to keep skin soft & supple.

SkinQ experts recommend Moisture Balm for this step.
Step 4: Protect
Did you know that 90% of skin damage is due to the Sun's harmful UV Rays? This is why protecting your skin with sunscreen from sun damage is a non-negotiable step in our treatment plan.

SkinQ experts recommend Sun Protect Gel & Vitamin C Glow Serum for this step.
Weekly Reminder
Step 5: Boost
Your skin loses its elasticity and softness with age. This is why it appears dull and tedious. Get it all back by giving it a boost of exfoliation once or twice every week. It will make sure you are healthy and glowing all the time.

SkinQ experts recommend Glow Bright Wonder Mask & Glow/Detan DIY Active Facial Kit for Pigmentation, Acne Control Wonder Mask for Acne & Clogged Pores, and Oil Control Wonder Mask for Excess Oil & Open Pores, Hydrate DIY Active Facial Kit for Dry, Dehydrated or Sensitive Skin in this step.
Glycolic acid: The most effective form of AHA derived from sugarcane that exfoliates the skin and promotes cell turnover to removes dull skin and tan.
Niacinamide : An powerhouse ingredient that improves skin's natural barrier, minimizes pore size, prevents UV damage, and brightens skin
Licorice : An active that brightens the skin, softens the skin texture, heals acne scars, and works on hyperpigmentation
Ethyl Ascorbic Acid (Vit C)- A potent and stable form of vitamin C that fights hyperpigmentation, dark spots, oxidative damage, and dull skin
Mulberry : Fades away dark spots & improves uneven skin tone .

Full ingredients list:
Aqua, Bentonite, L-Ascorbic Acid (Vitamin C), Glyceryl Glucoside, Brazilian Purple Clay (Magnesium Aluminium Silicate, Kaolin, Montmorillonite, Mica), Glycerin, Sodium Hydroxide, Niacinamide, 1,3-Propanediol, Glycolic Acid, Betaine, Microcrystalline Cellulose, Phenoxyethanol, Ethylhexylglycerin, Morus Alba (Mulberry) Root Extract, Glycyrrhiza Glabra (Licorice) Root Extract, Sodium PCA, PEG-40 Hydrogenated Castor Oil, Sodium Gluconate, Sodium Acrylates Copolymer, Lecithin, Fragrance.
Started using
Need more time, just started using..
Favourite mask
Works like wonder. Legit works on removing tan, especially when I forget to wear sunscreen and go out
Very Effective Product
The mask gives u a youthful glow. I massage a lil before I take it off..whoaaaa...you ha fresh glowing detanned skin
Nice
I am using this product since a month now I use twice a day .Nothing miracle happened as such But it's yet not given any side effect too.
FAQ's
How to Use Face Pack for Glowing Skin at Home?
Which face pack is best for glowing skin in India?
What is the ideal skin care regime using this face glowing pack?
Who can use the face pack for glowing skin in summer?
Product Details
EAN Code: 8906133380427
Country of Origin: India
Formulated & Marketed By: Health Q LifeSciences Private Limited, 2nd Floor, No.204, The Eva Mall, Brigade Road, Bengaluru, Bengaluru Urban, Karnataka, 560025

Manufactured By: Esthetic Insights Private Limited, Plot No. 16/A, IDA, 4th Phase, Jeedimetia, Hyderabad Telangana - 500055