Brighten Skin
Brightening Serum for Glowing Skin : Clears Pigmentation & Dark Circles - 30ml
Brightening Serum for Glowing Skin : Clears Pigmentation & Dark Circles - 30ml
Price (Incl. of taxes)
Rs. 740
MRP:
Rs. 990
25% OFF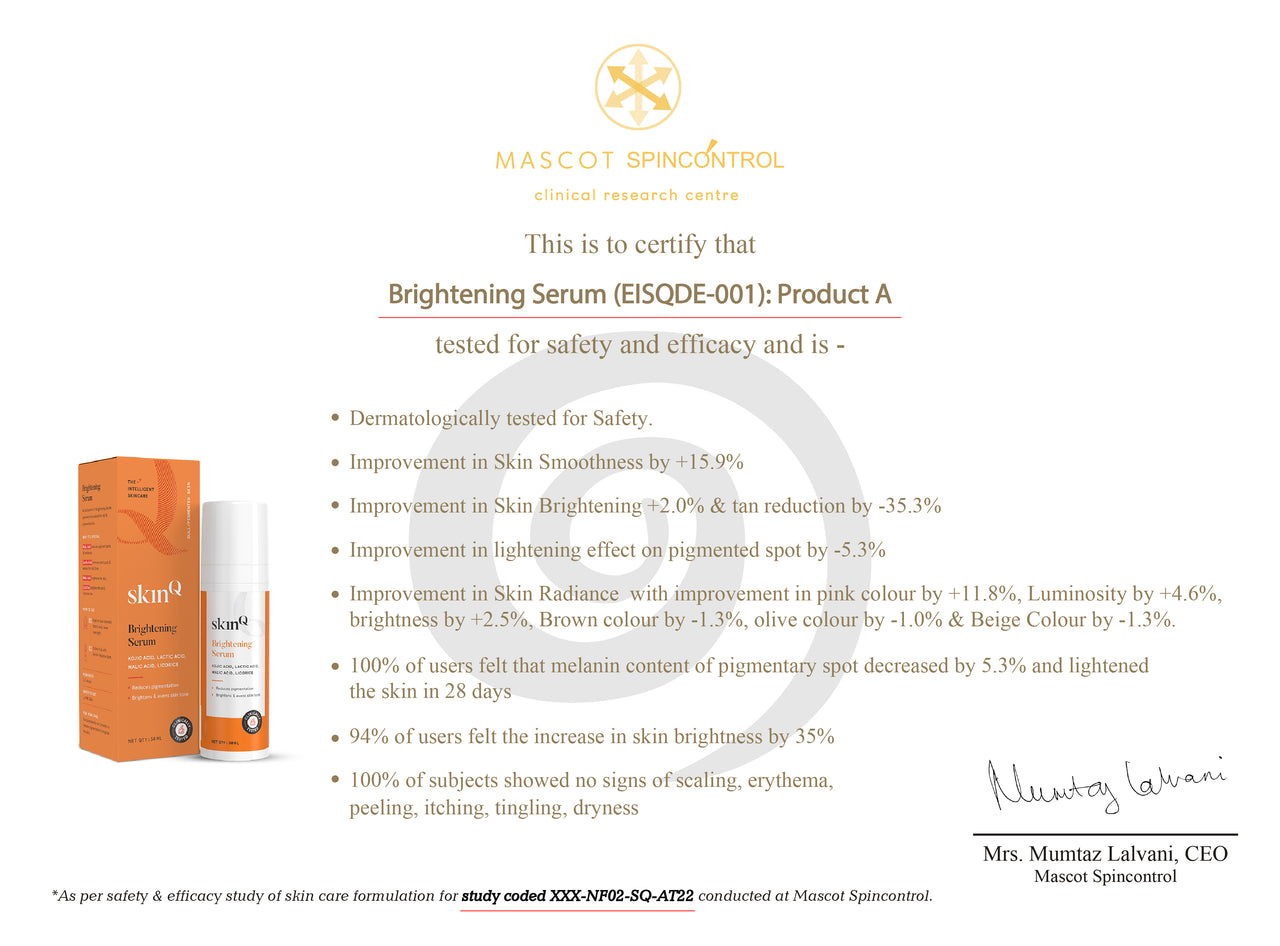 Product description
Clinically Proven for:
5.3% Decrease in Melanin in 100% users

35% Increase in Skin Brightening in 97% users

16% Increase in Skin Smoothness in 79% Users

100% users reported Quick absorption & easy spread

Also Proven to increase Pinkness in skin
*Based on clinical study conducted by Mascot labs in 2022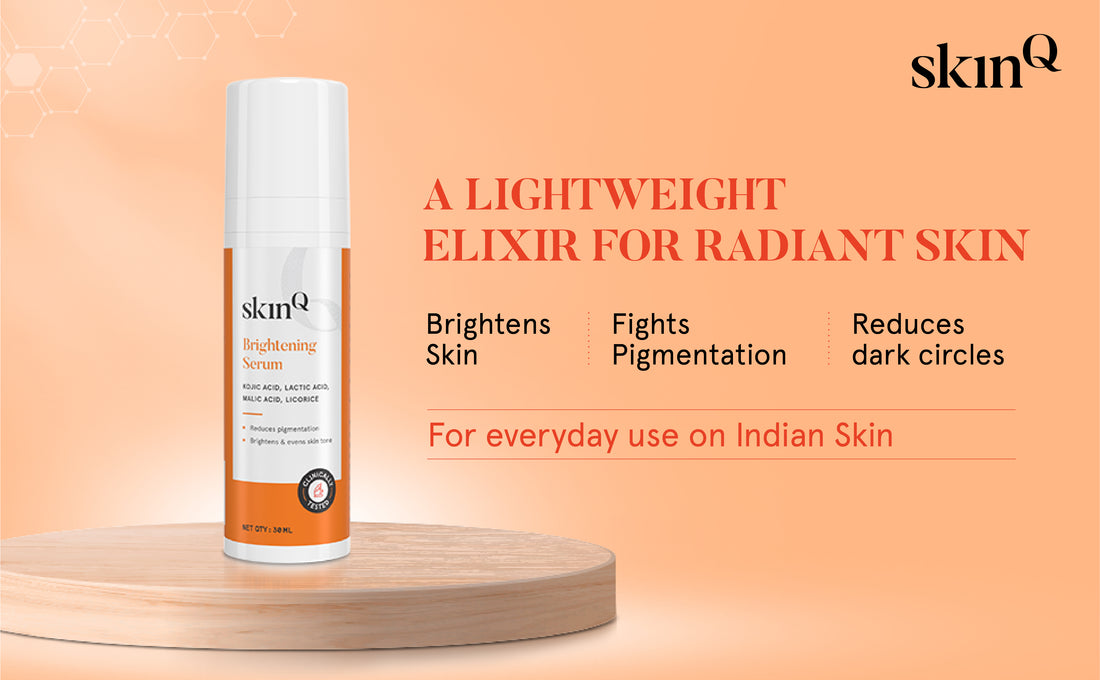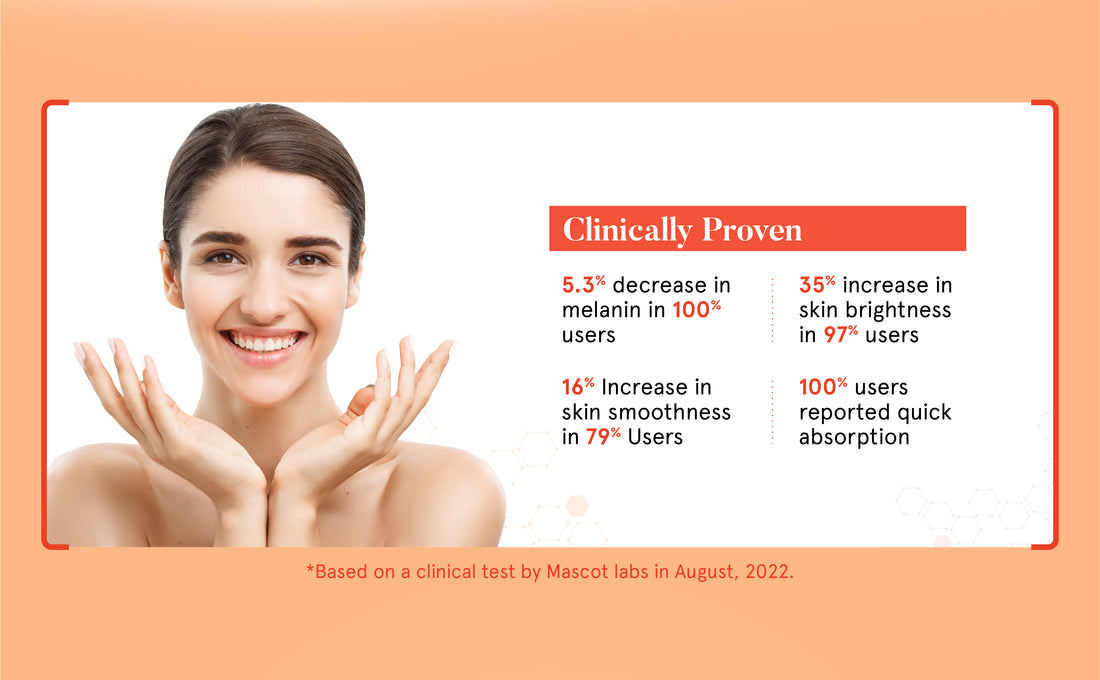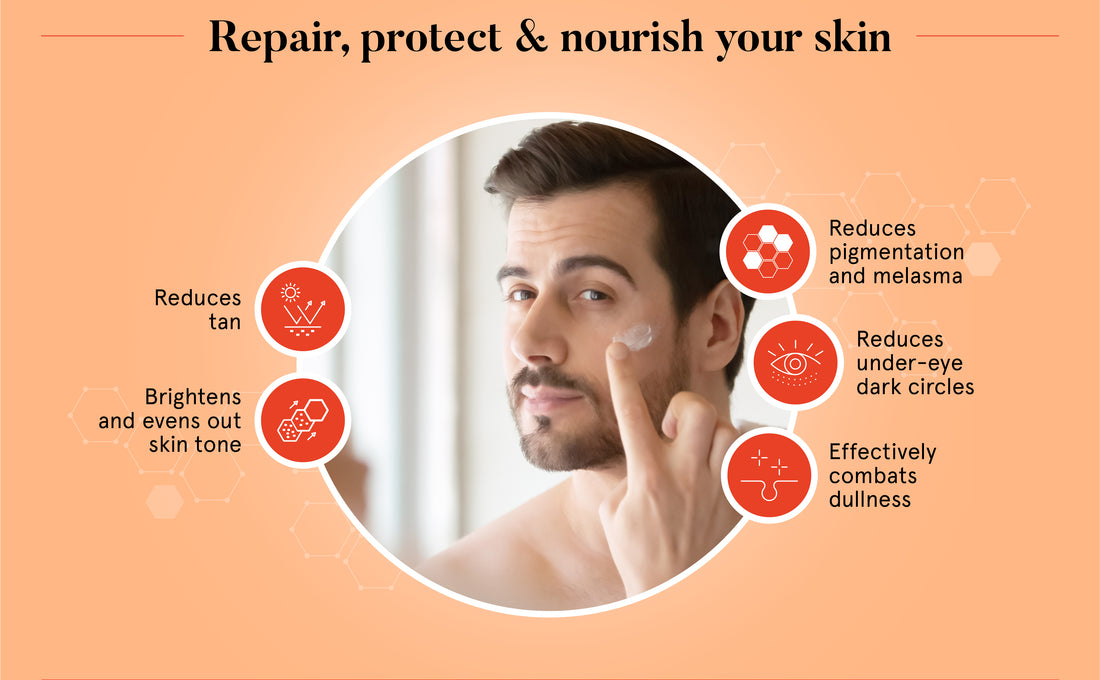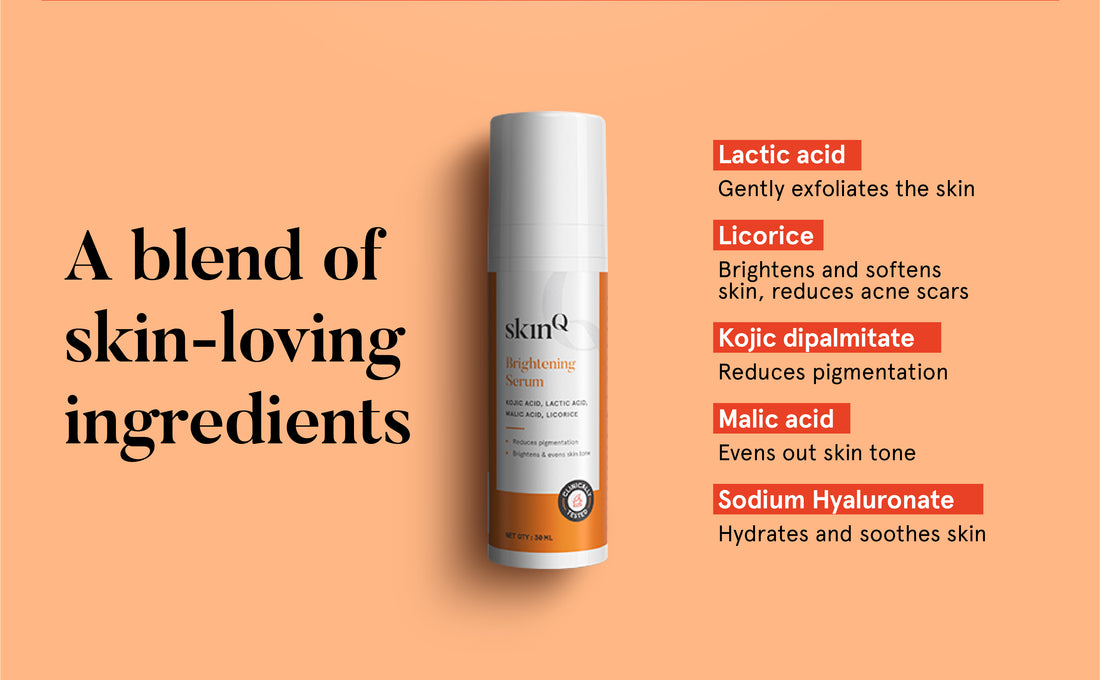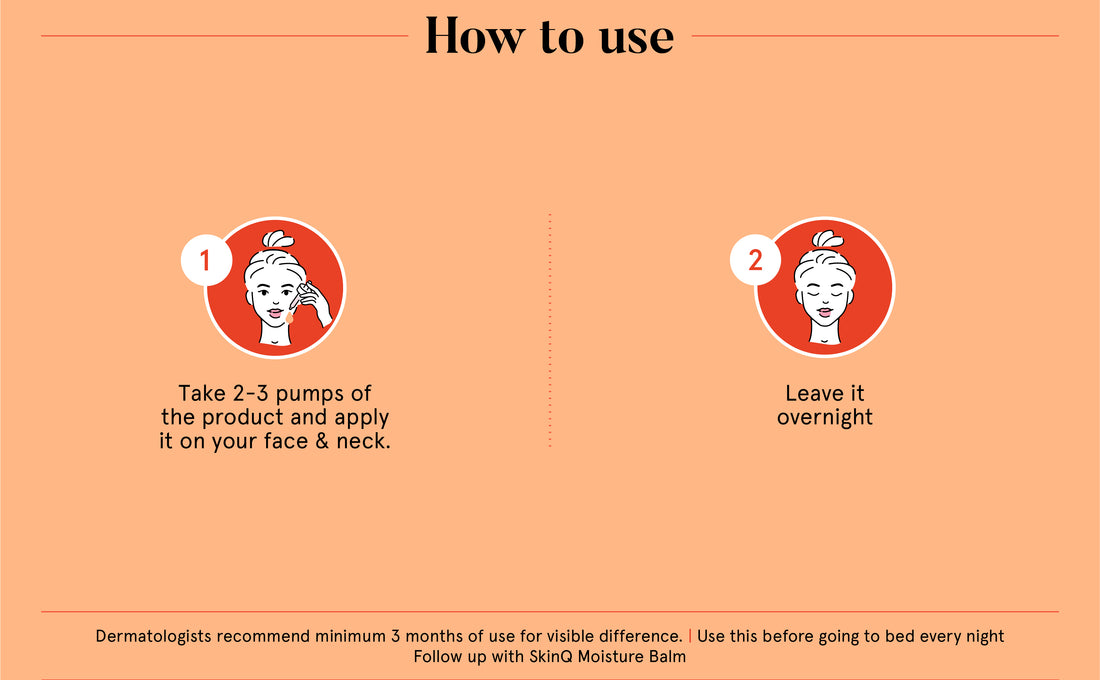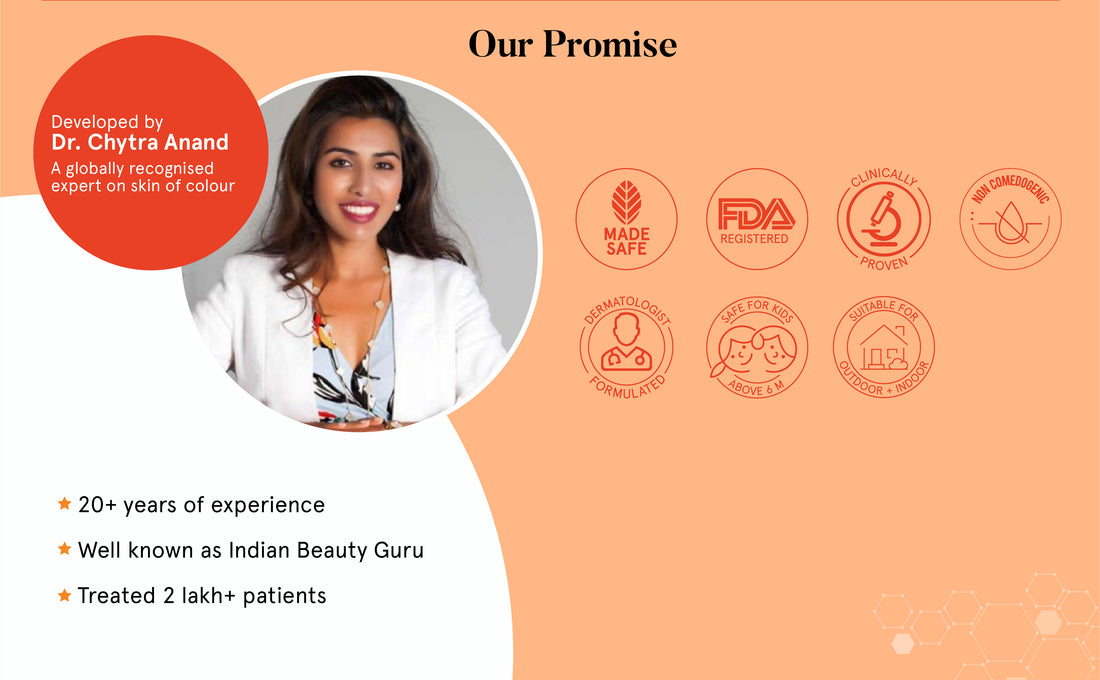 PRODUCT DETAILS
WHO SHOULD USE IT?
HOW TO USE?
RESULTS TO EXPECT
TREATMENT PLAN
ACTIVE INGREDIENTS
An Active Glow Serum for Skin Brightening, Pigmentation & Radiant Glowing Skin.
Wear your best accessory, a glowing and radiant skin, by introducing your skin to our Brightening Serum, an anti pigmentation serum for glowing skin.
Our Brightening Serum, a face serum for glowing skin that gets you radiant, even-toned skin with a softening punch! This high performance face glow kojic acid serum is an all in one product that takes care of your sun tanning, hyperpigmentation, dark circles and uneven complexion. Consistent usage of our pigmentation serum also works on stubborn marks that just won't go away, brightening your skin, and giving you the ultimate healthy glow.
The Brightening Serum is a hyperpigmentation serum, meaning it smoothens out persistent dark circles as well as those pesky sun spots and turns dull complexion into a glowing, healthy looking skin. A new day awaits you, thanks to a handful of active ingredients in this anti-pigmentation serum that brightens your skin tone and evens out your tired skin faster than ever before! With a combination of lactic acid, licorice, kojic di palmitate, malic acid, sodium hyaluronate and other powerful extracts in this face serum for pigmentation, you can achieve a brightened skin which is full of life. This face glow licorice serum is truly the Luminescence Superhero and the only thing you need to reduce tan, dark circles and blotchy pigmentation left on the skin by acne outbreaks or excessive sun exposure.
Whether you need to get rid of tan, dark circles, marks or blemishes or want long term prevention for hyperpigmentation or Melasma this face serum for glowing skin is a must have in your daily night routine.
Our Brightening face serum is best suited for people who:
Have blotchy skin or uneven skin tone
Have tanned skin or pigment patches.
Have used numerous skincare products but didn't get any results
Are looking to achieve brighter glowing skin.
Are looking to treat dark circles.
This anti pigmentation serum is best for:
Normal skin
Dull & Tanned skin
Pigmented skin
Melasma skin
Take 2-4 pumps of the face serum and apply directly onto clean skin to full face and neck. Use this consistently every night as a first step of your night skin care regimen, for 6 weeks to see a noticeable difference in your skin. Avoid using the anti pigmentation serum during the day. Make sure to lock in all the goodness of this serum with our Moisture Balm.
Here are some reasons to love this Kojic Acid Face Serum with 4 actives for pigmented, sensitive, or patchy skin:
✔It works as an anti pigmentation serum to reduce tan, removes dark spots, and scars
✔It visibly brightens skin and evens out skin tone and complexion
✔It reduces hyperpigmentation patches and spots, making it the best hyperpigmentation serum
✔It helps reduce and control melasma
✔Its long term use prevents hyperpigmentation of the skin
✔It helps to treat under-eye dark circles
✔Ideal for skin detan and removing brown pigmentation on the face.
If you want to make the most of this face serum for Pigmentation , Glow and Tan removal , follow this dermatologist-recommended skincare regime:

Your clear healthy glowing skin is just 5 steps away!

Daily Essentials
Step 1: Cleanse
All good things start with a clean slate. So, make sure to deeply cleanse your skin with a pH balanced cleanser. This will help you unclog your pores, get rid of dirt, excess oil and sebum, and reveal fresh, clear skin.

SkinQ experts recommend Daily Glow Cleanser and the Gentle Micellar Water for this step.

Step 2: Treat
Everyone's skin is different, you must understand your skin concerns and treat them by giving what it requires. Repair skin damage and restore skin health with the help of active ingredients that are suitable for your skin type.

SkinQ experts recommend Glow/Pigment Control Elixir for Pigmentation, Acne & Oil Control Elixir for Acne & Clogged Pores, and Hydrate Elixir for Dry/Dehydrated Skin for this step.

Step 3: Nourish
Moisturizing your skin every day keeps dryness and skin damage away! The next step to make way for healthy glowing skin is nourishing your skin with Ceramides and sodium hyaluronate to protect the skin barrier and prevent dryness to keep skin soft & supple.

SkinQ experts recommend Moisture Balm for this step.

Step 4: Protect
Did you know that 90% of skin damage is due to the Sun's harmful UV Rays? This is why protecting your skin with sunscreen from sun damage is a non-negotiable step in our treatment plan.

SkinQ experts recommend Sun Protect Gel & Vitamin C Glow Serum for this step.

Weekly Reminder
Step 5: Boost
Your skin loses its elasticity and softness with age. This is why it appears dull and tedious. Get it all back by giving it a boost of exfoliation once or twice every week. It will make sure you are healthy and glowing all the time.

SkinQ experts recommend Glow Bright Wonder Mask & Glow/Detan DIY Active Facial Kit for Pigmentation, Acne Control Wonder Mask for Acne & Clogged Pores, and Oil Control Wonder Mask for Excess Oil & Open Pores, Hydrate DIY Active Facial Kit for Dry, Dehydrated or Sensitive Skin in this step.
This face serum has the following active ingredients
Lactic acid: A gentle form of AHA derived from milk that exfoliates the skin without making it feel dry
Licorice: An active that brightens the skin, softens the skin texture, heals acne scars, and works on hyperpigmentation
Kojic di palmitate: Inhibits pigment synthesis and lightens pigmentation spots.
Malic acid : Reduces surface tanning and brightens the skin giving it a healthy glow and even complexion.
Sodium Hyaluronate: A derivative of Hyaluronic acid with smaller molecules that penetrate deep in the skin to hydrate and soothe it
Aloe: A soothing and anti-inflammatory ingredient
Cucumber Extract: Hydrates and soothes skin. It conditions the skin and restores natural skin moisture.

Full Ingredients List :
Aqua, 1,2 Propanediol, Lactic Acid, Malic Acid, Kojic Dipalmitate, Aloe Barbadensis Leaf Extract, Cucumis Sativus Fruit Extract, Glycyrrhiza Glabra (Licorice) Root Extract, Oligo Sodium Hyaluronate, Glycerin, Carbomer, Xanthan Gum, Triethanolamine, Ethylhexyglycerin, Phenoxy Ethanol, Disodium Edta, Perfume
3rd time buy
It really works for me. This is legit the 3rd time I'm buying it
Not for dark cirlces
It does not help to reduce dark circles neither my skin. It becomes more dull it waa before. Not happy
This product doesn't have cod
best
Dull Skin, Dark Spots
Go for it
FAQ's
1. What is the best skin-brightening serum in the market?
2. Does brightening serum whiten skin?
3. Can a person with normal skin use the skin brightening serum?
4. Does brightening serum remove tan?
Product Details
EAN Code: 8906133380076
Country of Origin: India
Formulated & Marketed By: Health Q LifeSciences Private Limited, 2nd Floor, No.204, The Eva Mall, Brigade Road, Bengaluru, Bengaluru Urban, Karnataka, 560025

Manufactured By: Esthetic Insights Private Limited, Plot No. 16/A, IDA, 4th Phase, Jeedimetia, Hyderabad Telangana - 500055