Acne Control Mask - 60g
Price (Incl. of taxes)
Rs. 490
MRP:
Rs. 650
24% OFF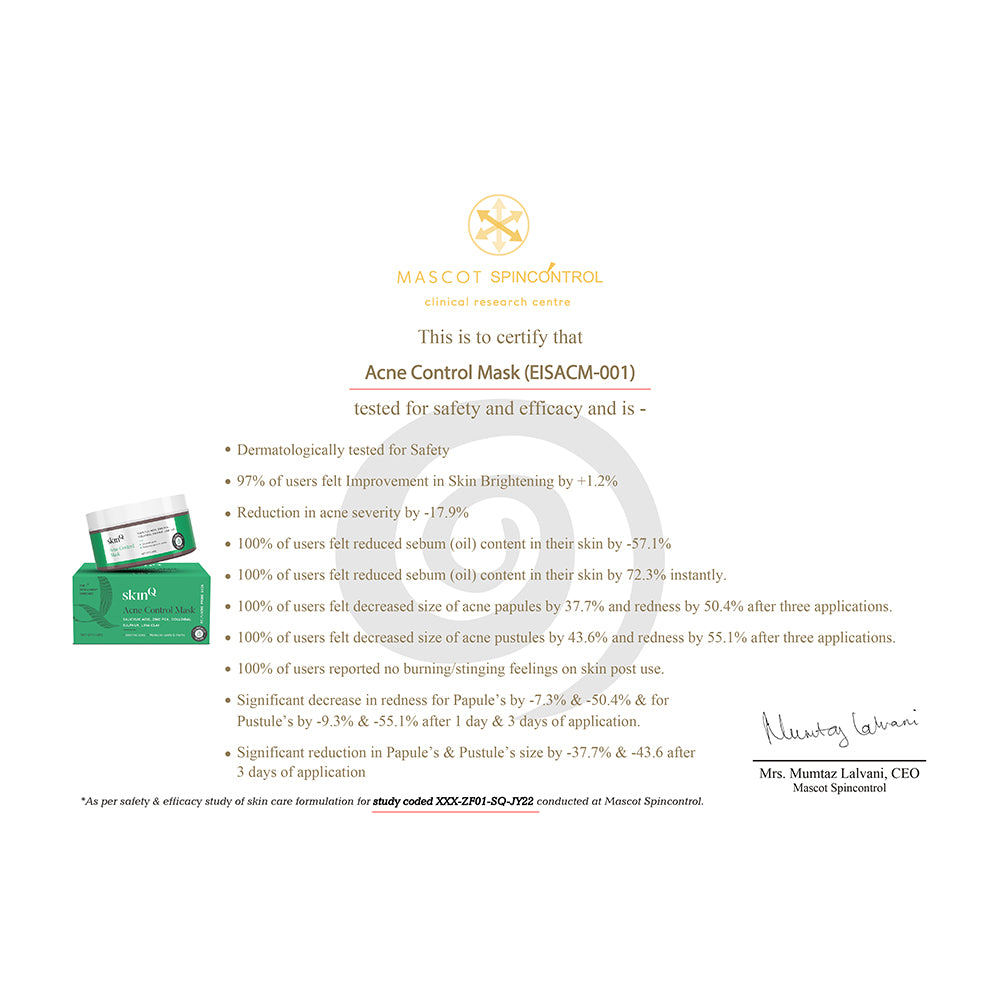 Product description
Clinically tested for 55% visible reduction of Acne Size & Inflammation.
Significantly increases skin brightness in 15 minutes.
72.3% reduction in sebum content in 15 minutes.
Gentle on the Skin with naturally derived active ingredients.
Ideal for bringing inflammatory acne, black pimples on the face, and blackheads & whiteheads under control.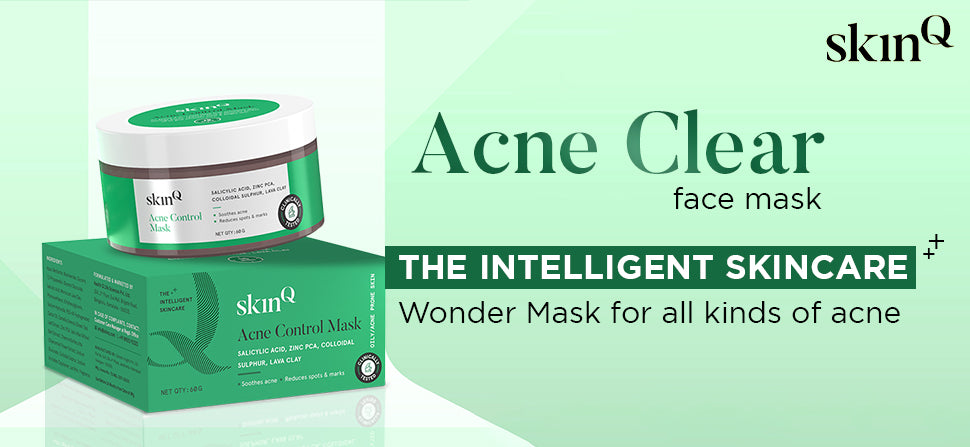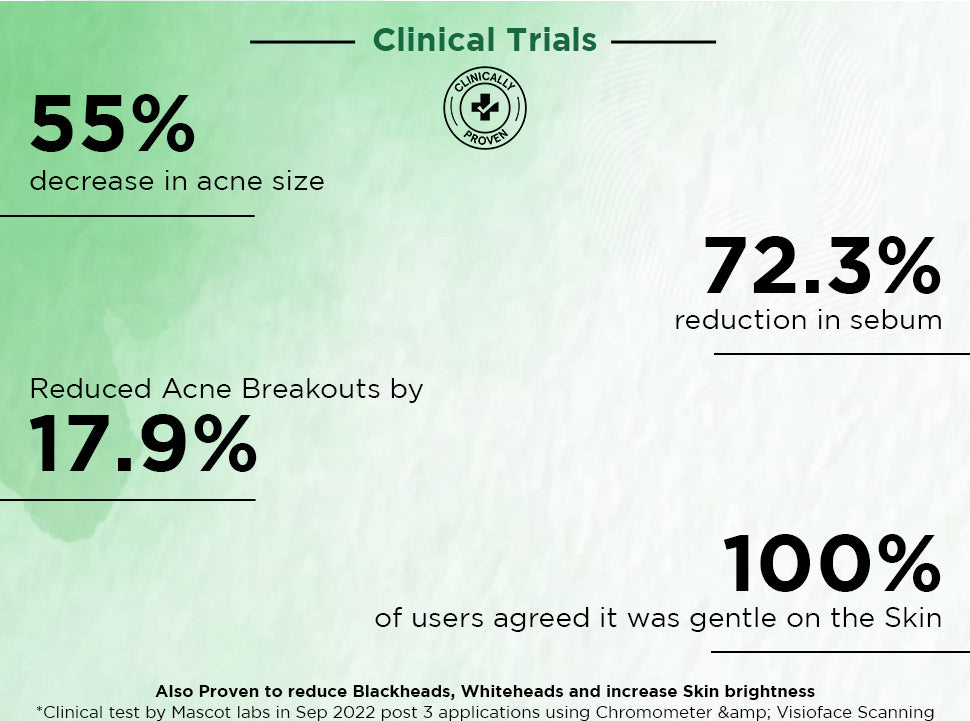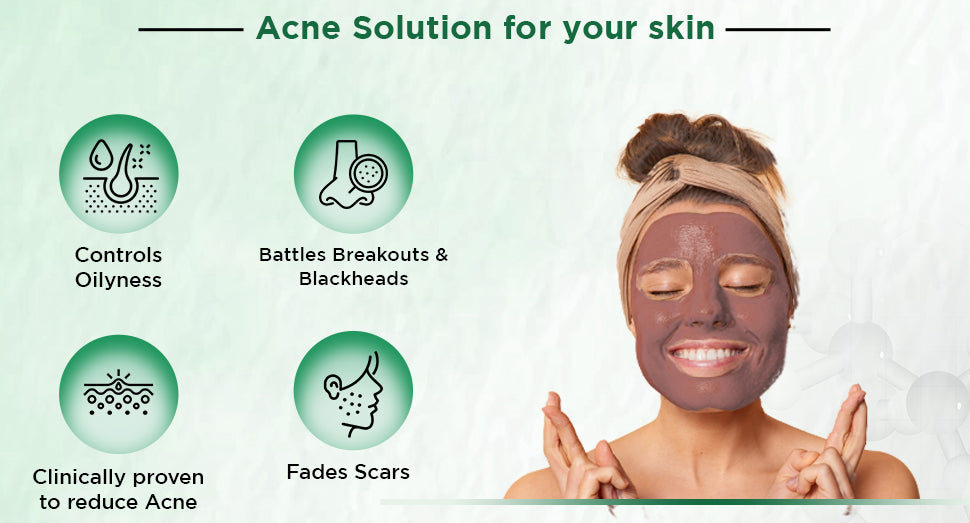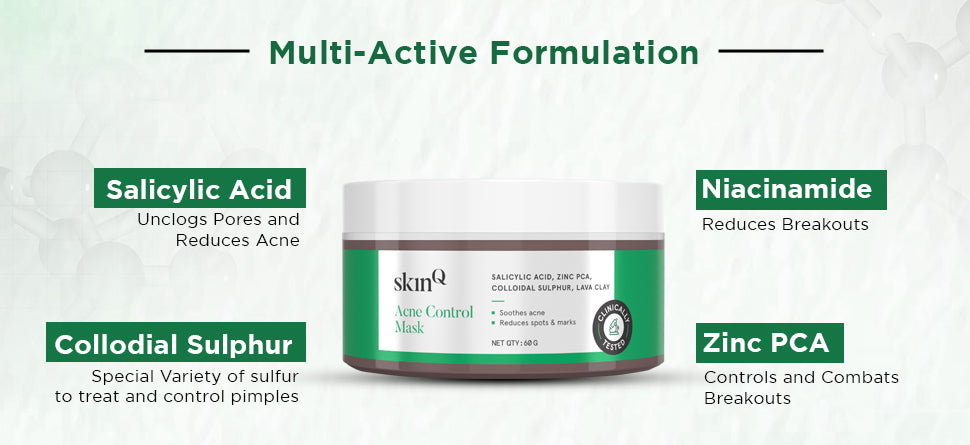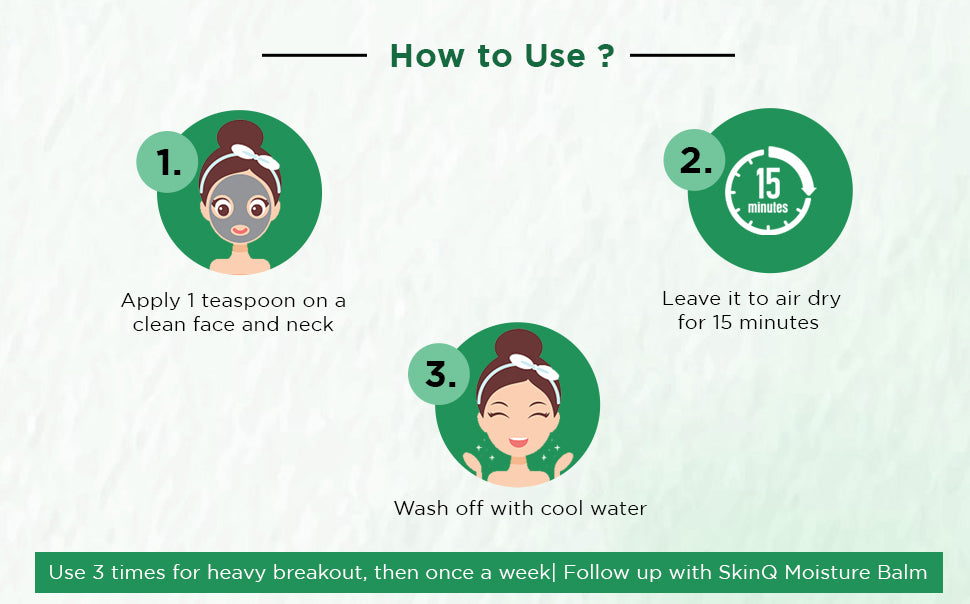 PRODUCT DETAILS
WHO SHOULD USE IT?
HOW TO USE?
RESULTS TO EXPECT
TREATMENT PLAN
ACTIVE INGREDIENTS
An Active Face Clay Mask That Exfoliates Skin In Just 15 Minutes For Acne-Free, Smooth & Bright Skin!
SkinQ's Acne Control Wonder Mask, an easy to use, dermatologist formulated face mask for acne and can do wonders for your skin in no time!
Thanks to its acne targeted active ingredients like Salicylic acid, Niacinamide, Zinc PCA, this face mask for acne works like magic. While Salicylic acid clears up your clogged pores and gives your skin the freedom to breathe, Niacinamide helps rejuvenate your skin and acts as a lipid barrier and Zinc PCA that help get rid of the unwanted breakouts/ acne or pimples! The soothing ingredients in this face mask for acne on the other hand takes care of inflammation. For instance, green tea and chamomile flower extracts fights off the free radicals that damage your skin and gives your skin a soothing effect and a smooth feel.
SkinQ Acne Control Mask is truly the best face mask for acne that gives you a non oily, acne and pimple free, radiant skin! Get yours now for a clean and acne free skin! This face mask for acne is your one step, 15-minute solution for a healthy glowing skin before you step out and have fun!
Our Acne Control Wonder Mask is best suitable for people dealing with:
Frequent pimples & breakouts
Excess oil and sebum on the skin
Acne Scars & Blemishes
This clay mask for acne is best for:
Oily skin
Acne prone skin
Who Shouldn't use it?
We do not recommend using this mask for those who have:
Dry & dehydrated skin
Extremely sensitive skin
Pregnant & breastfeeding moms
Sulpha Allergies
Take 1-2 tsp of the product and apply on a clean, freshly washed face . Leave to dry for 15 minutes and wipe with wet cotton or rinse with cool water.
Follow with SkinQ Moisture Balm to keep skin nourished and moisturised. Use 2-3 times a week, anytime of the day for instant relief for active acne and skin glow .

Pro tip: To get rid of stubborn pimples and get a bump free skin, use the mask as a spot treatment. Apply the mask and leave it overnight for a quick fix to flatten the spot.
Here are some reasons to love this face serum for oily skin and acne:
✔It helps to reduce acne, pimples and breakouts instantly.
✔It visibly lightens pigmented acne marks & skin blemishes
✔It helps to control skin oiliness and also reduces clogging of skin pores
✔It keeps the skin smooth & clear.

If you want to make the most of this clay mask for acne and blemishes , follow this dermatologist-recommended skincare regime:
Your clear healthy glowing skin is just 5 steps away!
Daily Essentials
Step 1: Cleanse
All good things start with a clean slate. So, make sure to deeply cleanse your skin with a pH balanced cleanser. This will help you unclog your pores, get rid of dirt, excess oil and sebum, and reveal fresh, clear skin.

SkinQ experts recommend Daily Glow Cleanser and the Gentle Micellar Water for this step.
Step 2: Treat
Everyone's skin is different, you must understand your skin concerns and treat them by giving what it requires. Repair skin damage and restore skin health with the help of active ingredients that are suitable for your skin type.

SkinQ experts recommend Glow/Pigment Control Elixir for Pigmentation, Acne & Oil Control Elixir for Acne & Clogged Pores, and Hydrate Elixir for Dry/Dehydrated Skin for this step.
Step 3: Nourish
Moisturizing your skin every day keeps dryness and skin damage away! The next step to make way for healthy glowing skin is nourishing your skin with Ceramides and sodium hyaluronate to protect the skin barrier and prevent dryness to keep skin soft & supple.

SkinQ experts recommend Moisture Balm for this step.
Step 4: Protect
Did you know that 90% of skin damage is due to the Sun's harmful UV Rays? This is why protecting your skin with sunscreen from sun damage is a non-negotiable step in our treatment plan.

SkinQ experts recommend Sun Protect Gel & Vitamin C Glow Serum for this step.
Weekly Reminder
Step 5: Boost
Your skin loses its elasticity and softness with age. This is why it appears dull and tedious. Get it all back by giving it a boost of exfoliation once or twice every week. It will make sure you are healthy and glowing all the time.

SkinQ experts recommend Glow Bright Wonder Mask & Glow/Detan DIY Active Facial Kit for Pigmentation, Acne Control Wonder Mask for Acne & Clogged Pores, and Oil Control Wonder Mask for Excess Oil & Open Pores, Hydrate DIY Active Facial Kit for Dry, Dehydrated or Sensitive Skin in this step.
Salicylic Acid - An oil-soluble chemical exfoliant that reaches deep into the skin to clear out acne, blackheads, whiteheads, and excess sebum/oil
Niacinamide- A soothing ingredient that minimizes enlarged pores,redness/inflammation on the skin, excess sebum, and acne scars
Colloidal Sulfur - A special variety of sulphur that is fast acting and helps control pimples.
Zinc PCA - Combats acne & controls breakouts
Clay- Absorbs excess oil

Full ingredients list:
Aqua, Bentonite, Niacinamide, Glycerin, 1,3-Propanediol, Glyceryl Glucoside, Salicylic Acid, Moroccan Lava Clay, Phenoxyethanol, Ethylhexylglycerin, Sodium Hydroxide, PEG- 40 Hydrogenated Castor Oil, Camellia Sinensis (Green Tea) Leaf Extract, Zinc PCA, Beta Hydroxy Acid (Willow) Bark Extract, Chamomilla Recutita (Chamomile) Flower Extract, Sodium Gluconate, Colloidal Sulfur, Sodium Acrylates Copolymer, Lecithin, Fragrance.
A Game-Changer for Clearer Skin
I've struggled with acne for years, trying countless products and treatments, but the Acne Control Mask has been a true revelation for me. This product has not only transformed my skin but also my confidence.
The first thing that struck me was the easy application of this mask. It glides on smoothly, and I love that it doesn't dry out too quickly, allowing me to cover my entire face evenly. The pleasant texture and mild scent make the application process a relaxing experience. I got best deal by using GrabOn Coupon code.
Item was missing from package
FAQ's
What is the best face pack for pimples?
How to use the best face pack for acne?
What are the ingredients to check while buying an acne-control face wash?
Product Details
EAN Code: 8906133380410
Country of Origin: India
Formulated & Marketed By: Health Q LifeSciences Private Limited, 2nd Floor, No.204, The Eva Mall, Brigade Road, Bengaluru, Bengaluru Urban, Karnataka, 560025

Manufactured By: Esthetic Insights Private Limited, Plot No. 16/A, IDA, 4th Phase, Jeedimetia, Hyderabad Telangana - 500055