Glow Starter Combo
Price (Incl. of taxes)
Rs. 999
MRP:
Rs. 1,440
30% OFF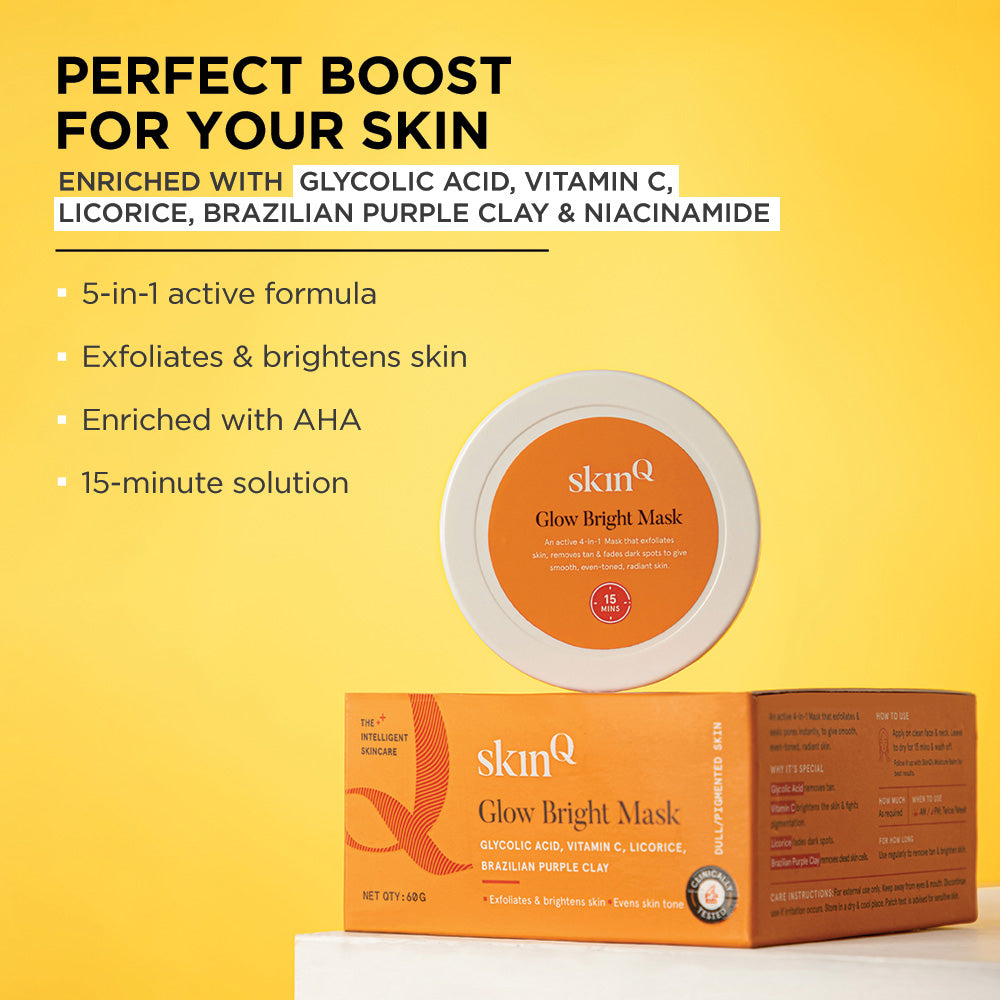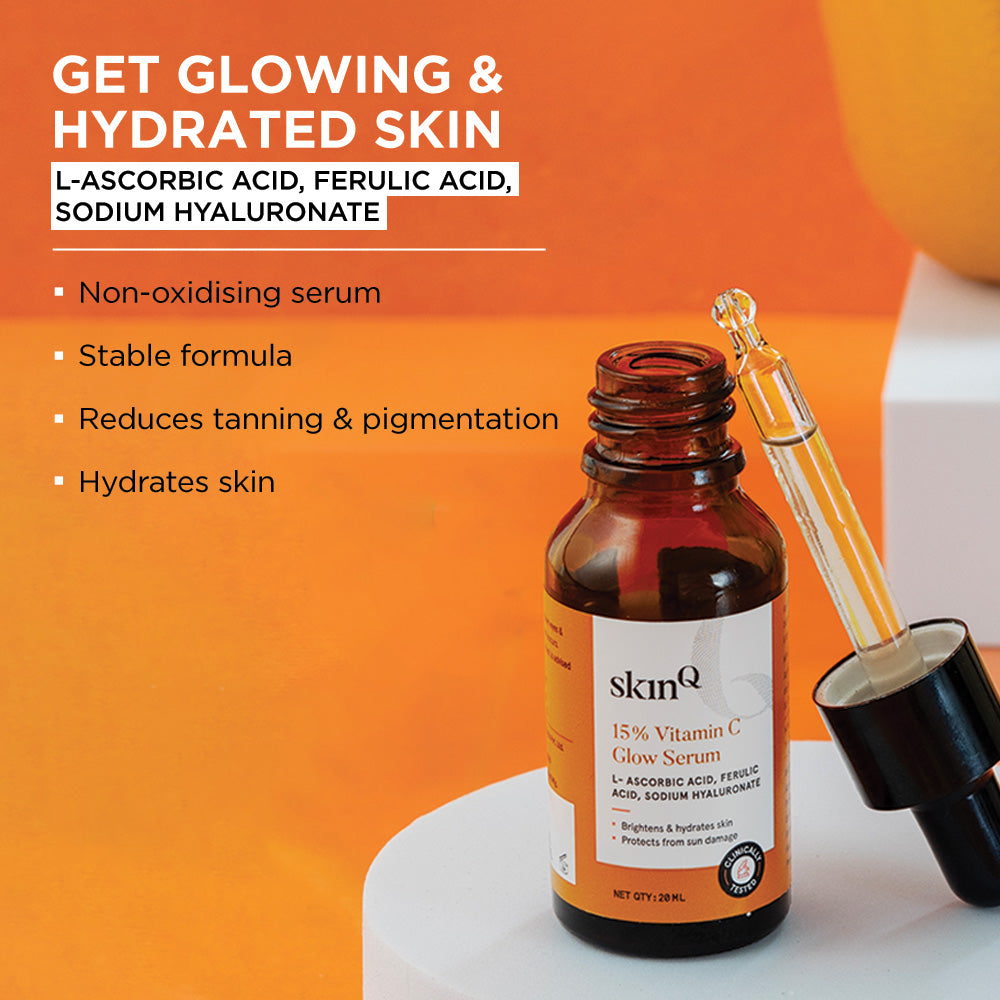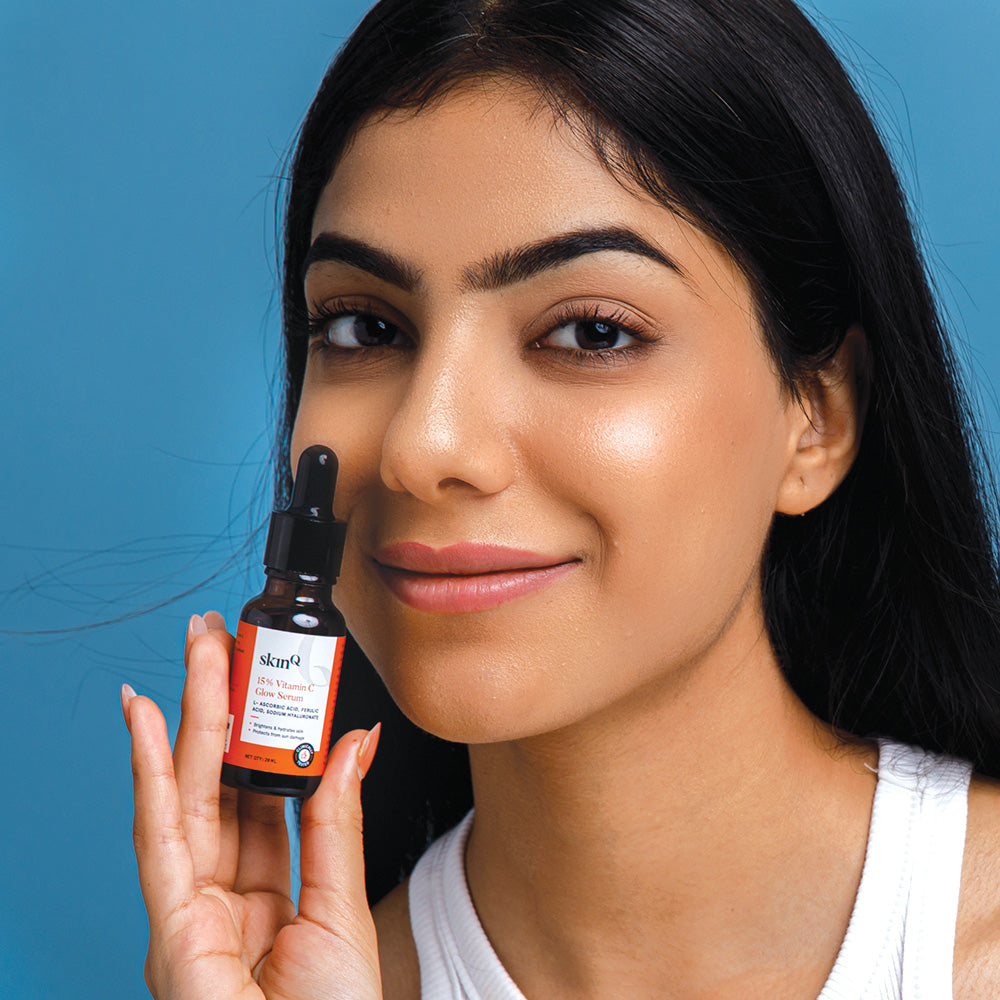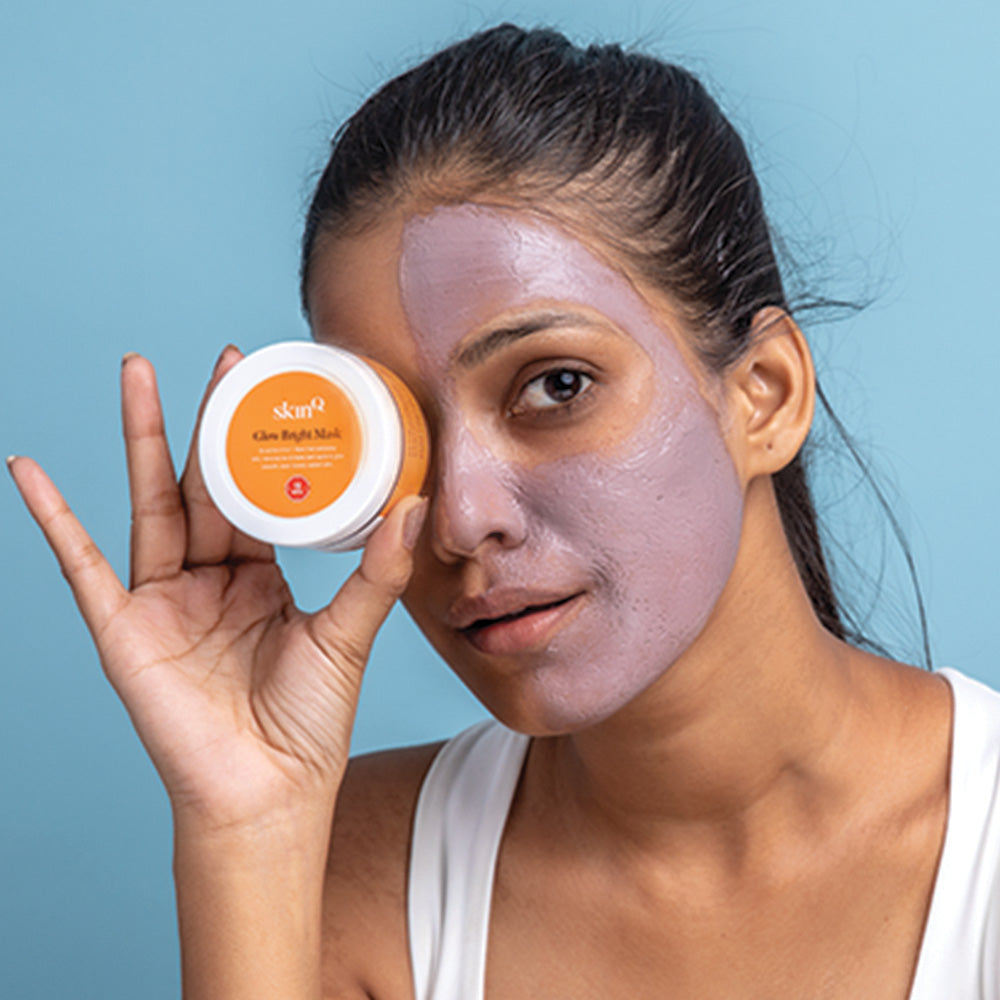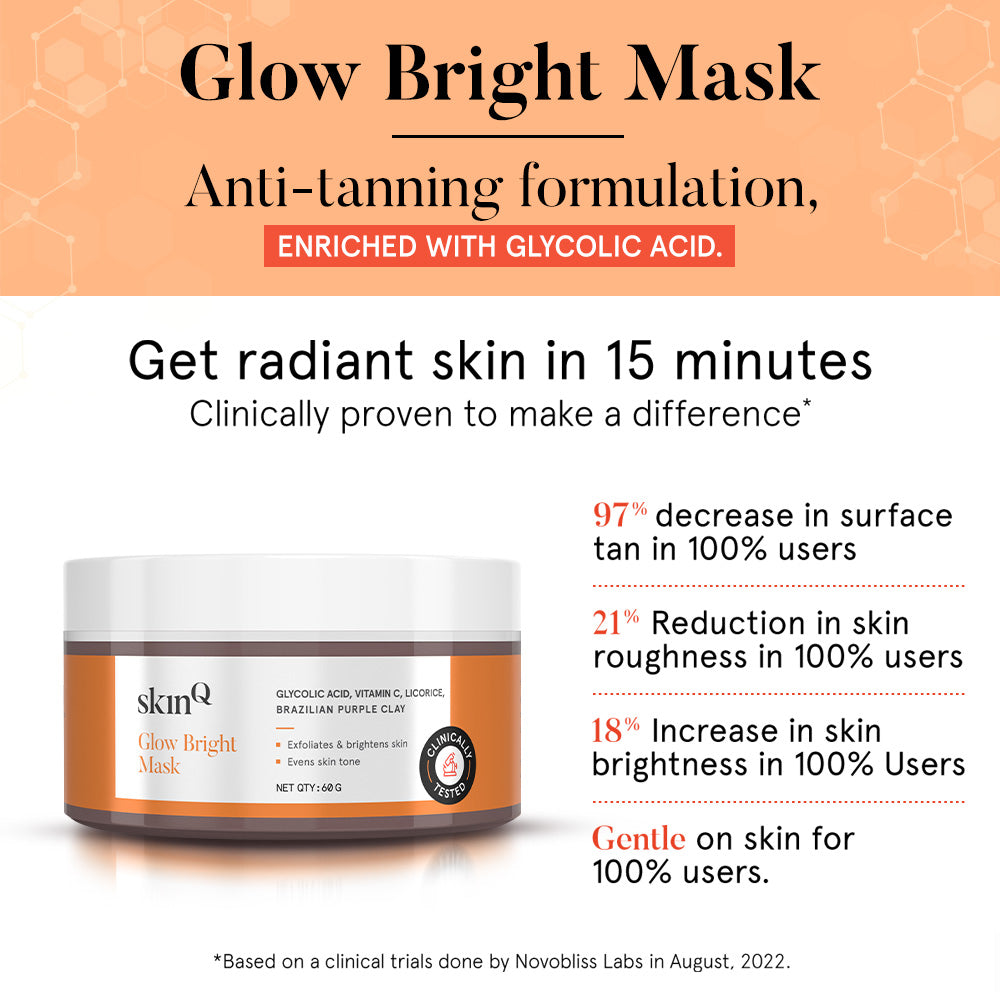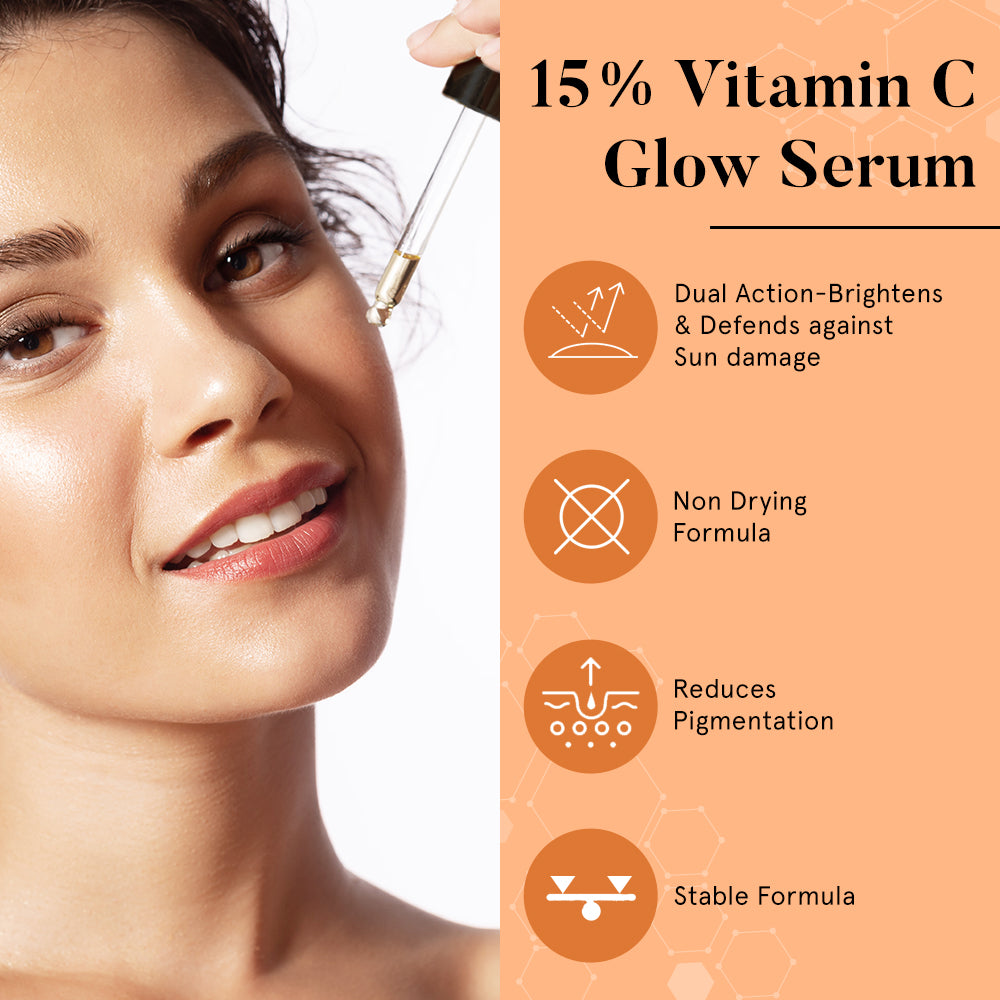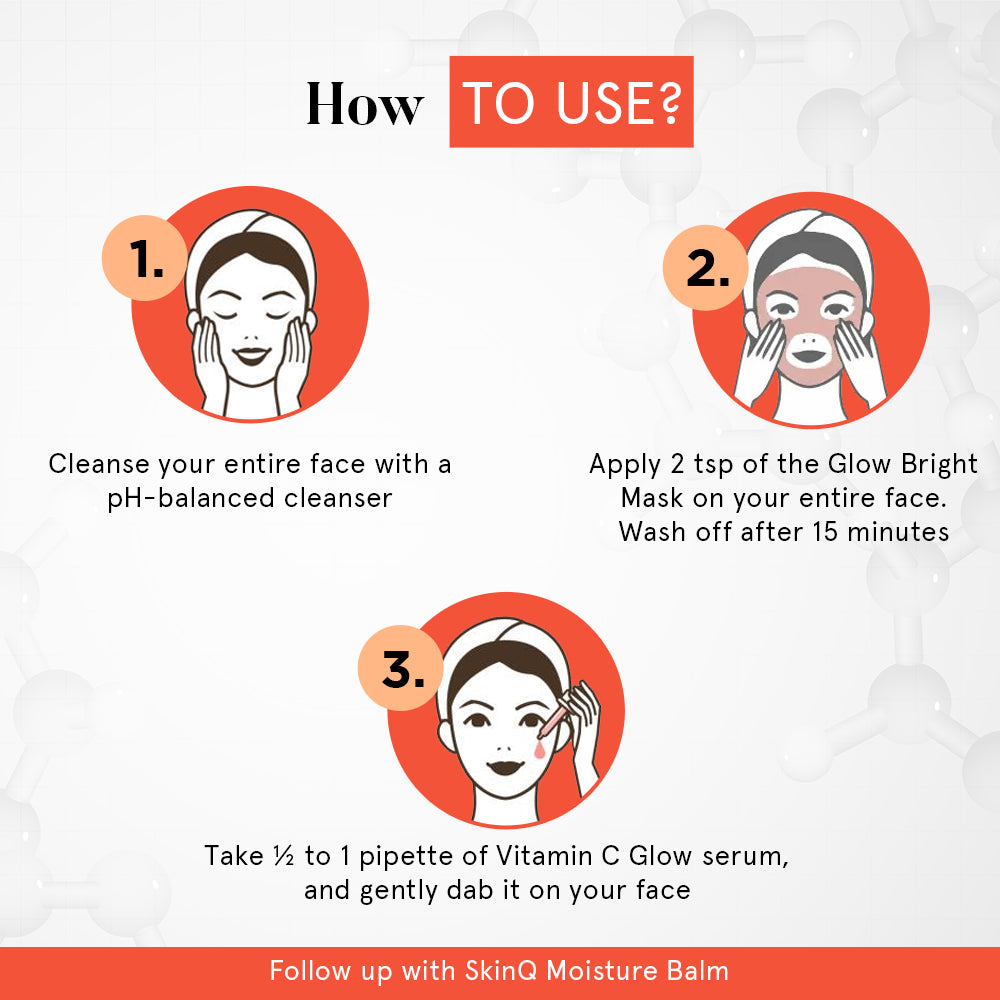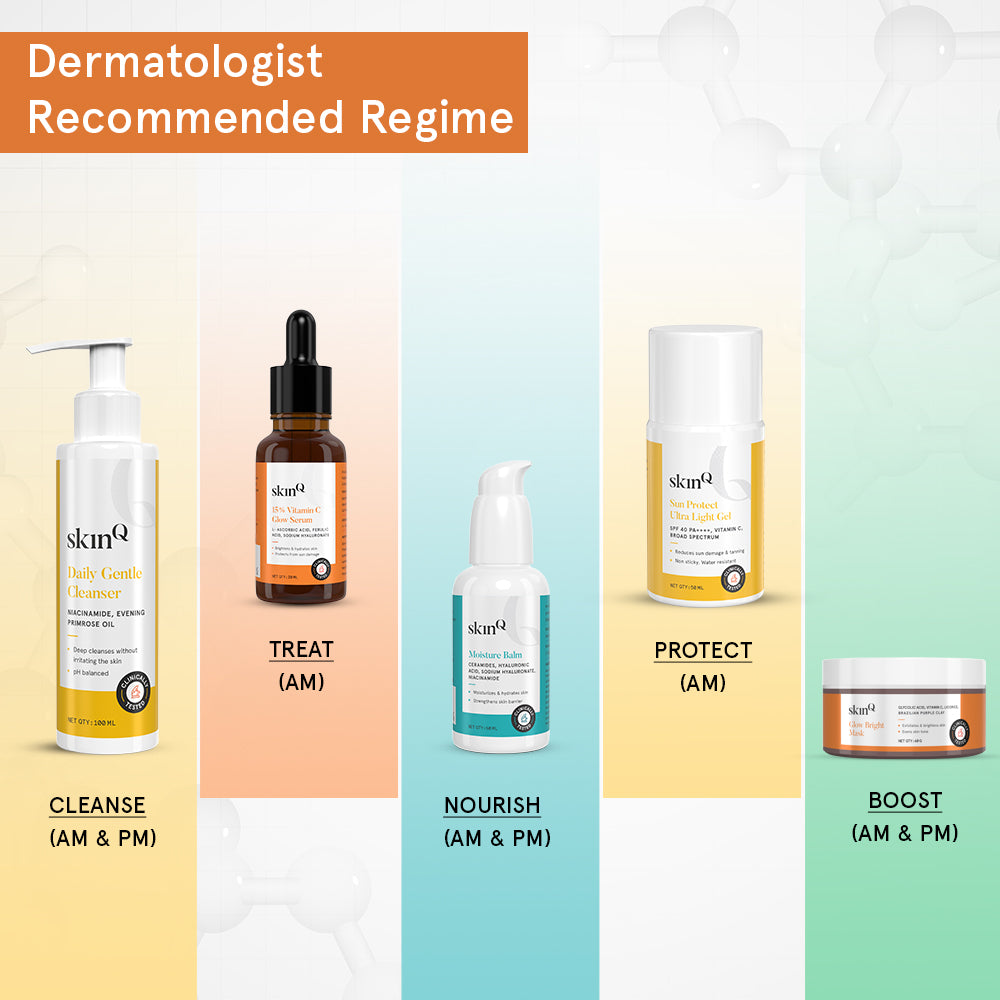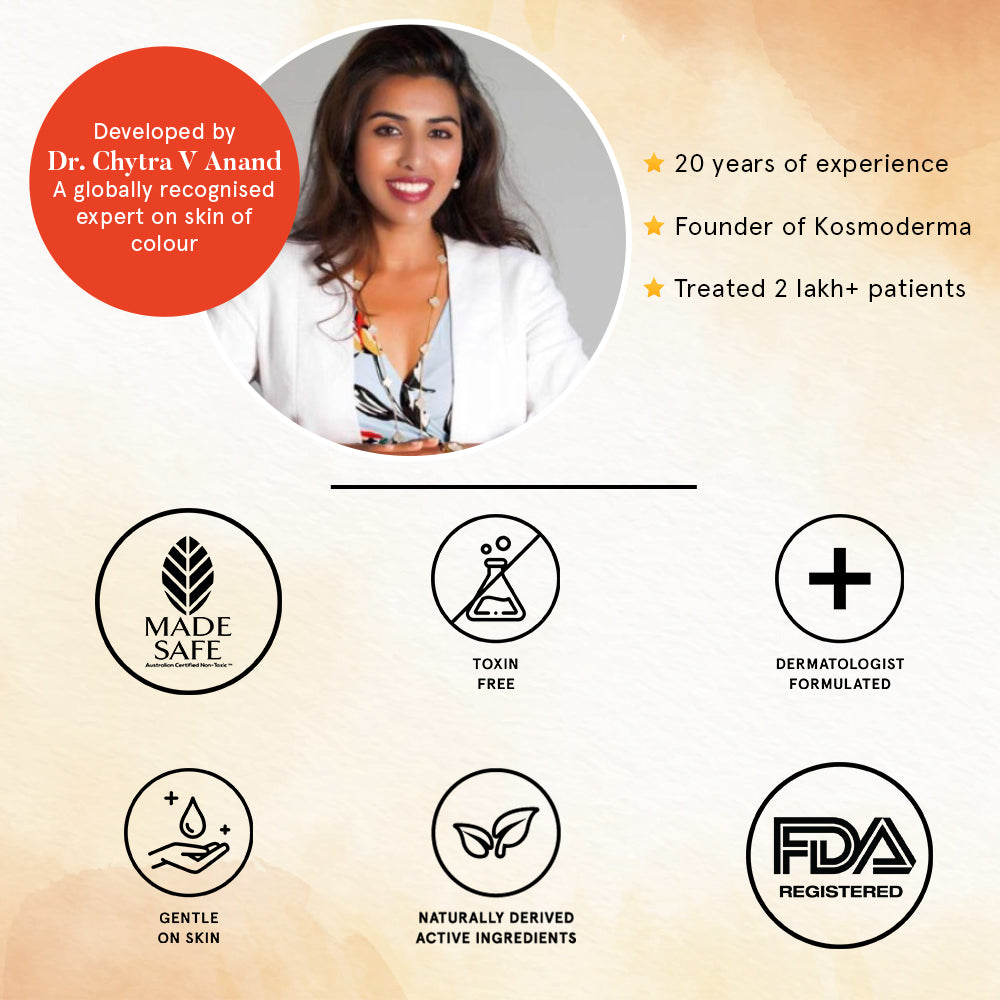 Product description
Repairs and Rejuvenates skin
Treats pigmentation, fights free radicals and brightens skin
Gently Exfoliates skin and gives Instant Glow in 15 minutes
Vitamin C repairs and shields skin from sun damage
Science-backed formulation especially for Indian Skin
Perfect Combo for Radiant Healthy Skin
WHO SHOULD USE IT?
HOW TO USE?
RESULTS TO EXPECT
TREATMENT PLAN
ACTIVE INGREDIENTS
Our Glow Starter Combo is best suitable for people who:
Want Instant Glowing and Radiant Skin
Want that lasting glow and protection against sun damage and free radicals
Suffer from dull and tired-looking skin
Have blotchy skin or uneven skin tone
Have tanned or pigmented skin
Have stubborn spots and marks
Normal to All Skin type
Step 1
Cleanse your face with a gentle cleanser to get rid of that excess dirt and grim. We suggest SkinQ Daily Glow Cleanser- infused with active ingredients.
Smear 1-2 tsp of the product on your entire face. Make sure you apply it evenly on your face. Leave the mask to dry for 15 minutes, then wipe it off with wet cotton or rinse it off with cool water

Step 2
Post using the mask, apply a lightweight, non-comedogenic moisturiser. Thereafter take ½ to 1 pipette of Vitamin C serum, and pat it into your skin, until absorbed. Apply Sun Protect Ultra Light Gel and apply to your face and neck for extra protection.
Here are some reasons to love this Vitamin C serum + Glow Bright Mask combo:
✔ It visibly reduces tanning of skin
✔ Brightens Skin in 15 minutes
✔ It reduces sun damage
✔ It brightens skin tone and hydrates the skin
✔ It helps to reduce Melasma and Pigmentation flare-up
✔ Its long term use can prevent hyperpigmentation of the skin
If you want to make the most of this combo, follow this dermatologist-recommended skincare regime:

Your clear healthy glowing skin is just 5 steps away!

Daily Essentials
Step 1: Cleanse
All good things start with a clean slate. So, make sure to deeply cleanse your skin with a pH balanced cleanser. This will help you unclog your pores, get rid of dirt, excess oil and sebum, and reveal fresh, clear skin.

SkinQ experts recommend Daily Glow Cleanser and the Gentle Micellar Water for this step.

Step 2: Treat
Everyone's skin is different, you must understand your skin concerns and treat them by giving what it requires. Repair skin damage and restore skin health with the help of active ingredients that are suitable for your skin type.

SkinQ experts recommend Glow/Pigment Control Elixir for Pigmentation, Acne & Oil Control Elixir for Acne & Clogged Pores, and Hydrate Elixir for Dry/Dehydrated Skin for this step.

Step 3: Nourish
Moisturizing your skin every day keeps dryness and skin damage away! The next step to make way for healthy glowing skin is nourishing your skin with Ceramides and sodium hyaluronate to protect the skin barrier and prevent dryness to keep skin soft & supple.

SkinQ experts recommend Moisture Balm for this step.

Step 4: Protect
Did you know that 90% of skin damage is due to the Sun's harmful UV Rays? This is why protecting your skin with sunscreen from sun damage is a non-negotiable step in our treatment plan.

SkinQ experts recommend Sun Protect Gel & Vitamin C Glow Serum for this step.

Weekly Reminder
Step 5: Boost
Your skin loses its elasticity and softness with age. This is why it appears dull and tedious. Get it all back by giving it a boost of exfoliation once or twice every week. It will make sure you are healthy and glowing all the time.

SkinQ experts recommend Glow Bright Wonder Mask & Glow/Detan DIY Active Facial Kit for Pigmentation, Acne Control Wonder Mask for Acne & Clogged Pores, and Oil Control Wonder Mask for Excess Oil & Open Pores, Hydrate DIY Active Facial Kit for Dry, Dehydrated or Sensitive Skin in this step.
Glow Bright Mask
Glycolic acid: The most effective form of AHA derived from sugarcane exfoliates the skin and promotes cell turnover to remove dull skin and tan.
Niacinamide: A powerhouse ingredient that improves skin's natural barrier, minimises pore size, prevents UV damage, and brightens skin
Licorice: An active that brightens the skin, softens the skin texture, heals acne scars, and works on hyperpigmentation
Ethyl Ascorbic Acid (Vit C)- A potent and stable form of vitamin C that fights hyperpigmentation, dark spots, oxidative damage, and dull skin
Mulberry: Fades away dark spots & improves uneven skin tone.
Vitamin C Glow Serum
L Ascorbic acid- The purest and most potent form of vitamin c that fights hyperpigmentation, dark spots, oxidative damage, and dull skin
Ferulic acid- An antioxidant that reduces free radical damage and enhances the properties of L-Ascorbic acid
Sodium hyaluronate- A derivative of Hyaluronic acid with smaller molecules that penetrate deep in the skin to hydrate and soothe it
Emblica (Amla)- A strong antioxidant that keeps inflammation in check and soothes the skin
One question
Will this vitamin c serum get oxidized if yes how it should be maintained sometimes I feel difference in my skin tone
The Vitamin C serum has quickly become a staple in my daily routine.
It has helped to brighten and even out my skin tone, while also reducing the appearance of fine lines and wrinkles. SkinQ Glow Bright Mask is a game changer. I was initially worried that it might leave my skin feeling dry or tight, but it actually left it feeling hydrated and refreshed.
The Glow Bright Mask is also a fantastic addition to my skincare routine
I highly recommend the SkinQ Glow Starter Combo to anyone looking to improve their skin's overall health and appearance.The Vitamin C serum has really helped brighten and even out my complexion and has also reduced the appearance of dark spots and fine lines. It contains gentle exfoliating agents that help remove dead skin cells and reveal a brighter.
using the SkinQ Glow Starter Combo for a few weeks now, and I am already seeing amazing results.
I love how these two products work together to give my skin a healthy, radiant glow. I would definitely recommend the SkinQ Glow Starter Combo to anyone looking for a simple yet effective skincare routine.
Wearing sunscreen helps but that tad bit of tan always stays.
I am assigned a lot of fieldwork. My post skincare includes the mask in this combo. Vitamin C Serum actually helps with a slower absorption of UV rays. Heals and repairs tan & pigmentation caused by sun.
Product Details
Country of Origin: India
Formulated & Marketed By: Health Q LifeSciences Private Limited, 2nd Floor, No.204, The Eva Mall, Brigade Road, Bengaluru, Bengaluru Urban, Karnataka, 560025

Manufactured By: Esthetic Insights Private Limited, Plot No. 16/A, IDA, 4th Phase, Jeedimetia, Hyderabad Telangana - 500055