Hydrate Serum, 30 ML : Face Serum For All Skin Types
Hydrate Serum, 30 ML : Face Serum For All Skin Types
Price (Incl. of taxes)
Rs. 740
MRP:
Rs. 990
25% OFF
Product description
This deep hydration serum is effective for Dry & Normal skin barrier restoration.
Made with double goodness of Hyaluronic acid & Sodium Hyaluronate.
Visible improvement in skin sensitivity from the first application.
Added skin benefits from Vitamin E & Vitamin B5.
Reduces skin sensitivity & dry feel.
Reduces early signs of ageing.
Reduces white spots / white dry patches on the face.
Ideal for Winter Skin Care.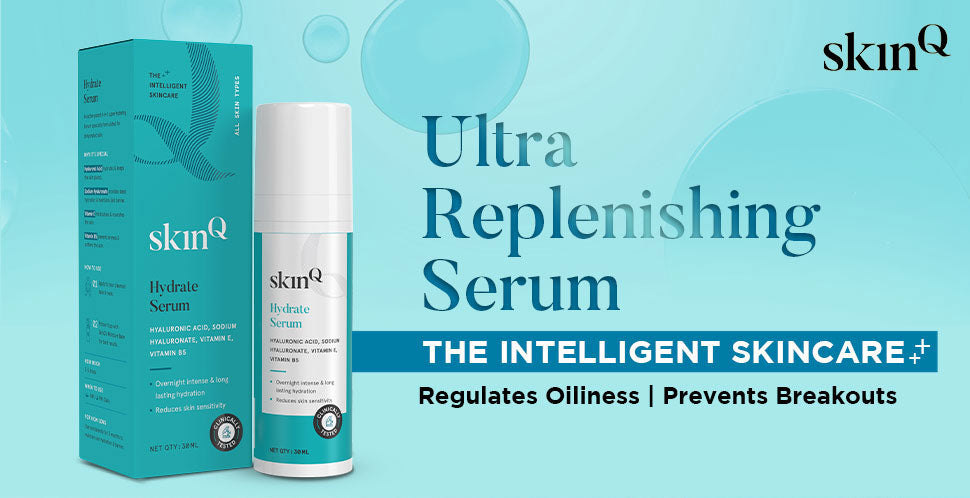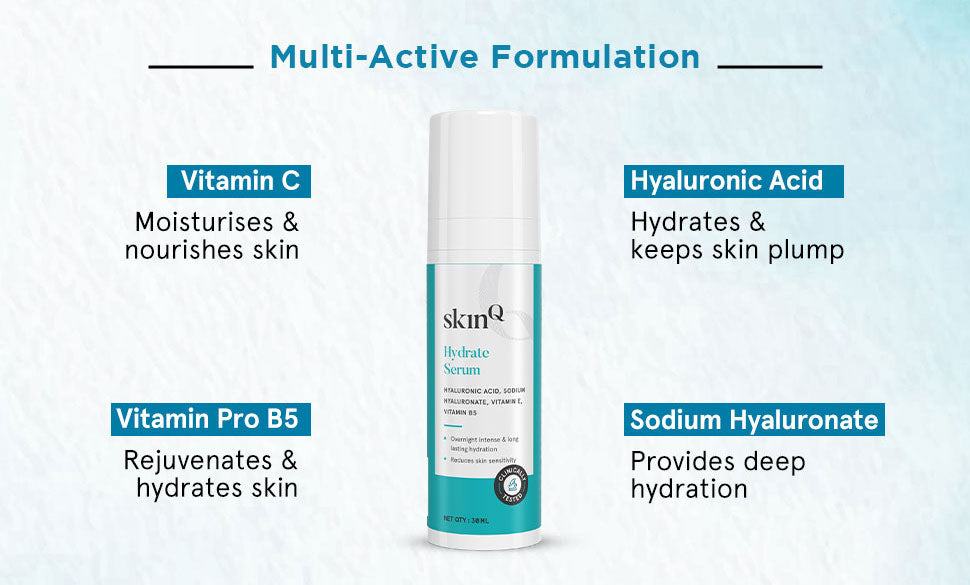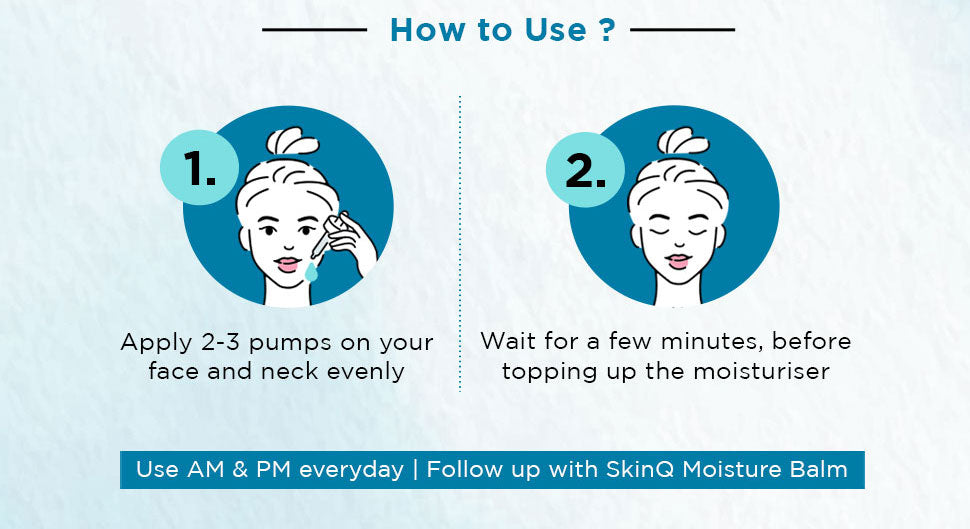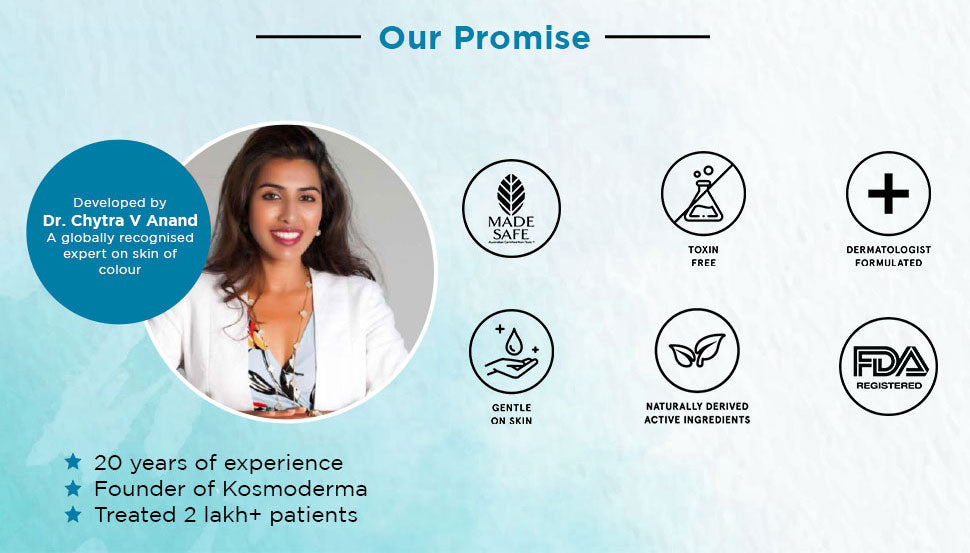 PRODUCT DETAILS
WHO SHOULD USE IT?
HOW TO USE?
RESULTS TO EXPECT
TREATMENT PLAN
ACTIVE INGREDIENTS
An Active Hydrating Elixir Serum that Hydrate & Soothes Skin
Dull, dry, and flaky skin is something that no one should have to suffer with. It's time you bid adieu to your parched skin and up your hydration game with the Hydrate Elixir, a face serum for dry skin.
Hydrate Elixir is the best face serum for dry skin in any season, thanks to its super-hydrating formula and the mindful ingredients. Humid, windy, and chilly weather exacerbates your skin's thirst for moisture. This dry skin serum is your savior in those times!
Whether you have sensitive skin, itchy skin, or skin that looks dull and lifeless, our hydrate serum is your go-to product to replenish your skin. This dry skin serum contains hyaluronic acid, which is easily absorbed by your skin. As a result, your skin will have the appearance and sensation of being feathery light. Although this hydrate serum is an extremely nourishing formulation, it does not leave behind any sort of residue and manages to impart a luminous glow .
Imagine what you could do with having such hydrated and healthy looking skin! When you just want to Hydrate, Soothe & Calm the skin, look no further than our active hydrate elixir, the best face serum for dry skin.
Our hyaluronic acid serum is Lightweight, Non-Sticky, Goes on Clear and Smooth and Absorbs instantly. Bring home your new go-to dry skin serum and get your hydration problem- sorted!
Our Hyaluronic acid serum is best for people who are:
Looking to get smooth and plump skin
Fed up of searching of sensitive skin friendly products
In need of hydration all the time
Dealing with aging and extremely dry skin
This hydrate serum is best for:
Dry skin
Dehydrated skin
Sensitive skin
Combination skin
Normal skin
Dull skin
Pigmented skin
Take 2-4 pumps of this hydrating serum and apply directly onto clean skin. You can use it during the day as well as at night, daily. Use this consistently for 6 weeks to see a noticeable difference in your skin.Make sure to lock in all the goodness of this serum with our Moisture Balm.
Here are some reasons to love this hydrating face serum:
✔ It hydrates the skin on the surface as well as deeper levels
✔ It nourishes the skin to restore skin balance
✔ It repairs the skin barrier
✔ It imparts soft, glowing, plump and healthier looking skin
✔ Regular long term use reduces the appearance of fine lines and dullness
If you want to make the most of this face serum for Pigmentation , Glow and Tan removal , follow this dermatologist-recommended skincare regime:

Your clear healthy glowing skin is just 5 steps away!

Daily Essentials
Step 1: Cleanse
All good things start with a clean slate. So, make sure to deeply cleanse your skin with a pH balanced cleanser. This will help you unclog your pores, get rid of dirt, excess oil and sebum, and reveal fresh, clear skin.

SkinQ experts recommend Daily Glow Cleanser and the Gentle Micellar Water for this step.

Step 2: Treat
Everyone's skin is different, you must understand your skin concerns and treat them by giving what it requires. Repair skin damage and restore skin health with the help of active ingredients that are suitable for your skin type.

SkinQ experts recommend Glow/Pigment Control Elixir for Pigmentation, Acne & Oil Control Elixir for Acne & Clogged Pores, and Hydrate Elixir for Dry/Dehydrated Skin for this step.

Step 3: Nourish
Moisturizing your skin every day keeps dryness and skin damage away! The next step to make way for healthy glowing skin is nourishing your skin with Ceramides and sodium hyaluronate to protect the skin barrier and prevent dryness to keep skin soft & supple.

SkinQ experts recommend Moisture Balm for this step.

Step 4: Protect
Did you know that 90% of skin damage is due to the Sun's harmful UV Rays? This is why protecting your skin with sunscreen from sun damage is a non-negotiable step in our treatment plan.

SkinQ experts recommend Sun Protect Gel & Vitamin C Glow Serum for this step.

Weekly Reminder
Step 5: Boost
Your skin loses its elasticity and softness with age. This is why it appears dull and tedious. Get it all back by giving it a boost of exfoliation once or twice every week. It will make sure you are healthy and glowing all the time.

SkinQ experts recommend Glow Bright Wonder Mask & Glow/Detan DIY Active Facial Kit for Pigmentation, Acne Control Wonder Mask for Acne & Clogged Pores, and Oil Control Wonder Mask for Excess Oil & Open Pores, Hydrate DIY Active Facial Kit for Dry, Dehydrated or Sensitive Skin in this step.
This face serum has the following active ingredients which makes it suitable for almost all skin types:
Hyaluronic acid- A moisture magnet that attracts water in the skin to make it plump and
supple
Sodium Hyaluronate- A derivative of Hyaluronic acid with smaller molecules that penetrate deep in the skin to hydrate and soothe it
Vitamin E- An antioxidant that moisturizes and brightens the skin while also protecting the skin from free radical damage caused by sun exposure
Panthenol- A soothing and anti-inflammatory ingredient that hydrates and rejuvenates the skin

Full ingredients list:
Aqua, 1,3 Propanediol, Dicaprylyl Carbonate, Dl-Panthenol, Pro Vit B5 , Tocopheryl Acetate, Vitamin E, Hyaluronic Acid, Carbomer, Ethylhexylglycerin, Phenoxyethanol, Oligo Sodium Hyaluronate, Disodium Edta, Hydroxyethyl Urea, Xanthan Gum
Amazing
It does what it promises to do!!! Amazing product!!!
It really works!
My sister suffers from atopic dermatitis, and her skin often gets dry and itchy.
This seems to work well to soothe her skin and help maintain hydration, and it does not irritate her skin.
I wish it was available in a larger size.
not does what it claims
Unfortunately first ever SkinQ product does not work as it claims
Go for it.
It does what it promises to do!!! Amazing product!!!
FAQ's
1. What is the best hydrating serum for dry skin according to Dermatologists?
2. How to Use hydrating serum for the face? (SV-880)
3. Why does your skin need the hydrating serum?
4. Is it worth buying a serum with hyaluronic acid? (SV-27100)
5. Which actives does the Hydrate Serum have?
Product Details
EAN Code: 8906133380014
Country of Origin: India
Formulated & Marketed By: Health Q LifeSciences Private Limited, 2nd Floor, No.204, The Eva Mall, Brigade Road, Bengaluru, Bengaluru Urban, Karnataka, 560025

Manufactured By: Esthetic Insights Private Limited, Plot No. 16/A, IDA, 4th Phase, Jeedimetia, Hyderabad Telangana - 500055