Calm , Clean & Clear Skin
Acne & Oil Control Serum, 30 ml : Best Face Serum for Oily Acne-Prone Skin
Acne & Oil Control Serum, 30 ml : Best Face Serum for Oily Acne-Prone Skin
Price (Incl. of taxes)
Rs. 740
MRP:
Rs. 990
25% OFF
Product description
Salicylic & Azelaic acid combo to cure the Acne root cause.
Retinol Liposomes exfoliate gently and reduce acne scars.
Enriched with Niacinamide to reduce pimple breakouts.
Gentle formula made by an expert dermatologist.
Reduces Acne, controls oil and reduces marks & blemishes.
Very effective serum on oily skin for reducing pimples and white bumps on the face.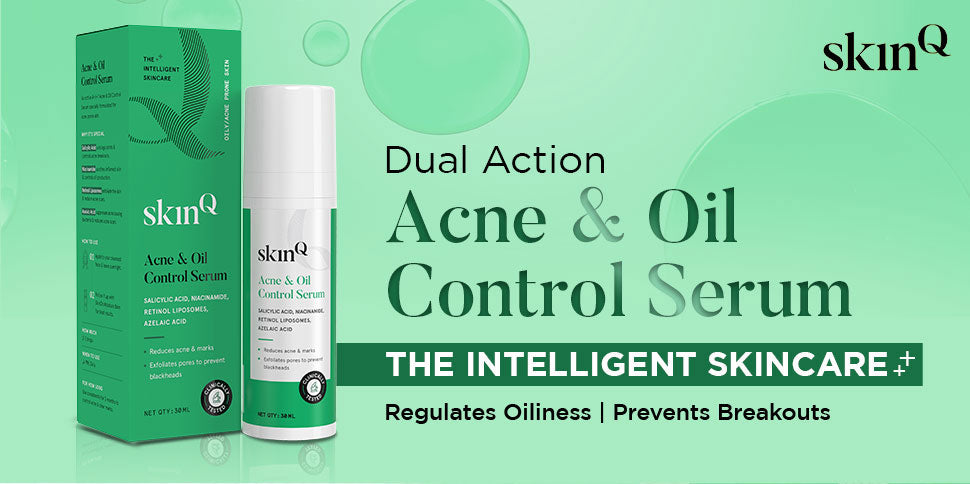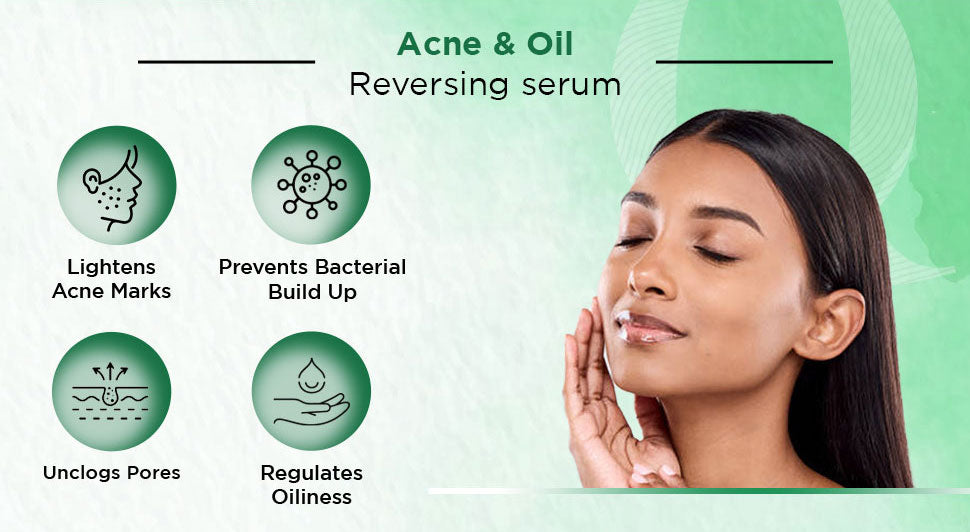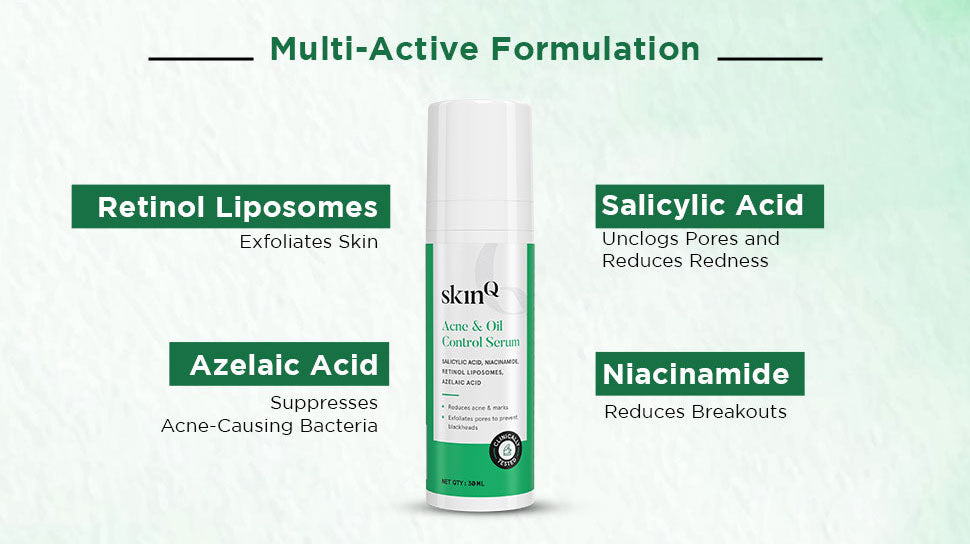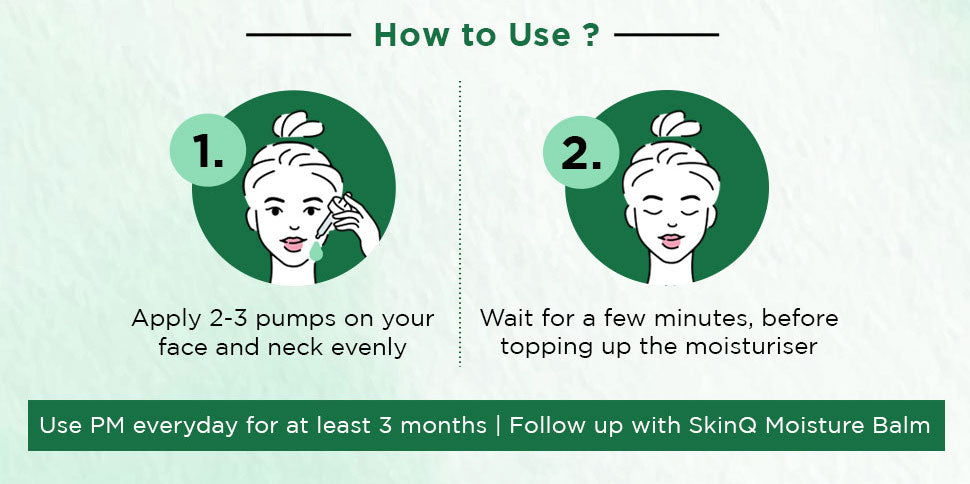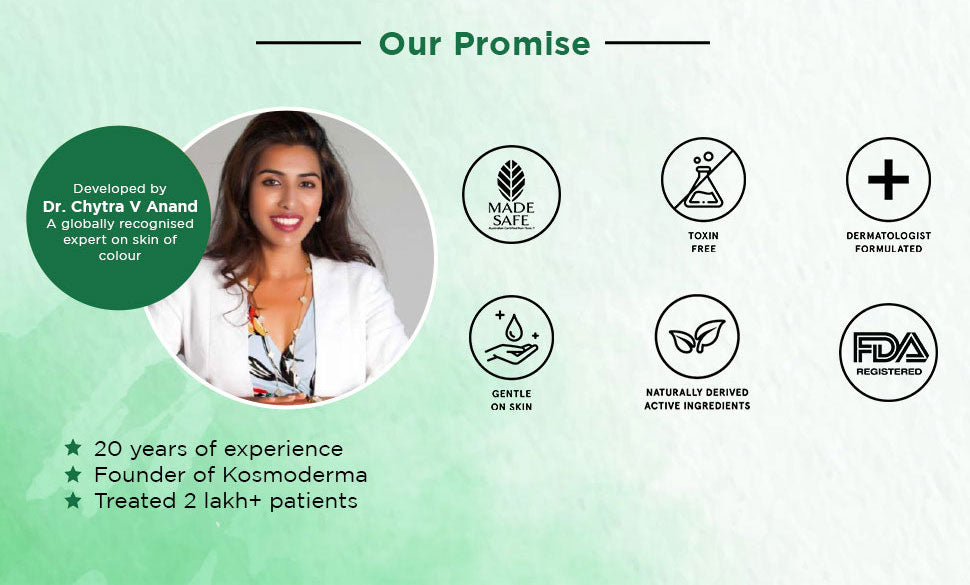 PRODUCT DETAILS
WHO SHOULD USE IT?
HOW TO USE?
TREATMENT PLAN
ACTIVE INGREDIENTS
Introducing our oily skin face serum, the Acne & Oil Control Elixir Serum, the only 4 in 1 product you need to gently exfoliate your skin, and control excess oil production and acne thanks to its multi active ingredients. It takes care of acne, excess sebum and makes your skin clear as ever. It eliminates not just your acne but also unsightly dark spots and scars left behind by past breakouts!
To get rid of pimples as quickly as they appear, keep this anti acne serum on hand. There's no need to go anywhere else if you're having issues with acne. Our acne serum multi active formula helps control not just pimples, but also works as an oily skin serum.
It also targets blackheads, whiteheads and acne scars, and uneven skin tone, giving you clear skin for life. With a plethora of powerful ingredients, this face serum for oily skin and acne will help you achieve clean , calm and clear skin.
Rather than being just another skin care product for acne, this oily skin face serum is an all-purpose 4 in 1 solution that can be used to address a wide range of skin issues. This serum for acne prone skin performs the function of:
Salicylic Acid serum- helps control oil production
Niacinamide serum- protects against both bacterial and fungal invaders while calming inflammation that leads to comedones (whiteheads)
Retinol Liposomes, Acne-fighting retinol serum- that exfoliates the top layer of skin cells, allowing active ingredients to penetrate more deeply into the dermis, resulting in blemish-free skin
Azelaic Acid serum- that fights off the bacteria and reduces and treats dark spots left behind by pimples
Let's swear off dry skin, clogged pores, acne, and scarring for good.
Our Oily & Acne Control Elixir Serum is best suitable for people dealing with:
Frequent pimples & breakouts
Excess oil and sebum on the skin
Blackheads & whiteheads
Open, clogged pores
Acne scars and blemishes
This serum for open pores is best for:
Oily skin
Oily to Combination skin
Acne prone skin
Take 2-4 pumps of this face serum for acne prone skin and apply it directly onto a clean, dry face at night. Spread it evenly all over your face and jawline or use it as a spot treatment for painful/pesky pimples. Follow it up with a barrier-repair moisturizer and don't forget to use SPF the next day! If you are suffering from more than 7 breakouts a month , use the serum at night and during the day .
If you want to make the most of this serum for acne prone skin, follow this dermatologist-recommended skincare routine:
Your clear healthy glowing skin is just 5 steps away!
Daily Essentials
Step 1: Cleanse
All good things start with a clean slate. So, make sure to deeply cleanse your skin with a pH balanced cleanser. This will help you unclog your pores, get rid of dirt, excess oil and sebum, and reveal fresh, clear skin.
SkinQ experts recommend Daily Gentle Cleanser and the Gentle Micellar Water for this step.
Step 2: Treat
Everyone's skin is different, you must understand your skin concerns and treat them by giving what it requires. Repair skin damage and restore skin health with the help of active ingredients that are suitable for your skin type.
SkinQ experts recommend Brightening Serum for Pigmentation, Acne & Oil Control Elixir for Acne & Clogged Pores, and Hydrate Serum for Dehydrated/Dry Skin for this step.
Step 3: Nourish
Moisturizing your skin every day keeps dryness and skin damage away! The next step to make way for healthy glowing skin is nourishing your skin with hydrating ingredients like Ceramides and sodium hyaluronate to protect the skin barrier and prevent dryness to keep skin soft & supple.
SkinQ experts recommend Moisture Balm with the benefits of hyaluronic acid and ceramides for this step.q
Step 4: Protect
Did you know that 90% of skin damage is due to the Sun's harmful UV Rays? This is why protecting your skin from sun exposure using sunscreen is a non-negotiable step in our treatment plan.
SkinQ experts recommend Sun Protect Ultra Light Gel & 15% Vitamin C Serum for this step.
Weekly Reminder
Step 5: Boost
Your skin loses its elasticity and softness with age. This is why it appears dull and tedious. Get it all back by giving it a boost of exfoliation once or twice every week. It will make sure you are healthy and glowing all the time.
Regular exfoliation also helps in improving skin texture and reducing fine lines and wrinkles.
SkinQ experts recommend Glow Bright Wonder Mask & Glow/Detan DIY Active Facial Kit for Pigmentation, Acne Control Wonder Mask to pamper skin prone to breakouts, and Oil Control Wonder Mask for Excess Oil & Open Pores, Hydrate DIY Active Facial Kit for Dry, Dehydrated or Sensitive Skin in this step.
Our best serum for oily skin and acne scars has the following active ingredients:
Salicylic Acid- An oil-soluble chemical exfoliant that reaches deep into the skin to clear blackheads, pimples, whiteheads, and excess sebum.
Niacinamide- A soothing ingredient that minimizes enlarged pores, redness/inflammation on the skin, excess sebum, and acne scars
Azelaic Acid- An anti-inflammatory ingredient that keeps pores clean and germ-free that further prevents the formation of whiteheads/blackheads
Retinol Liposomes- A potent ingredient that boosts cell turnover, reduces the appearance of acne marks, and prevents acne formation
Aloe- A lightweight ingredient that hydrates the skin deeply and calms it
Chamomile- A soothing ingredient that helps to prevent occurrence of age spots and shields your skin against free radicals
All our ingredients are Made Safe Board Certified and Toxin Free!
Full ingredients list:
Aqua,
Aloe Barbadensis (Aloe Vera) Leaf Extract,
1,2-Propanediol,
Azelaic Acid,
Glycerin,
Niacinamide,
Salicylic Acid,
Saccharide Isomerate,
Retinol Liposomes,
Ethylhexylglycerin,
Phenoxyethanol,
Glucono Delta Lactone,
Peg-40 Hydrogenated Castor Oil,
Disodium Edta,
Triethanolamine,
Cucumis Sativus (Cucumber) Fruit Extract,
Chamomilla Recutita (Chamomile) Flower Extract
FAQs
How long does it take to see results with Skin Q Oil & Acne Control Elixir?
You can start seeing visible results within 2 weeks. For best results, use this face serum for acne prone skin daily for a minimum of 3 months till the acne is gone. Use with SkinQ DIY Oil & Acne Control Active Facial once in 2 weeks for faster, long lasting results and maintenance.
Does it dry out the skin or make it sensitive?
No ,SkinQ Oil & Acne Control Elixir doesn't dry out the skin or make it sensitive as it is uniquely formulated for Indian Skin / Skin Of Colour.However ensure you use a moisturizer after using the serum to avoid skin from drying out.
Will it remove blemishes and marks?
Yes, it will. The Unique combination of anti-inflammatory and skin brightening agents of this oily skin serum help reduce acne, blemishes and clear marks. As SkinQ is formulated by a dermatologist, the formula is effective on acne and marks.
Can the serum be used by men and women?
Yes, the acne serum can be used by all regardless of their gender.
What if my acne gets worse after using the Oil & Acne Elixir?
Your acne probably won't get any worse by using this serum. However, you might experience purging (temporary initial skin reactions such as breakouts in beginners) which will subside within 2-4 weeks. If you are breaking out even after a month's usage, we recommend you stop using it altogether.
Acne & Oil Control Serum, 30 ml : Best Face Serum for Oily Acne-Prone Skin
Acne & Oil Control Serum, 30 ml : Best Face Serum for Oily Acne-Prone Skin
Acne & Oil Control Serum, 30 ml : Best Face Serum for Oily Acne-Prone Skin
on acne prevent serum
I have tried many serums to control acne and sebum. I am so happy to submit this review about the serum. I loved it. its worth to money
Superb
It's work, effective on acne
Product Details
EAN Code: 8906133380113
Country of Origin: India
Formulated & Marketed By: Health Q LifeSciences Private Limited, 2nd Floor, No.204, The Eva Mall, Brigade Road, Bengaluru, Bengaluru Urban, Karnataka, 560025

Manufactured By: Esthetic Insights Private Limited, Plot No. 16/A, IDA, 4th Phase, Jeedimetia, Hyderabad Telangana - 500055