Protect & Boost Skin
Sun Protect Ultra Light Non Sticky Sunscreen Gel: SPF 40 PA++++ with Vitamin C
Sun Protect Ultra Light Non Sticky Sunscreen Gel: SPF 40 PA++++ with Vitamin C
Price (Incl. of taxes)
Rs. 740
MRP:
Rs. 990
25% OFF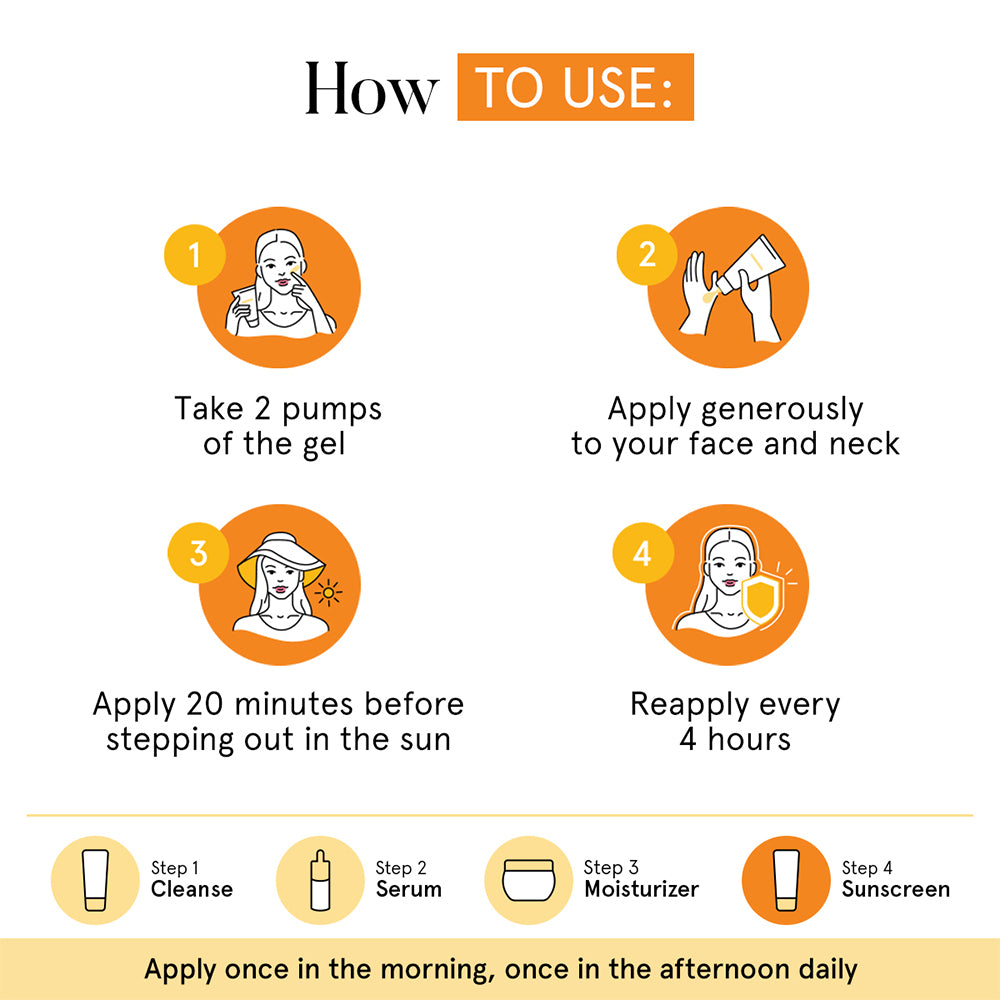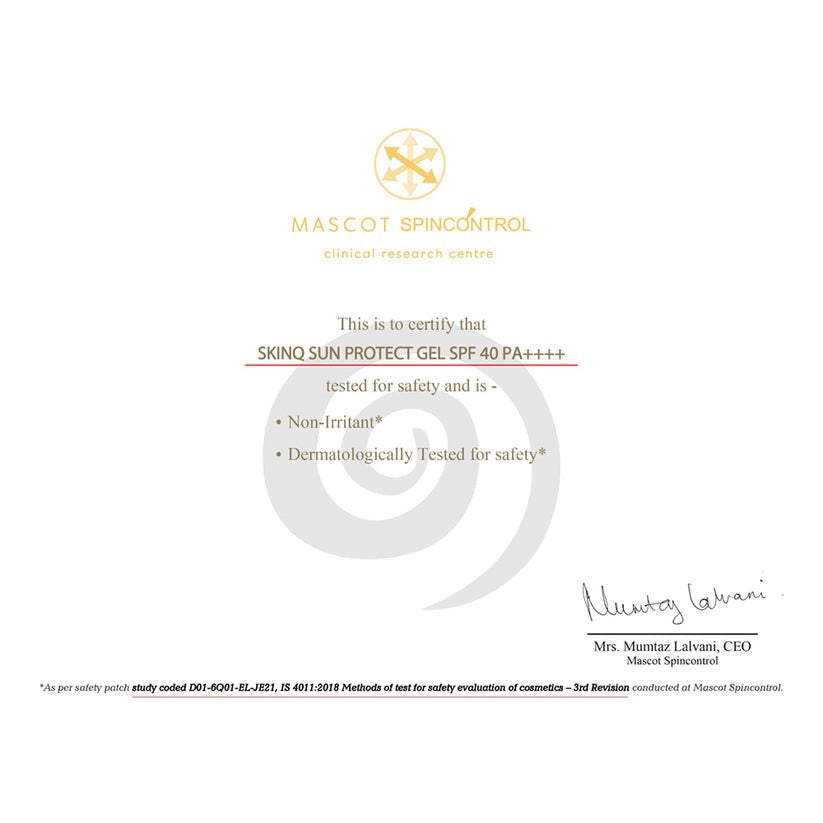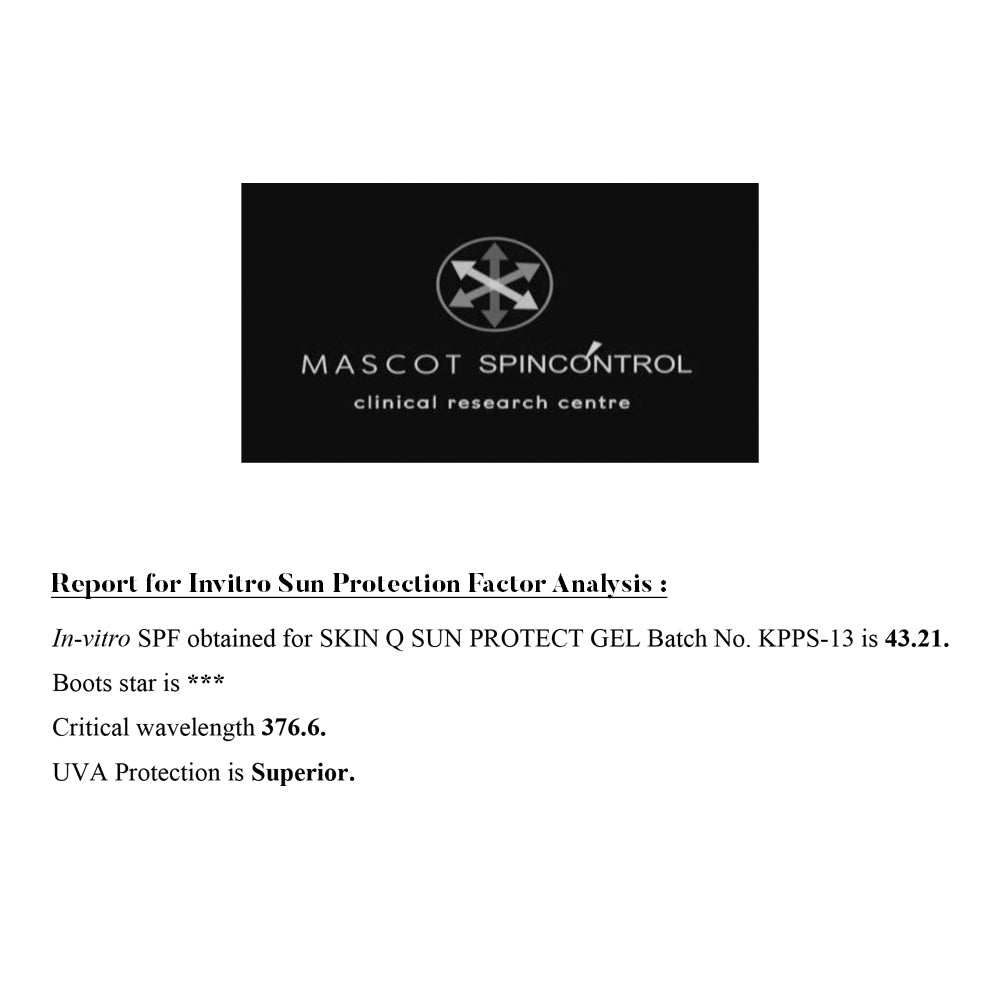 Product description
Broad Spectrum Sunscreen Gel with the goodness of Sun protection (SPF 40) + Vitamin C.

Vitamin C brightens your skin as SPF prevents UV damage making it the best gel sunscreen for face & neck.

Non-sticky UV sunscreen with ultra-light formula.

Daily Use Gel SunScreen for face that's suited for all age groups - Tested safe for application on babies (6 months+) and kids as well.

Voted Top 5 UV sunscreens of India by Vogue Beauty
This PA++++ sunscreen cream is suitable for all skin types:
Oily & Acne-prone skin

Dry, Dehydrated & Sensitive skin

Dull, Tanned & Pigmented skin

Normal skin

Combination skin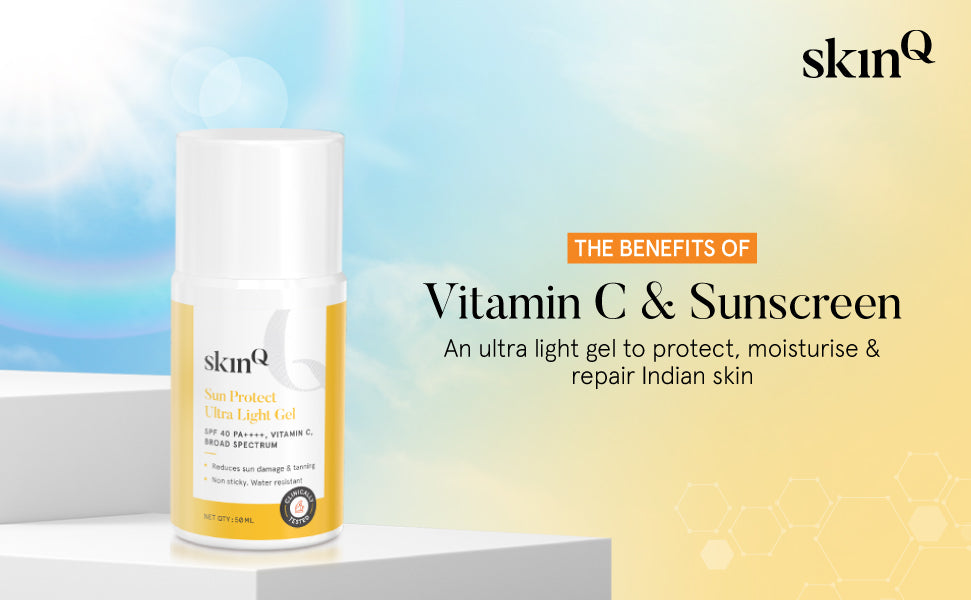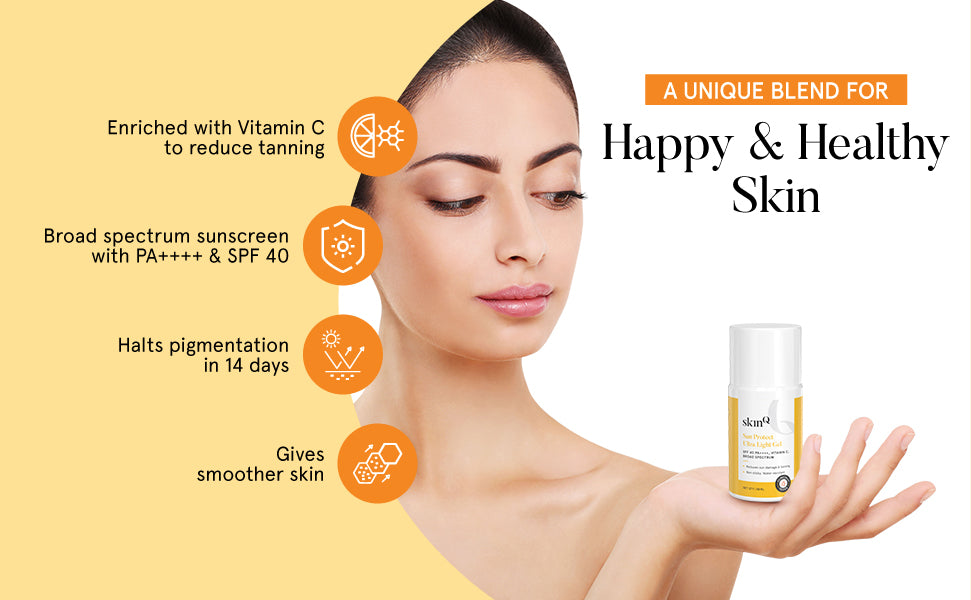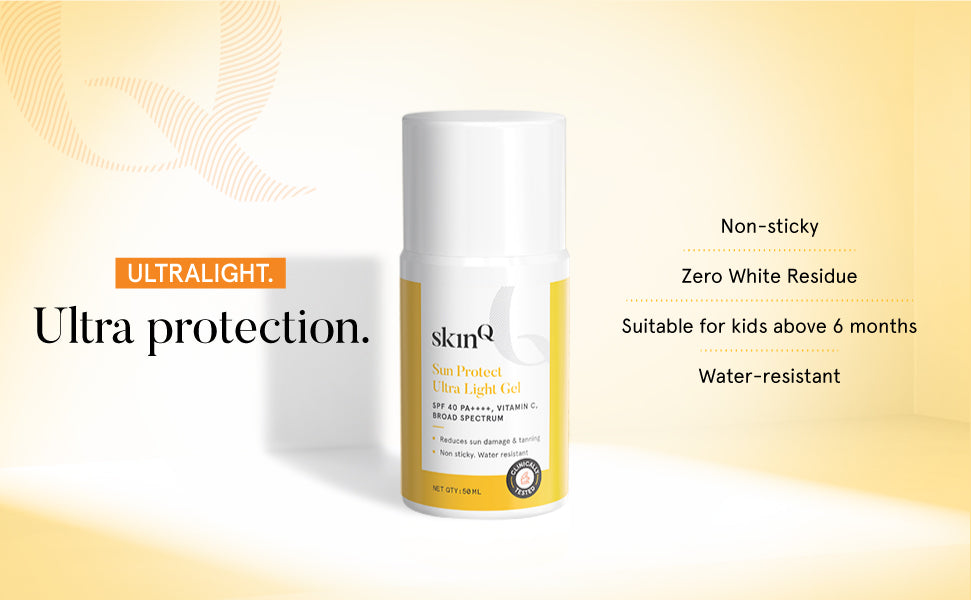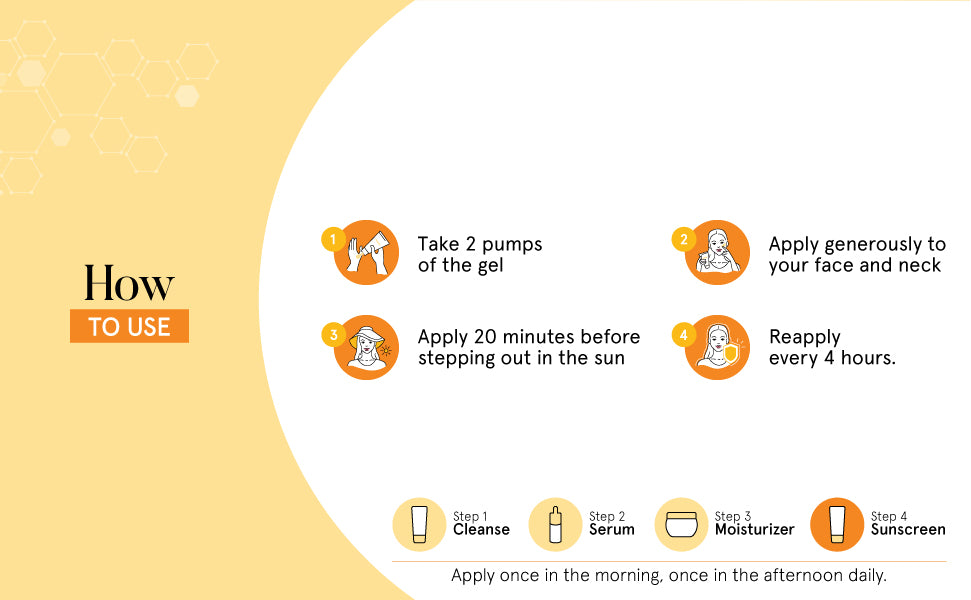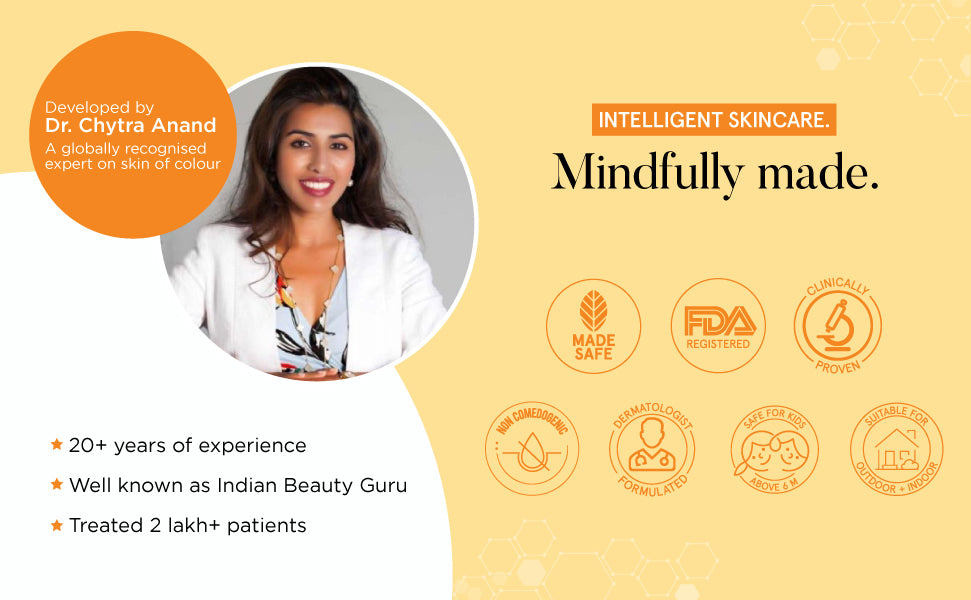 PRODUCT DETAILS
WHO SHOULD USE IT?
HOW TO USE?
RESULTS TO EXPECT
TREATMENT PLAN
ACTIVE INGREDIENTS
Vitamin C & UV Sunscreen are known to be the power couple of sun protection, which is why at SkinQ, we decided to bring the best of both worlds in our 2-in-1 Vitamin C & SPF 40, dermatologist-formulated and clinically proven gel sunscreen for face. Introduce your skin to the best sun protection for Indian skin and get that glowing, non-sticky, and non-greasy look you've always wanted.
UV Sunscreen for the face is an essential part of your daily skincare routine, but it's not always easy to find the perfect one. You want something that will protect your skin from harmful UV rays, repair your skin, and keep it looking young and healthy. But you also don't want a sunscreen lotion that feels heavy or greasy on your skin. That's why we created SkinQ Sunscreen, our Sun Protect Ultra Light Gel is a broad spectrum, PA ++++ Sunscreen with Vitamin C and SPF 40!
People with oily and sensitive skin usually have a hard time finding a sun protection cream that fits the bill. Keeping in mind various skin types, our gel sunscreen for face can be used for oily skin, dry skin, and sensitive skin.
While most people believe that PA++++ sunscreens are there just to protect your skin from UVA & UVB rays. But our sunscreen is a non-comedogenic sunscreen which means it doesn't clog pores and sinks into your skin beautifully. If you religiously apply our UV sunscreen, you are one step closer to preventing fine lines and wrinkles in the longer run. It also helps prevent skin cancer. In addition, because of the antioxidant properties of Vitamin C, our sun protecting cream is well-suited for repairing skin that is damaged and neutralising the free radical damage caused by prolonged exposure to the sun.
Wear this multi-tasking gel sunscreen for face every day to keep your skin looking young and healthy!
Our SkinQ UV Sunscreen Sun Protect Ultra Light Gel SPF40 with Vitamin C is best suited for people who are:
Fed up of using sticky and low protection offering SPF 30 sunscreens
Done with sunscreens that leave a white cast
Tan easily in the sun
Sun-sensitive or prone to hyperpigmentation
Dealing with melasma/pigment patches/blotchy and dull skin
This PA++++ sunscreen gel is suitable for all skin types:
Oily Skin & Acne prone skin
Dry skin / Dehydrated skin
Normal skin
Combination Skin
Dull, Tanned & Pigmented skin
Sensitive skin
All skin tone
Our sun protection gel is ideal to be used as a clinically tested men sunscreen for Men of all age groups.
Take 3-4 pumps of this UV sunscreen lotion and apply it directly onto a clean face. Spread it evenly to make sure it covers your entire face and neck. Wait for 20 minutes before heading out in the sun. Reapply every 3-4 hours for best results.
Here are some reasons to love this PA++++ sunscreen:
✔ It reduces tanning & pigmentation
✔ It protects your skin from UV damage
✔ It repairs your skin from sun damage
✔ It protects your skin from free radicals
✔ It is water-resistant, hence protects skin while swimming
✔ It is sweat-resistant, hence protecting your skin while working out
✔ Reduces signs of aging and fine lines

Several studies and surveys have been undertaken to discover the most common cause why people don't wear UV sunscreen cream. The discovery of the problem was truly astounding- it was heavy, it did not suit various skin tones, it left a white cast, it made the skin look dull, and it was greasy on the skin. These considerations prompted SkinQ to come up with the most innovative form of gel sunscreen for face that you will in fact, look forward to applying every single day. One of the best things about this UV sunscreen cream for the face is how smooth and gel-like it is, how quickly it absorbs and melts into the skin, is oil free and how it leaves zero white cast. The SkinQ Sunscreen can be used as a sunscreen for women, and men sunscreen & it is safe to use for children above the age of 6 months.
If you want to make the most of this sunscreen, follow this dermatologist-recommended skincare regime:
Your clear healthy glowing skin has 5 steps in your skincare routine!
Daily Essentials
Step 1: Cleanse
All good things start with a clean slate. So, make sure to deeply cleanse your skin with a pH-balanced cleanser. This will help you unclog your pores, get rid of dirt, excess oil and sebum, and reveal fresh, clear skin. Always remember to use room temperature water to wash your face and never hot water which can damage the skin cells.
SkinQ experts recommend Daily Gentle Cleanser and the Gentle Micellar Water for this step.
Step 2: Treat
Everyone's skin is different, you must understand your skin concerns and treat them by giving what it requires. Repair skin damage and restore skin health with the help of active ingredients that are suitable for your skin condition.
SkinQ experts recommend Brightening Serum for Pigmentation, Acne & Oil Control Serum for Acne & Clogged Pores, and Hydrate Serum for Dry/Dehydrated Skin for this step.
Step 3: Nourish
Moisturizing your skin every day keeps dryness and skin damage away! The next step to make way for healthy glowing skin is nourishing your skin with Ceramides and Sodium Hyaluronate to protect the skin barrier and prevent dryness to keep your skin soft & supple.
This moisturiser can also be used as a night cream. A separate night cream or even an eye cream is not needed when using this.
SkinQ experts recommend Moisture Balm for this step.
Step 4: Protect
Did you know that 90% of skin damage is due to the Sun's harmful UV Rays? This is why protecting your skin with sunscreen from sun damage is a non-negotiable step in our treatment plan. Apply sunscreen daily for sun protection. Dermatologists recommend using sun protection of atleast 30 or higher, coupled with a broad spectrum rating. But, even SPF 50 alone cannot give you maximum sun protection.
As an extra step, applying topical Vitamin C serum should be a part of your skincare routine. This contributes to the broad spectrum coverage while slowing down the absorption of UV rays. SkinQ 15% Vitamin C Glow Serum has L-ascorbic acid which is the highest form of Vitamin C. Pairing this with sunscreen, will amplify the protecting & healing powers. Vitamin C also helps in collagen production, hence speeding up the healing process.
SkinQ experts recommend the Sun Protect Ultra Light Gel sunscreen for both Vitamin C and SPF protection in one step
Weekly Reminder
Step 5: Boost
Your skin loses its elasticity and softness with age. This is why it appears dull and tedious. Get it all back by giving it a boost of exfoliation once or twice every week. It will make sure you are healthy and glowing all the time.
SkinQ experts recommend Glow Bright Mask & Detan+Glow Active Facial Kit for Pigmentation, Acne Control Mask for Acne & Clogged Pores, and Oil Control Mask for Excess Oil & Open Pores, Hydrate Active Facial Kit for Dry, Dehydrated or Sensitive Skin in this step.
This sunscreen cream has the following active ingredients
Sunscreen Complex: Provides broad spectrum UVA and UVB protection and aids in the prevention of free radical damage
Ethyl Ascorbic Acid (Vitamin C): A powerful antioxidant that helps reduce irritation and pigmentation caused by sun damage.
Full ingredients list:
Aqua
Ethylhexyl Methoxycinnamate
Butyl Methoxydibenzoylmethane
Benzophenone-3 (Oxybenzone)
Propylene Glycol
Butylene Glycol
Mattifier
Ethylhexylglycerin
Phenoxyethanol
Ethyl Ascorbic Acid (Vit C )
Carbomer
Sodium Gluconate
Triethanolamine
Fragrance
One of the best sunscreens I've tried
This is such a good sunscreen. I have medium/ deep skin and this leaves no white cast at all. It blends clear. I really like it and it doesn't feel heavy at all either
Brilliant product
my mother and I have been using Sunscreen since last 5 months and we absolutely love it.
It is very light on the skin and doesn't leave white cast.
Sun Protect Ultra Light Non Sticky Sunscreen Gel: SPF 40 PA++++ with Vitamin C
Ultra light sunscreen gel
Amazing product
I have oily skin and I love this sunscreen it's very light weight.very nice formulation,non sticky,non greasy, no white cast.thanks skinq for such a sunscreen.
FAQ's
1. What is the key advantage of Sunscreen?
2. What is the Benefit of sunscreen on the face?
3. Does sunscreen prevent tanning?
4. Difference between sunblock and sunscreen?
5. Does sunscreen cause acne?
6. How much sunscreen to apply to the face?
7. How to choose a sunscreen?
8. How long does sunscreen last once applied?
9. How to apply sunscreen with makeup on?
10. What are the essential ingredients in sunscreen that one must look for before buying?
Product Details
Country of Origin: India
Formulated & Marketed By: Health Q LifeSciences Private Limited, 2nd Floor, No.204, The Eva Mall, Brigade Road, Bengaluru, Bengaluru Urban, Karnataka, 560025

Manufactured By: Esthetic Insights Private Limited, Plot No. 16/A, IDA, 4th Phase, Jeedimetia, Hyderabad Telangana - 500055