Sun Protect Ultra Light Gel SPF 40 PA++++ with Vitamin C & Daily Gentle Cleanser FREE
Sun Protect Ultra Light Gel SPF 40 PA++++ with Vitamin C & Daily Gentle Cleanser FREE
Price (Incl. of taxes)
Rs. 990
MRP:
Rs. 1,540
35% OFF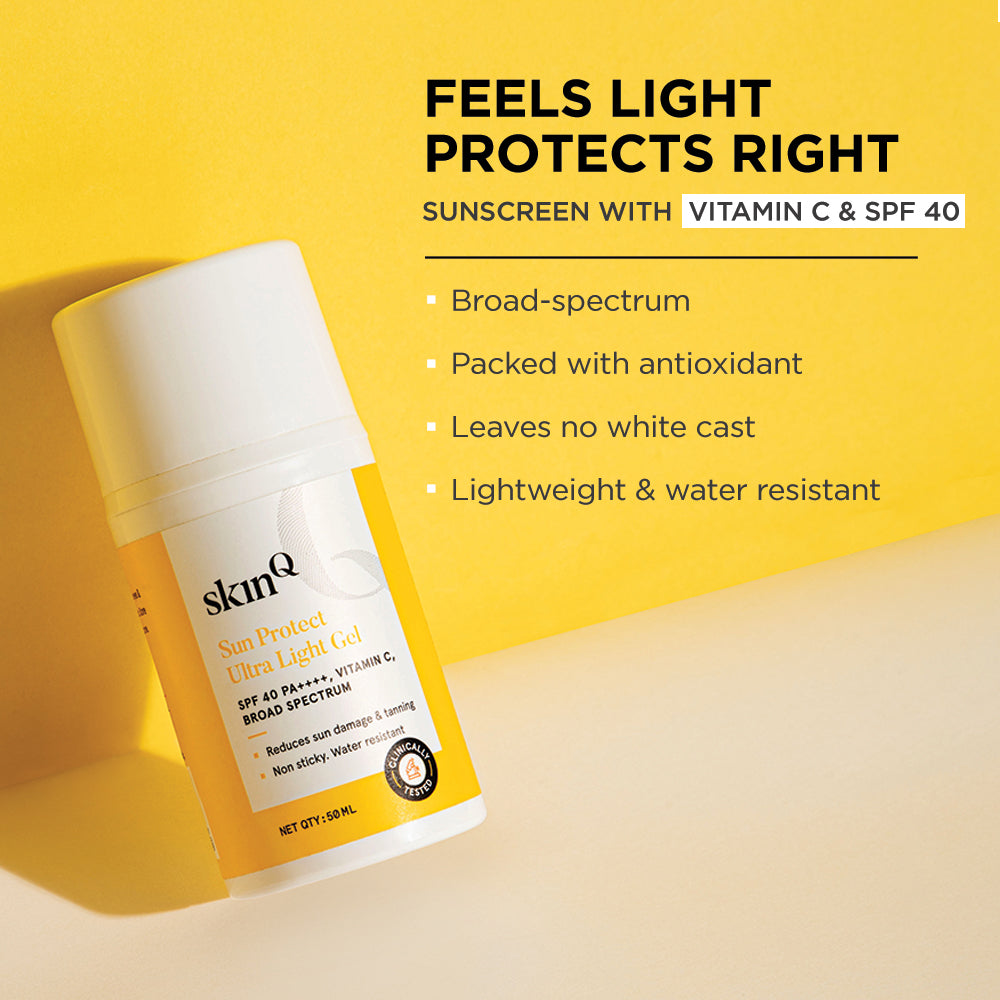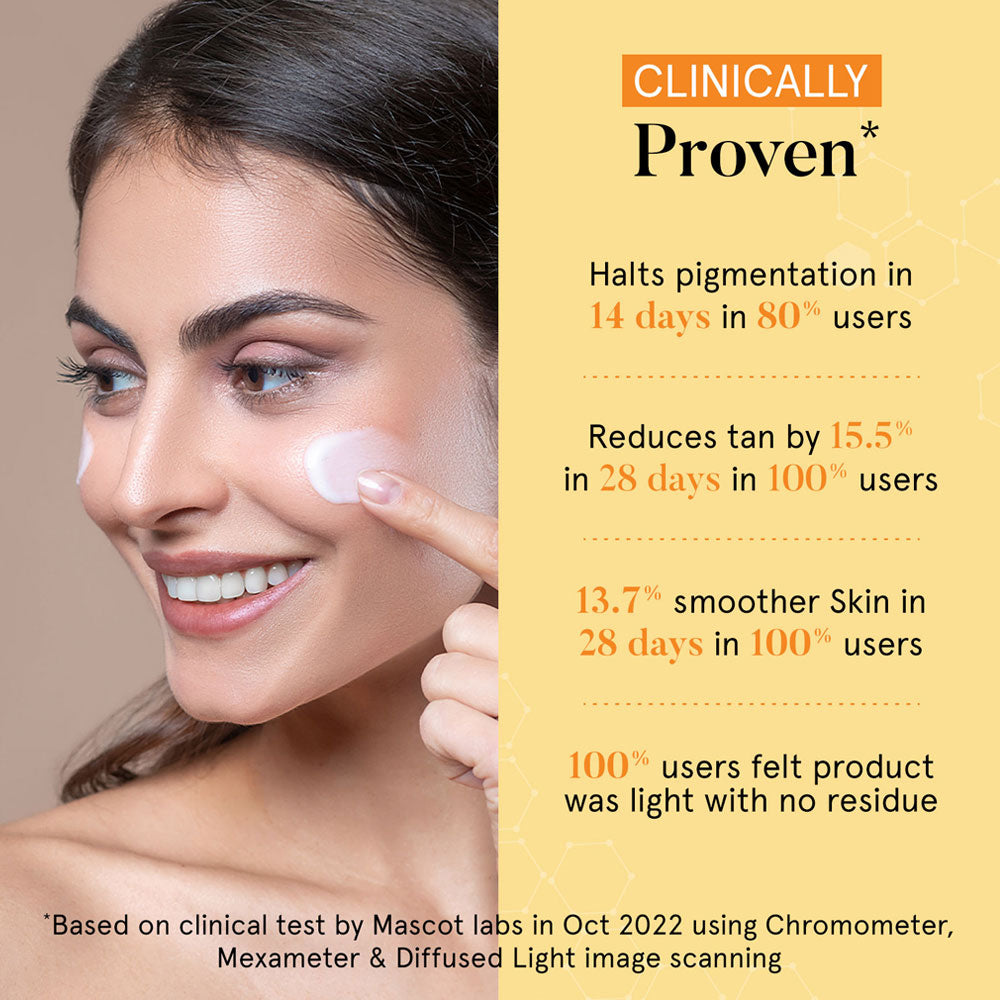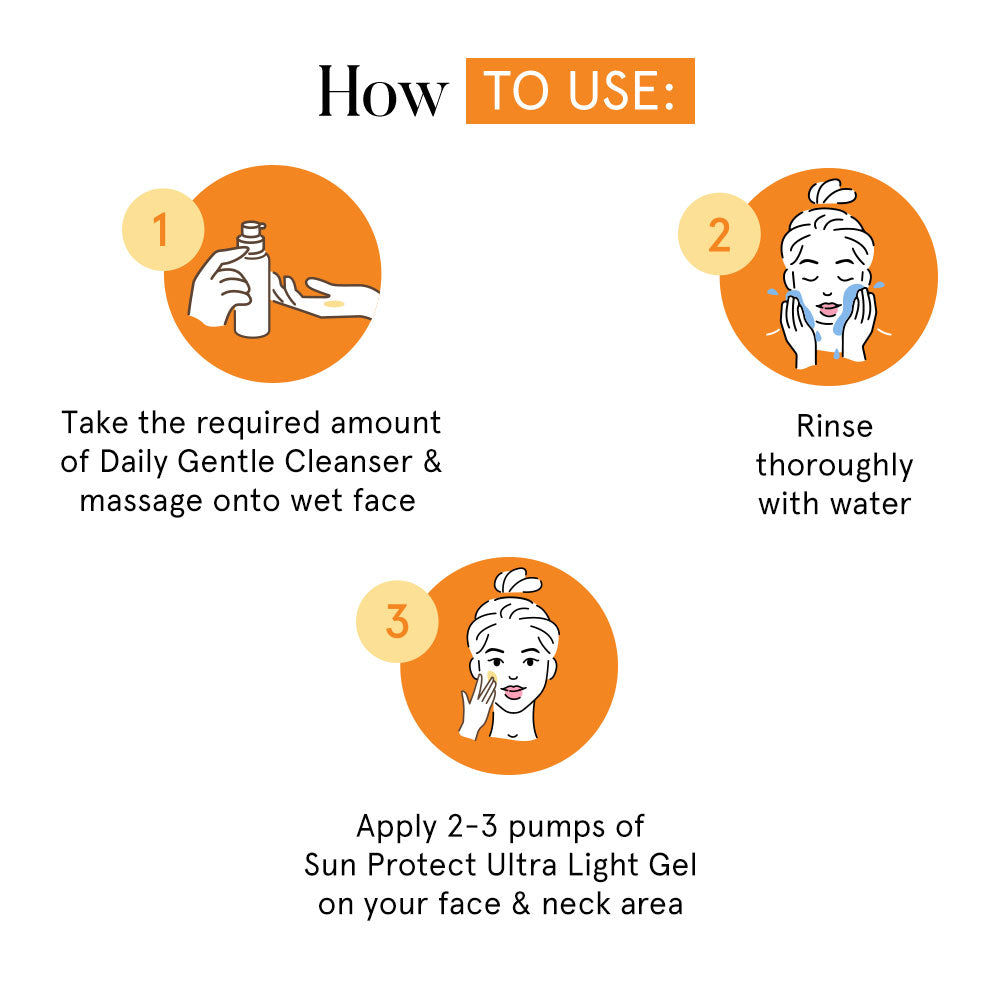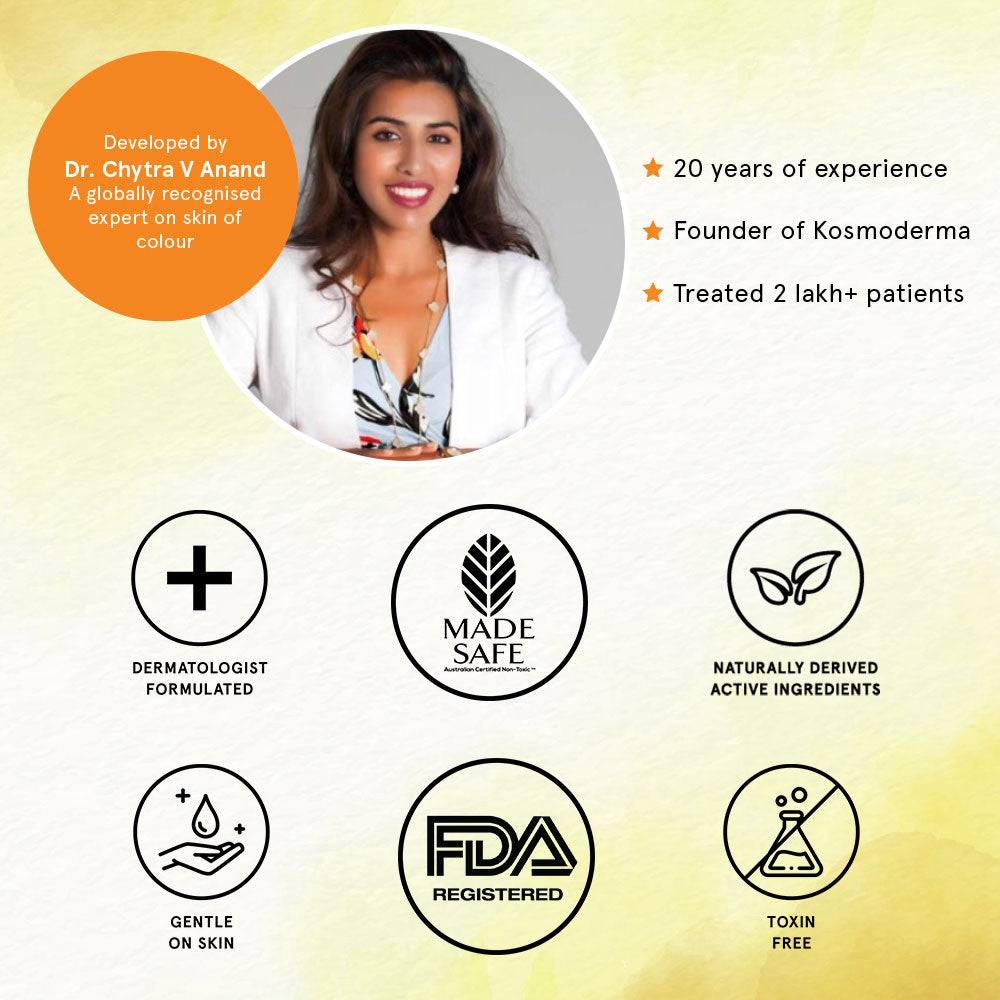 Product description
Morning Skincare Combo
Includes Daily Gentle Cleanser + Sun Protect Ultra Light Gel 
This customised morning skin care kit with active Daily Gentle Cleanser & Sun Protect Ultra Light Gel is here to gently cleanse & protect your skin from harmful UVA & UVB light. 
Our Daily Gentle Cleanser is clinically proven to deep cleanse the skin, remove surface oil, dirt and grime without damaging the skin barrier.
Sun Protect Ultra Light Gel, our 2-in-1 best selling sunscreen is broad spectrum, lightweight, non greasy, non comedogenic, power packed Vitamin C and SPF 40 PA++++.
Get a healthy glowing skin with SkinQ's Sunscreen + Cleanser Combo
WHO SHOULD USE IT?
HOW TO USE?
RESULTS TO EXPECT
TREATMENT PLAN
ACTIVE INGREDIENTS
For everyone who wants healthy glowing skin everyday.
SkinQ Sun Protect Ultra Light Gel + Daily Gentle Cleanser kit is designed for individuals who enjoy going out, travelling, working from the office, or staying home. This skincare combo is Suitable for all skin types, made specifically for Indian skin or Skin of Colour

Step 1: Wash Your Face With Daily Gentle Cleanser
Wet face, take 2ml of cleanser on your hands, and gently massage it onto your face. Rinse with water.
If you have breakouts or skin sensitivity, leave on for extra 30 seconds before washing off.

Step 2: Apply Sun Protect Ultra Light Gel
Apply 3 pumps to the face, 2 pumps to the neck, at least 20 minutes before sun exposure
Reapply every 3-4 hours if required

Daily Gentle Cleanser:
✔Deep cleanses skin while keeping the skin barrier & Ph intact
✔ Soothes skin to keep it calm and glowing
✔ Brightens dull skin

Sun Protect Ultra Light Gel:
✔ Advanced Photoprotection of skin
✔ Reduced tanning and Sun damage
✔ Active Sunscreen & Antioxidant = Protects + Repairs

"The best foundation you can wear is healthy glowing skin."
After cleansing, apply a serum/moisturiser on the skin for best absorption. Try the SkinQ Hydrate Serum in the day for hydration or the SkinQ Brightening Serum at night for skin brightening and glow.
"The best anti ageing cream/skincare is a good sunscreen and consistency is the key to great looking skin."
Apply sunscreen even when indoors during the day.
Apply sunscreen on cloudy days, reapply if you get wet in the rain.
Daily Glow Cleanser:
Niacinamide
Glycerine
Evening Primrose

Sun Protect Gel:
Ethyl Ascorbic Acid (Vitamin C) Phospholipids
Ethylhexyl Methoxycinnamate
Butyl Methoxydibenzoylmethane
Benzophenone-3

Favourite easy skincare routine
I absolutely love this combo. The cleanser is very mild, soothing and hydrating, even for my combination skin. The sunscreen is legendary ofc- never used a better one
ONE OF THE BEST SUN PROTECT GEL
This is simply on of the best sun protect gel i ever used
Highly recommended for the people who works in the environment directly exposed to the sun
Easy & Effective Skincare Combo
Really fallen in love with the gentleness of the cleanser and the sunscreen! It's just perfect for the Indian summer skin!
Fuss free and result oriented combo backed with clinical studies!
The thing I loved about
The daily cleanser is that it Soothens the skin and doesn't dry the skin out
The sunscreen is non greasy lightweight quick absorb and has a mild relaxing fragrance!
"This is a unique sunscreen, which protects as well as brightens the skin.
I love how lightweight this sunscreen is. I wear this every day to the office under make-up. Such a perfect base for everyday use. I am in love with this sunscreen. It doesn't even feel like I have worn anything.
This particular one blew my mind.
I have a 1.5 yr old son. I was looking for a sunscreen, that would be safe for my child to use. It is not only safe for children above 6 months but doesn't feel greasy. So important for children because they seem to feel uneasy if the texture is too heavy.
Product Details
EAN Code: 8906133380069
Country of Origin: India
Formulated & Marketed By: Health Q LifeSciences Private Limited, 2nd Floor, No.204, The Eva Mall, Brigade Road, Bengaluru, Bengaluru Urban, Karnataka, 560025

Manufactured By: Esthetic Insights Private Limited, Plot No. 16/A, IDA, 4th Phase, Jeedimetia, Hyderabad Telangana - 500055