Protect & Repair Skin
15% Vitamin C Glow Serum for Face & Neck, 20 ml
15% Vitamin C Glow Serum for Face & Neck, 20 ml
Price (Incl. of taxes)
Rs. 560
MRP:
Rs. 750
25% OFF
Product description
15% Grade 1 L-Ascorbic acid that works from 1st application making it the best Vitamin C Face Serum for Facial Glow.
Brightens skin from within and fights sun damage.
Non-drying Vitamin C Facial Serum formula with Sodium Hyaluronate.
Stable serum; will not oxidize.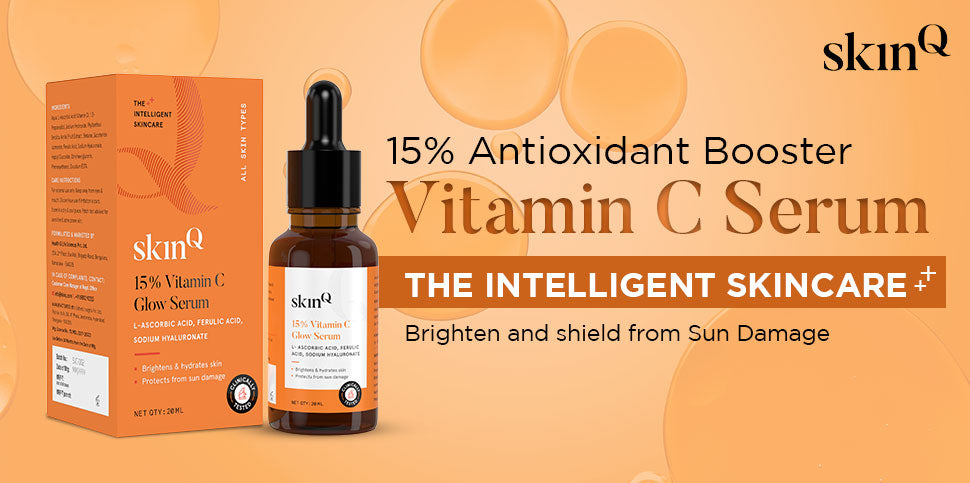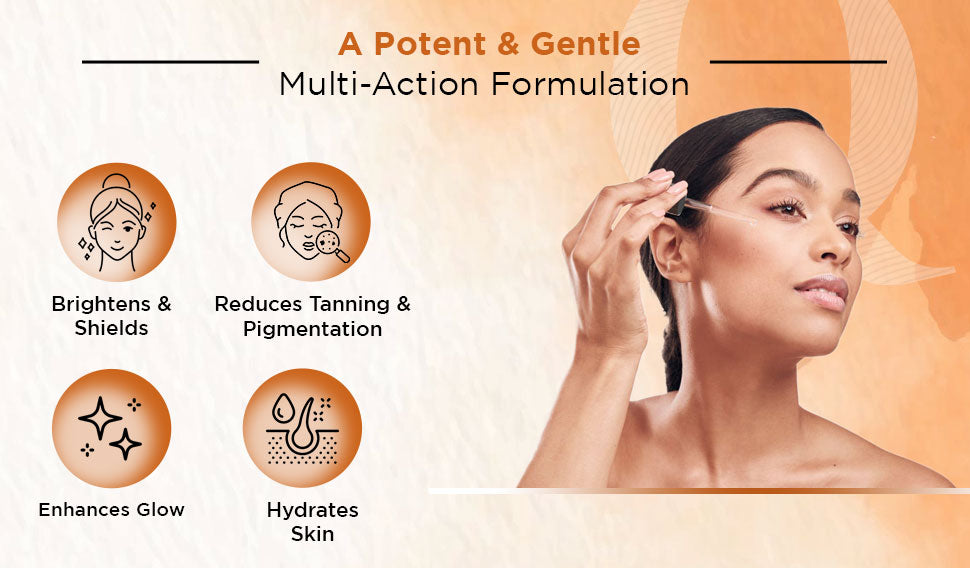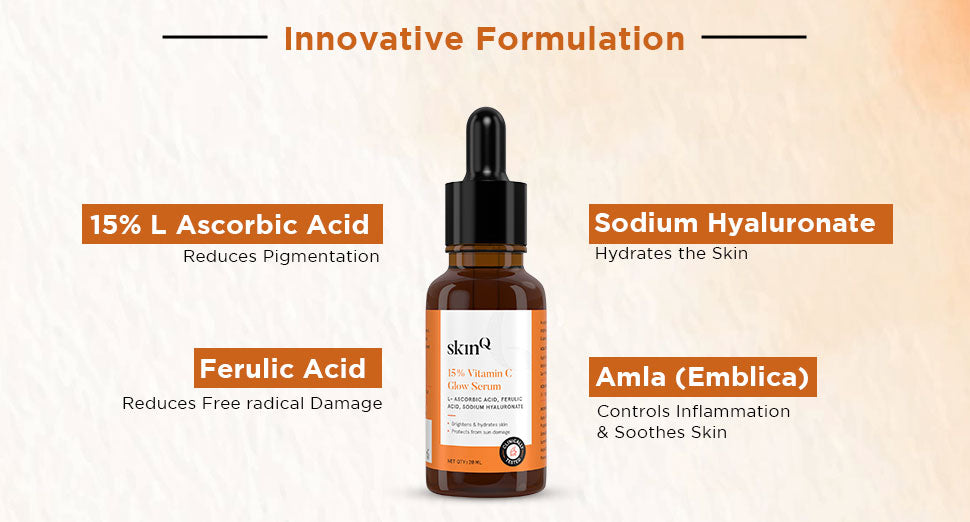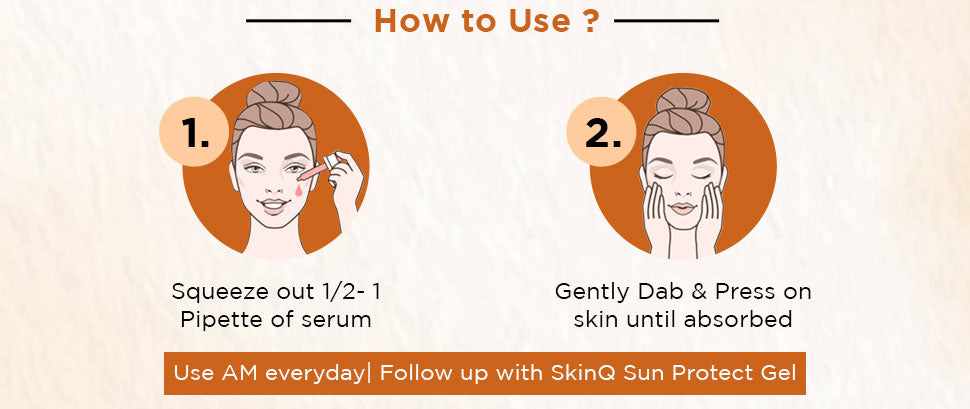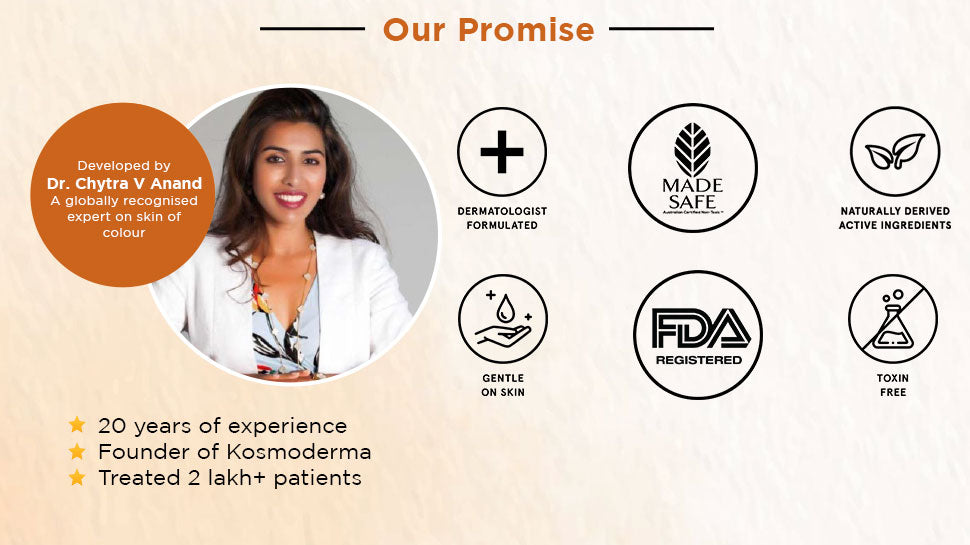 PRODUCT DETAILS
WHO SHOULD USE IT?
HOW TO USE?
RESULTS TO EXPECT
TREATMENT PLAN
ACTIVE INGREDIENTS
The Purest & Most Potent Form of Vitamin C Serum that Prevents Tanning , Fights Pigmentation, Hydrates Skin and Evens Out Skin Tone.
Are you prepared to go to the next level in the glow game? Then allow us to introduce you to your brand new glowing best friend, the SkinQ Vitamin C Glow Serum. It is a powerful, potent, antioxidant rich vitamin C serum for face that not only improves the tone of your skin but also hydrates your skin . The best part is that it is a dermatologist recommended vitamin c serum in India which is also formulated by a dermatologist. So you can trust this magic potion to solve all your skin concerns at once.
Vitamin C is one of the most talked about ingredients and it is all for the right reasons. There are several benefits associated with vitamin C. Vitamin C serum is the product to use if you want to shield your skin against environmental aggressors, brighten the skin complexion as well as reduce tanning, pigmentation, fine lines, and wrinkles.
Our Glow serum is a tailor made vitamin C serum for oily skin as well as other skin types. A light, fast-absorbing formula that glides on clear and smooth, absorbs quickly, and leaves the skin feeling feather-light. This is the purest, most effective, and the best vitamin c serum you can get, thanks to the goodness of four active components in it. L-Ascorbic acid and Ferulic acid are combined in a unique composition that is safe and stable enough to be used every day. Sodium hyaluronate, an ingredient that resembles hyaluronic acid but only better, makes this vitamin C serum for face a hydrating formula . Lastly, this vitamin C serum is also infused with Emblica which soothes inflammation on the skin.
When it comes to radiant, glowing, even skin tone and firm skin, you can count on our Glow vitamin C serum.
Our vitamin c serum is best suited for people who:
Have uneven skin tone and pigment patches on the skin
Tan easily
Have blotchy skin
Want to prevent sun damage and pigmentation
Have stubborn acne marks or spots
This vitamin c serum is suitable for all skin types and is best for:
Dry skin
Oily/Acne prone skin
Combination skin
Normal skin
Dull skin
Pigmented skin
Aging skin
If you're a beginner in using vitamin c serum for face, we recommend taking it slow by applying ½ to 1 pipette in the morning on skin after cleansing, 2-3 times a week. Gradually increase the frequency of usage once your skin is tolerant to it and use daily. Mandatory usage of sunscreen is recommended in the daytime for best results. Store in a cool dry place, away from sunlight or any other heat source to prevent it from oxidizing (going bad).


Here are some reasons to love this vitamin c serum:
✔ It visibly reduces tanning of skin with long term use
✔ It reduces skin burn/damage from UV light
✔ It brightens skin tone and hydrates the skin
✔ It helps to reduce Melasma and Pigmentation flare-up
✔ Its long term use can prevent hyperpigmentation of the skin

If you want to make the most of this c vitamin serum, follow this dermatologist-recommended skincare regime:

Your clear healthy glowing skin is just 5 steps away!

Daily Essentials
Step 1: Cleanse
All good things start with a clean slate. So, make sure to deeply cleanse your skin with a pH balanced cleanser. This will help you unclog your pores, get rid of dirt, excess oil and sebum, and reveal fresh, clear skin.

SkinQ experts recommend Daily Glow Cleanser and the Gentle Micellar Water for this step.

Step 2: Treat
Everyone's skin is different, you must understand your skin concerns and treat them by giving what it requires. Repair skin damage and restore skin health with the help of active ingredients that are suitable for your skin type.

SkinQ experts recommend Glow/Pigment Control Elixir for Pigmentation, Acne & Oil Control Elixir for Acne & Clogged Pores, and Hydrate Elixir for Dry/Dehydrated Skin for this step.

Step 3: Nourish
Moisturizing your skin every day keeps dryness and skin damage away! The next step to make way for healthy glowing skin is nourishing your skin with Ceramides and sodium hyaluronate to protect the skin barrier and prevent dryness to keep skin soft & supple.

SkinQ experts recommend Moisture Balm for this step.

Step 4: Protect
Did you know that 90% of skin damage is due to the Sun's harmful UV Rays? This is why protecting your skin with sunscreen from sun damage is a non-negotiable step in our treatment plan.

SkinQ experts recommend Sun Protect Gel & Vitamin C Glow Serum for this step.

Weekly Reminder
Step 5: Boost
Your skin loses its elasticity and softness with age. This is why it appears dull and tedious. Get it all back by giving it a boost of exfoliation once or twice every week. It will make sure you are healthy and glowing all the time.

SkinQ experts recommend Glow Bright Wonder Mask & Glow/Detan DIY Active Facial Kit for Pigmentation, Acne Control Wonder Mask for Acne & Clogged Pores, and Oil Control Wonder Mask for Excess Oil & Open Pores, Hydrate DIY Active Facial Kit for Dry, Dehydrated or Sensitive Skin in this step.
This face serum has the following active ingredients which makes it suitable for almost all Indian skin types:

L Ascorbic acid- The purest and most potent form of vitamin c that fights hyperpigmentation, dark spots, oxidative damage, and dull skin
Ferulic acid- An antioxidant that reduces free radical damage and enhances the properties of L-Ascorbic acid
Sodium hyaluronate- A derivative of Hyaluronic acid with smaller molecules that penetrate deep in the skin to hydrate and soothe it
Emblica (Amla)- A strong antioxidant that keeps inflammation in check and soothes the skin

Full ingredients list:
Aqua, L-ascorbic acid (Vitamin C), 1,3-propanediol, Sodium Hydroxide, Phyllanthus Emblica (amla) fruit extract, Betaine, Saccharide Isomerate, Ferulic Acid, Sodium Hyaluronate, Heptyl glucoside, Ethylhexylglycerin, Phenoxyethanol, Disodium edta
Using Vit C serum for last one week . Forms a sticky layer on the skin after application . Gives a feeling of tightening on the skin . After sometime on application of moisturizer seems better . Why this sticky layer ? Is this normal ? Can the Skin Q people answer my query please ?
Magical Serum
It's just wow 😍
This Serum work wonders on my skin very light weight,non sticky texture easily absorbed into skin ...it reduces pigmentation , and lighten my dark marks from face and makes skin glowing and youthful . I'm obsessed with this 😍.
Worthy Product
"I am Harini and I'm here to let you know my journey with Skinq. I found the Skinq products while scrolling Instagram tbh. I always wanted to take care of my skin like everyone does,I have tried n number of products but this time I really wanted to spend it for the worthy products and that was the time I came to know about Skinq.
It's been 4 months now and I am really happy to share that Skinq products like Vitamin C serum, acne elixir, sunscreen and moisturizer have done wonders to my skin. Not joking, honestly I found people around me saying "what are you doing to your skin for the glow!!", and really appreciate the team for providing us these good products. This is my story and I am happy to share it here.....
Vitamin C Glow Serum, 20 ml
Product Details
EAN Code: 8906133380144
Country of Origin: India
Formulated & Marketed By: Health Q LifeSciences Private Limited, 2nd Floor, No.204, The Eva Mall, Brigade Road, Bengaluru, Bengaluru Urban, Karnataka, 560025

Manufactured By: Esthetic Insights Private Limited, Plot No. 16/A, IDA, 4th Phase, Jeedimetia, Hyderabad Telangana - 500055